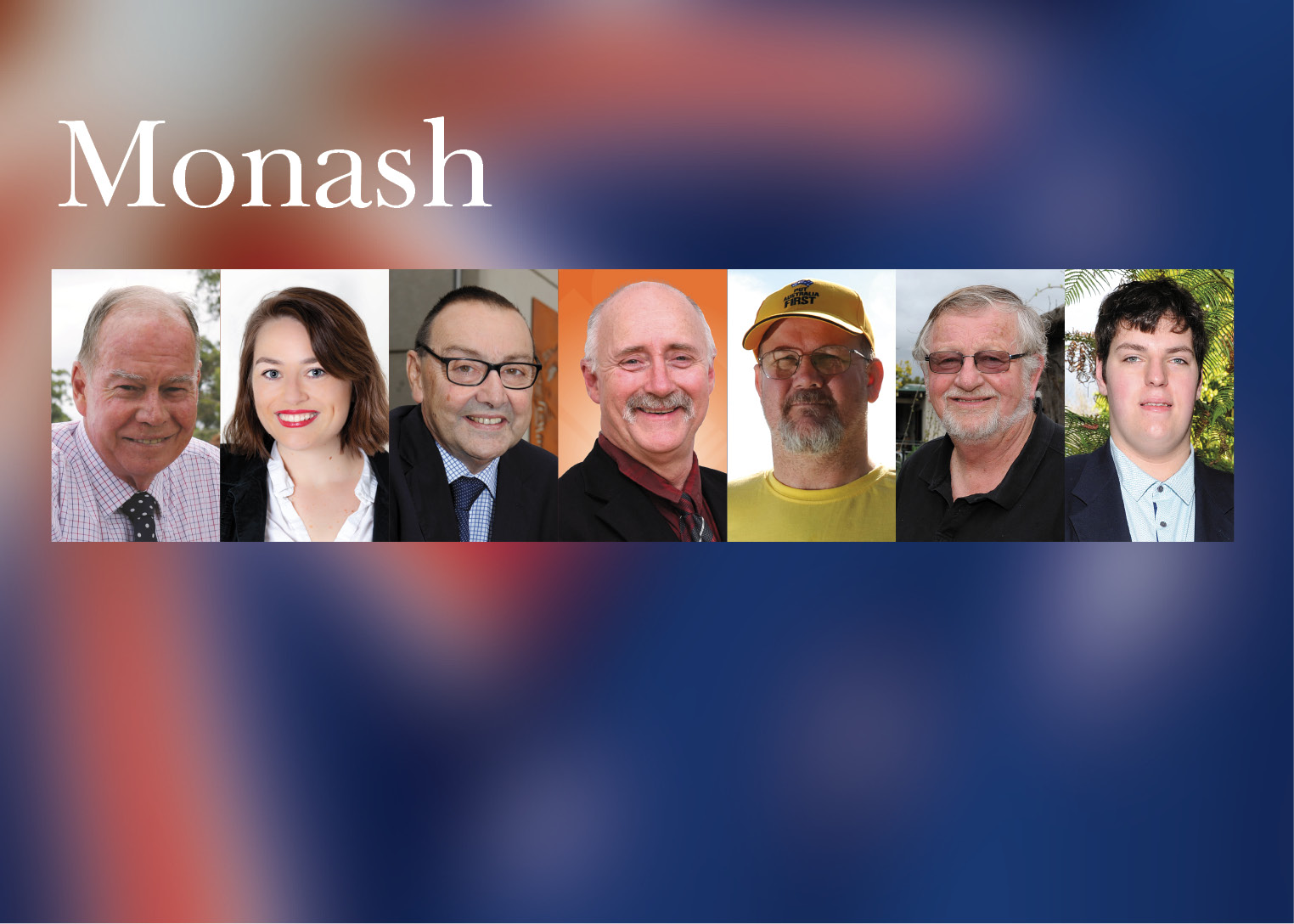 In the weeks leading up to the May 18 federal election, The Express asked candidates in the electorates of Gippsland and Monash (formerly McMillan) a series of questions.

The responses provide an insight into those who have nominated for the respective seats.

The questions included how the candidates would improve the lives of their constituents, their views on climate change and social disadvantage, how they would improve employment opportunities and their key election issues.
Below are the answers, in alphabetic order, for Monash candidates.

They include Liberal Russell Broadbent, independent Michael Fozard, Greens' William Hornstra, Labor's Jessica O'Donnell, United Australia Party's Matthew Sherry, independent John Verhoven and One Nation's Jeff Waddell who responded to all – or some – of the questions.

Related:

This election is about delivering locally, and advocating for locals.

Investing in key infrastructure projects and maintaining a strong economy that encourages our local businesses to expand and take on more workers will also be key factors.

The Coalition is backing small business with the instant asset write-off scheme which will be increased from $25,000 to $30,000.

Businesses with an annual turnover of $50 million can use it each time they purchase new assets.
Building a strong economy enables tax relief for families and individuals and record investments in the environment and in health.
In particular the Coalition has listed a record number of medications on the Pharmaceutical Benefits Scheme (PBS).

I would increase opportunities and encourage our young people into further education after secondary school.

Our country kids are less likely to go onto further education after secondary school than their city counterparts, and the long-term impact of this can limit life outcomes.
Making education more accessible would improve the lives of my constituents in many ways, but particularly, it would lift skills and capabilities right across the region.
Investing in our children is the key to our future.
We are taking action on climate change and protecting our environment without taking a wrecking ball to the economy; putting jobs at risk or placing more pressure on the family household.
Our $3.5 billion Climate Solutions Package, includes $2 billion for the Climate Solutions Fund which partners with farmers, local governments and businesses delivering practical climate solutions across the economy that reduce emissions.
Australia's efforts at reducing our emissions is one of the strongest efforts among G20 countries.
We have a sensible climate policy to ensure Australia reduces its emissions, meets our Paris target and keeps the economy strong.

The best way to address social disadvantage is to create opportunities for people to work and to be involved in their communities.
That's why I a pleased to have secured funding to support the Moe Rail Precinct with the award-winning Moe Library, the Moe netball courts and Haunted Hills Bike Park.
We are supporting small business growth and investing in infrastructure, and this can help create local jobs, ensuring Moe and the Latrobe Valley has a bright future.
The Coalition government has delivered more than 1.2 million jobs across Australia – a record amount.
By investing in local infrastructure across the electorate and supporting small businesses we are helping create jobs and maintain a strong economy.
We are providing tax relief for families and business with the instant asset write-off being increased and expanded for local businesses.
This will give businesses the confidence and encouragement to grow, create new jobs and employ more people.
By delivering for the community, supporting local businesses and building infrastructure we are creating jobs in the electorate.
More: Fozard stands for parliament

The key issue is to return positive politics to the community of Monash – give it a voice in Canberra.
A voice that will listen and express the concerns of the local area without fear or favour of party platforms, factions or pressure groups that control the existing political parties.
I want to return ownership of the government to the people on issues such as cost of living, health, education, environment, employment, industry development, protection of agriculture etc.
We need to plan for the future and ensure that all people have equal standing.
For far too long voters have been disillusioned by the way they are represented and not listened to.
It is vital that we have a local voice who knows the area – its strong points and its weaknesses. All we want is a fair go.
If I could change one thing, that would be to eliminate the negative feeling towards politics and politicians.
The political system we have is a very important part of our democracy.
The party structure has created an atmosphere of suspicion and frustration.
The parties believe that the two party system is the only way to govern.
It creates lifetime members that are unable to reflect the issues of grassroots voters.
As an independent I want to be elected as your protest at the existing system and be your voice in Canberra.
The first thing we have to agree to is that our climate is changing and it is impacting everyone on earth.
We will need to look at all areas from power generation, waste, transport, water and land use.
We will need to listen to all issues and not be driven by prejudices. We have to have a long-term plan.
My aim would be to see the creation of an overarching climate change department within the federal sphere, one that is not controlled by politicians, bureaucrats or influenced by party factions.
We need to bring all parties together. I want to say to my grandchildren that we all have a future.
If we are to ensure that the disadvantaged are assisted and become better off we need to look at the welfare payments.
We are a society that has many positives and we need to use them in helping those not as well off.
I would set a welfare payment based on the minimum wage with a component of mutual obligation to undertake work, or volunteer service, also a training component.
We need a revised approach to family and the needs of parents to be able to provide for their children and undertake their role as a significant person in the young person's life.
We need a vision, a plan for the future and a strategy that will allow us to grow as a viable economic region.
My vision is for a 'region of excellence in energy'.
In the past, energy, brown coal, oil and gas have played a major role in our prosperity.
We still have a number of resources and opportunities that can be used to build a prosperous future in this segment.
The opportunity is there, for the total community to create a partnership and work together in establishing a world-class region, for energy projects.
We need leadership.

More: Greens go for uni student in Monash

This election is essentially one on our future.
Firstly, it is a climate election, and a referendum on whether our future is habitable or not.
There is no denying that climate change is happening and we're beginning to see its effects in Gippsland through such events as the droughts, Mitchell River and Lake Wellington fish kills, and sea level rises at Inverloch.
It is also an election on our economic future. What kind of Latrobe Valley do we want to be?

The Coalition has no vision without coal and no plan for what will happen when the coal mines close.

That's why the Greens have plans for a staged closure of the Latrobe Valley coal power stations and are fighting for a just transition of workers into sustainable renewable energy jobs.
To improve the lives of all Australians, the Greens want to ensure everyone has access to the services they need.
This is why we aim to increase Newstart and Youth Allowance by $75 a week, deliver publicly-funded dental for our most vulnerable, bring back free TAFE and university education, give more money to our public schools and hospitals, fully fund the NDIS and give it the staff they need, and build 500,000 affordable housing units over the next decade.
Australia has a lot to do in order to reduce our impact on climate change given we are one of the highest per capita polluters in the developed world.
The Greens are at their core, champions of the environment and we have well-researched, fully costed plans to tackle the coming climate emergency, on both the major and minor fronts.
We would transition to 100 per cent renewable energy by 2030, phase out coal exports, transition to electric cars, strengthen environmental laws, tackle our waste crisis head on and force big polluters to pay for their mess.
The Greens believe in creating a future for all of us and fairer Australia.
To do this, we'd be heavily investing in our services.
We'd provide 500,000 affordable housing units over the next 10 years, and increase Newstart, Youth Allowance and Austudy by $75 a week.
For the older members of our society, we would increase hours of care for those in aged care and provide 50,000 more home-care packages.
We'd also fully fund the NDIS, and provide over $1 billion to create accessible public transport, infrastructure and access to nature.
And stop the handouts to big corporations and the wealthy.
The Latrobe Valley's strengths lie in the electricity and welfare sectors.
Our plan for 100 per cent renewable energy by 2030 would create 55,000 jobs and many would be located here, as The Greens plan includes funds for mine rehabilitation, a publicly-owned electricity grid and retailer and greater investment in solar and wind generation.
In addition, the Greens want to bring back free TAFE and undergraduate university, allowing Latrobe Valley residents to get the skills needed for the jobs of the future, without beings addled with tens of thousands of dollars in debt.
More: Labor challenges for Monash

A range of important priorities are raised with me every day.
Issues that are consistently being brought up include the cost of living and climate change.
Members of the community are having to make tough choices each week so what hits their bank account lasts them the next seven days, because everything is going up except their pay.
Under Labor every Australian earning up to $125,000 will receive a bigger tax cut, we will reverse cuts to penalty rates and review Newstart.
Secondly, we will act on climate change whilst making sure the communities and workers that rely on the coal industry have a clear plan for the future.
We also have clear renewable energy targets to reduce energy bills and tackle climate change.
Monash is a large and diverse community that, on many levels, has a wide diversity of needs.
So to have the ability to meet a diverse range of needs, that will immensely improve the lives of those who live in Monash; I would bring the change that would see a strong and dedicated advocate for the community.
I would work hard every day to put the community at front and centre of everything, and deliver true and local representation so we are no longer left behind.
Let's let Canberra know where Monash is.
Investing in renewable energy and batteries to grow jobs and cut power bills.
This will help deliver 50 per cent renewables by 2030, which is expected to create over 70,000 new jobs.
Working in partnership with business to help bring down pollution: extending the existing pollution cap implemented by Malcolm Turnbull – the safeguard mechanism – to gradually reduce pollution by big business over a decade.
Tailored treatment through the safeguard mechanism and a $300 million fund to help business reduce pollution.
Helping the land sector to cut pollution while giving farmers and the forestry industry new opportunities to earn income.
Labor has a plan to tackle the housing affordability crisis, by reforming tax concessions like negative gearing and increasing housing supply through a more viable build-to-rent sector and working with the community sector to build 250,000 new homes.
Immediately commence work with the states and territories on a national plan to address the issue of rising homelessness and directly invest in the supply of new affordable rental housing and transitional housing for vulnerable groups.
Deliver record Commonwealth funding of over $660 million to prevention of family violence.
Early intervention and education, frontline services, emergency accommodation and legal services will all receive a significant boost.
Labor will conduct a root and branch review of Newstart – as well as related payments and supports.
Waive upfront fees for 100,000 students, enabling them to attend TAFE to access the education and skill development.
At least 50 per cent of those places go to women.
Manufacturing: Labor believes a strong and diverse economy is the key to national prosperity that everyone can share and that manufacturing will always have a vital role to play to deliver good jobs and an diverse, advanced economy.
That's why Labor will create a $1 billion Advanced Manufacturing Future Fund, develop an EV industry strategy, as well as deliver the Australian Investment Guarantee to support investment in new capital.
Clean energy: Labor will invest $1 billion into hydrogen technology and production which will produce up to 16,000 new blue-collar jobs mainly in regional areas across Australia.
Investment in battery storage for solar will mean more work for electricians and more employment needed in the industry to deliver the program.
Carbon farming as an industry will create more jobs, innovation and investment into the agriculture sector.
More: Sherry drives power plan

The key issue I see at this election is the cost of living.
For too long we have had Liberal and Labor running this country and we are now worse off with regards to cost of living.

I can remember when one member of the family worked and was home for dinner and had free weekends to spend time with family.
That has now been lost and having the Liberal Party think that giving people a once-off payment of $75 will fix this.
They must think we are all mugs.

We need to stop selling of our assets to overseas countries as this is the main reason the cost of living has skyrocketed over the years yet these "major parties" don't have a clear plan for the future.

People need to understand that you don't need to vote for a major party and it's time to put Australia first.
Liberal and Labor are going to give you a tax cut, but not until 2024. People are struggling to make ends meet now with skyrocketing electricity prices and the other high costs of living.
The United Australia Party is committed to making home loans tax deductible and by charging 20 per cent less tax for people living in regional areas now.
This would allow all constituents to have more money in the family budget each year and therefore would allow more time for family life and allow for families to get ahead and start to build for the future.
Social disadvantage can be addressed by increasing stability of work and increasing local economies, making the gap of cost of living reasonable and providing a stable leadership.
We can improve and create further educational institutions by providing funding to raise the profile of other educational pathways like TAFE.
This will create better employment opportunities and provide local communities with further skill sets.
This can be achieved through a number of policies that the United Australia Party has like processing our minerals here in Australia, making home loans tax-deductable and investing our superannuation here in Australia to benefit Australians.
We can improve employment opportunities by decentralising major cities through zonal taxation, where we would offer 20 per cent less tax for people and businesses in rural areas.
This would encourage companies to look at regional areas to be their base of operations and encourage local economy growth by providing more employment opportunities within our communities.
Increasing local economies increases small businesses' abilities to thrive and offer further employment.
The United Australia Party is committed to processing our minerals here in Australia and I would be advocating setting up one of the facilities here in this electorate.
We must put Australia first.
More: Verhoeven declares as independent for Monash

I believe we are the lucky country endowed with natural resources which we are not using to the best of our advantage.
While I am concerned about environmental issues my belief is that nothing Australia does will have an effect on the rest of the world.
I also believe that anyone over the age of 70 who is not in receipt of a health care card … should at least be rewarded with a health care card to enable them to purchase pharmaceuticals at the PBS rate.

I also believe that anyone on a terrorist watch list of the police should be served with a show cause notice whereby they are flown to any country in the world that will accept them provided they renounce their Australian Citizenship and anyone who is not prepared to do this should provide their details on a register similar to the sex offenders register.
The major thing I would change for the benefit of constituents is to ensure we use our own resources to the full.
We can still be mindful of environmental issues and even if Australia closed down, it would have no impact on the globe.
We have an abundance of coal, gas and agricultural land, the use of which should be maximized.
As a parent and grandparent I am naturally concerned about the future environment.
The science seems perfectly clear that if Australia closed down tomorrow it would have absolutely no effect on global warming or global CO2 levels.
I personally purchase products in environmentally safe containers and am conscious of my own footprint.
Some years ago, at significant expense, I installed solar panels based on the feedback rate which was justified but subsequently those feedback levels have been reduced.
If governments were serious about renewable energy, those people who did the right thing should be rewarded with feedback rates approximating the actual cost of power.
When I studied economics some 40 years ago I was taught that we lived in a "mixed economy".
This is where those that needed help were helped by those able to. Nothing has changed except the balance.
We need to use all resources given to us in the best way possible as this country is blessed.
There is nothing we need that we don't already have.

All of our resources human, agriculture and minerals are available to us. We would be mad not to use them.
The question of employment in my electorate is of crucial concern to me.
My children were all educated locally for primary and secondary education before moving to Melbourne.
They, with my grandchildren, remain in Melbourne even though they would prefer a country lifestyle.
The employment opportunities in this area have been ignored.
We need to use our natural resources to stimulate growth and therefore employment opportunities.
The Warragul hospital is a significant issue.

It needs to be replaced on a level site and its facilities upgraded substantially.

Our coal, gas and agricultural resources need to be fully exploited for our use rather than being sold overseas at our cost.

The only change we need is a change in the intellectual climate where people and especially qualified climate scientists who don't fall into line with group-think on climate change are allowed to debate the issue without being labelled a "denier".
No-one is denying that the climate is changing – it always has, it always will.