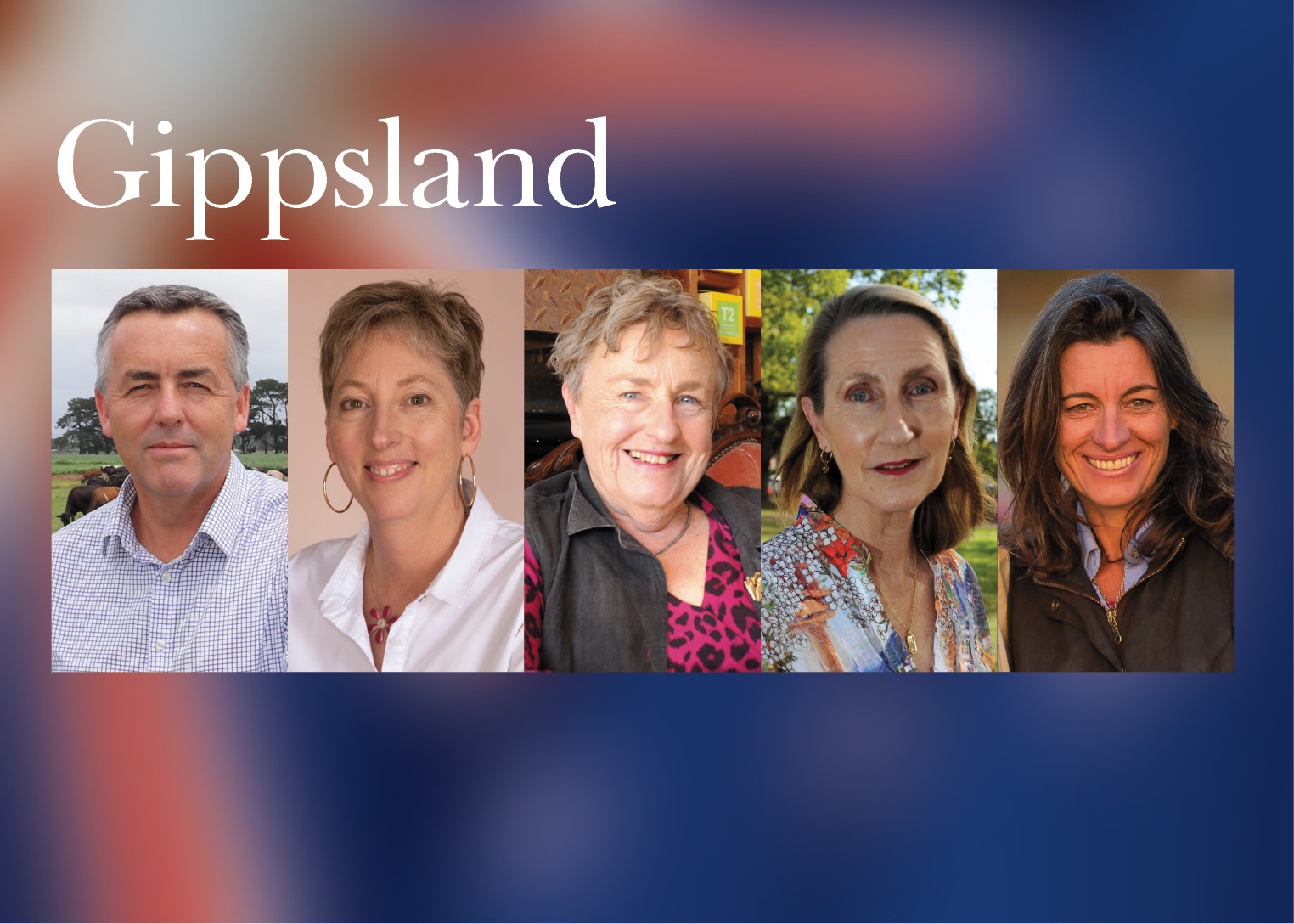 In the weeks leading up to the election, The Express asked candidates in the electorates of Gippsland and Monash (formerly McMillan) a series of questions.

The responses provide an insight into those who have nominated for the respective seats.

The questions included how the candidates would improve the lives of their constituents, their views on climate change and social disadvantage, how they would improve employment opportunities and their key election issues.

Below are the answers, in alphabetic order, from five Gippsland candidates; independent Sonia Buckley, United Australia Party's Kerri Brewer, Greens' Deb Foskey, Nationals' Darren Chester and Labor's Antoinette Holm.

Fraser Anning's Conservative National Party's candidate Neville Tickner and Shooters, Fishers and Farmers' David Snelling did not respond to The Express' request for comment.

There are a lot of key issues facing the people of Gippsland but the major ones at the moment are the drought for our farmers and how they can be supported and the lack of job opportunities in the Latrobe Valley especially since the closing of the power station.
The UAP wants to establish an Australia Fund to support farming families in times of drought and natural disasters.
By changing the way companies pay tax, we can inject $70 billion into the economy creating demand, job growth and a stronger economy.
If you could change one thing to improve the lives of your constituents, what would it be?
The United Australia Party would love to improve the lives of all our constituents by making home loans tax deductible.
This would encourage more home ownership, lessen the mortgage burden and boost the construction industry therefore boosting employment in that industry.
The UAP thinks the best security is a job.
That's what we want to create more of in Australia to build a strong economy that benefits everyone.

We must support small businesses and large corporates and allow them to pay their provisional tax at the end of the year so $70 billion is injected into the economy and the flow on effect will be more demand and therefore more jobs will be created.
The $7 billion in GST will go towards hospitals, schools, education and infrastructure, again, creating more jobs and allowing people to access more of these services as needed.

United Australia Party will change the way companies pay tax.
Instead of paying tax in advance, based on an estimate, pay tax on their actual earnings.
This would release $70 billion into the economy.
Each time that is released the government gets 10 per cent GST equalling $7 billion in revenue for schools, hospitals, infrastructure and more.
This would in-turn create more jobs and employment opportunities.
We also propose to make home loans tax deductible to encourage home ownership, therefore boosting the construction industry.

If there was one thing that I could do to bring political change in people's lives it is to offer an alternative as an independent and bring the voice for the common person to the table to be heard.

People have lost faith in the two-party system. Many feel government is out of touch. Voting independent gives community the scope to have their real views heard and not just what a major party wants.
Although economics is of great importance, so is the health of the planet and the happiness and social cohesion of the people.
As an independent I am in a great position to express the opinion of the common view and I have been listening.
I am not a climate denier nor am I a climate alarmist.
I am concerned the effect this debate is having on our children and I believe the time for debate is over.
We must have an action plan to do the best we can for the planet regardless of whether you believe in climate change or not.
I would start with changing legislation so that government is accountable for the permits they issue. Any companies who commit "ecoside" would have the full force of the law come down on them and serve lengthy sentences.
We need to address the flawed EES process and implement policy that is based on common sense, not greed.
John Rockstrom has five transformational policies for a prosperous and sustainable world.
I urge my constituents to watch it.

Many federal politicians would not really understand the plight of the socially disadvantaged due to being privately educated and living a different reality.
Yet compassion is sorely needed. We know that by reducing income inequality and unlocking opportunities through education is part of the solution.
Especially focusing on early childhood development, breaking the cycle requires preventive measures.
Many people don't have choice to what environment they are born into and how difficult it can be to break out of that cycle, especially without society's help, they can be trapped in it for a lifetime.
Programs such as the Smith Family should have the full support of the government.
They support parenting, literacy, numeracy, digital, financial, health and emotional wellbeing programs as well as financial assistance.
I would support government in providing tiny home villages for the homeless and reintegration of each person into productive lifestyle and work programs.

More: The fall and rise of Darren Chester

We live in a great region and I've been able to secure funding for major improvements to road, rail and community infrastructure over the past six years.

All levels of government need to work with our community to reduce living costs and secure the health, education and aged care services we need.
My focus has always been on securing jobs in our traditional industries and developing new opportunities so young people can achieve their full potential in the Latrobe Valley.
The biggest issue in this campaign is 'who has the experience to fight for our community and not be told what to do by city-based party bosses?'
I'm committed to putting locals first and making sure Gippsland gets a fair share.
Helping local young people achieve their full potential is critically important.
I have a proven track record of putting locals first and promoting the job opportunities which come from shopping locally, hiring local tradespeople and investing in local infrastructure.
I will continue to fight to protect the jobs in our traditional industries like power generation, paper products, education and health services, while working with businesses and other levels of government to develop new industries, including the visitor economy.
Local access to trade training and university courses needs to be further improved to help locals develop the skills they need to fill shortages in the health workforce, food manufacturing and hospitality sector.

I would make Australia a more optimistic nation with a positive vision for the future.
We live in the best region of the greatest nation in the world and we should count our blessings more often.
There will always be many issues and challenges to be resolved but we have proven to be a very resilient community.
The more we work together, the better results we can achieve for everyone in the Latrobe Valley.
Politically, if I could change one thing, it would be to provide better budget transparency.

Given Australia contributes less than 2 per cent of total global emissions, it's important to recognise there's no Australian climate change solution.
Australia needs to do its share, together with other nations, to reduce greenhouse gas emissions in line with our international commitments.
We're working to help provide the energy affordability and reliability our community expects, while reducing emissions.
The $2 billion Climate Solutions Fund will help reduce emissions, lower energy costs, and improve the environment, building on the success of the Emissions Reduction Fund which cut emissions by 193 million tonnes.
There's also $1 billion for the National Landcare Program to restore, protect and improve the landscape.
The key to addressing social disadvantage is giving young people the opportunity to achieve their potential with access to quality education, training and employment schemes which lead to real jobs.

School funding has increased every year under our government and I will keep fighting to protect jobs in our traditional industries while supporting local businesses which create new jobs.
Having a strong budget means we can also afford quality health services and a social welfare safety net for those in need.
I will continue working for improved support for people with a disability and their carers, to keep women and children safe from domestic violence, and to reduce welfare dependence.
More: Standing to show people care

What matters to voters are health, education, transport and roads and sustainable jobs.

Many care about the environment and oppose the mining and logging that threaten to destroy our unique landscapes and rivers.
They worry about the impact of increasingly erratic and extreme climate events.
Around the world, young people are demanding that politicians act to prevent a climate catastrophe and give them hope for a safe future.
Many Gippslanders support them.
Loyalty to the Nationals comes at a price: climate change denial and no transition plans; small communities and towns without medical and mental health services and no public transport to travel to services in towns and cities.

Prolonged drought reveals the vulnerability of our waterways.
Gippsland's economic reliance on resource extraction has destroyed ancient forests, polluted rivers and lakes and changed landscapes forever.
The Greens support a sustainable economy where jobs will be in repairing environmental damage, producing renewable energy and sharing our unique environments with eco-tourists.
We support the upgrade and provision of new infrastructure including roads, public housing and railways. Food production will grow but needs to be better adapted to a changed climate.
The Greens support investment in accessible, high quality health services and education and training.
An upgraded NBN will expand opportunities for employment and the creative sector holds enormous potential.
The Greens are the only party with a plan to keep our temperature at 1.5 degrees celsius as agreed in Paris.
Climate change will have huge impacts on our environment and society but the Greens' strategies to move from dirty to clean energy will enable an orderly transition.

Making solar and wind power and electric vehicles more affordable, and supporting farmers and land managers to draw down carbon, are key elements of our policies.
Farmers, communities and workers are all part of the solution.

One thing I would like to offer Gippslanders is hope for a better life for them and their children.
This includes good health and education services, affordable quality housing and sustainable jobs; we have policies for these.
But unless we tackle climate change none of these things will matter.

A planned transition out of coal mining and the adoption of 100 per cent renewable energy by 2030 is achievable and Gippsland is well-placed to benefit from it.
Greens policies care for people and the environment; overcoming disadvantage is part of the process of creating an equal society.
The downturn in the coal industry makes quality post-secondary training and education imperative to provide skills for new jobs.
These will likely be in renewable energy, innovative small businesses, health, aged care, education, environmental repair and biodiversity conservation, food production, plantation forestry, the arts and – your idea here.
The Greens will make TAFE and university education free and accessible and appropriate to Latrobe Valley communities.
Adding $75 a week to unemployment benefits and youth allowance will assist people in training and between jobs.
More: Academic takes a stand for Gippsland

Gippslanders care passionately about the future, especially the future for their children and their place in a healthy, sustainable region.
They believe that education holds the key to our kids' futures and that all Gippsland students deserve a first-class education, at kindergarten, at school, at TAFE or university.
There are major concerns about our regional hospitals and health care services.
The funding cuts and waiting lists are starting to bite.
Gippslanders believe our elderly deserve quality care, and to be supported and loved in their twilight years.
Gippslanders care about water, wildlife, farms and national parks.
They are looking for leadership on climate change.
They worry about conditions at work and loss of penalty rates.
Investment creates jobs.

Federal Labor's planned investment in schools and hospitals will create employment opportunities. Investments in TAFE and supported apprenticeships doesn't just train people for work, it creates work.
Labor will support economic diversification on farms, in the main street, and in our resource industries.
We will also establish a $1 billion advanced manufacturing future fund to provide finance to manufacturers seeking to innovate, expand or diversify. Labor will double the original investment in Clean Energy Finance Corporation by $10 billion to support new generation and storage, concessional loans for household purchases of solar and battery systems.
Labor will also introduce the Australian Investment Guarantee that will allow all businesses to immediately deduct 20 per cent of any new eligible asset worth more than $20,000.
The single most effective way to improve the lives of people in Gippsland is to change the government.
Replace complacent, entitled, ineffective representation with strong, determined and compassionate advocacy.
In Gippsland we have had almost 100 years of National Party representation at a federal level, and 18 of the last 23 years have been a federal Liberal and National government.
Gippsland now has some of the highest rates of unemployment, some of the worst poverty, and increasing hardship due to drought and climate change.
Absolutely. Labor will target 50 per cent renewables by 2030. We will work with industry to cut pollution.
A $300 million strategic industries' fund will support industry to reduce carbon emissions and remain competitive.
Farmers will be supported to reduce emissions and retain carbon through carbon farming. Green areas will be protected and valued as carbon sinks.
No worker and no resource community should bear the burden of transition.
A just transition for resource communities will invest in retraining and growing opportunities in the renewables sector through a $10 billion addition to the Clean Energy Finance Corporation.
Labor will support communities through the transition to renewables, opening up new employment and reducing power bills. A $2000 rebate on household batteries will be available to 100,000 households.
A Shorten Labor government would focus on a fair go for all. We will close tax loopholes for big multinationals and get a fairer share for those in need. We will restore penalty rates, and invest in health and education.
From more affordable child care to dental care for pensioners, Labor will address the root causes of inequality.
We will provide record investment into ending family violence, and tackling homelessness.
We will support the sick and injured, including cancer patients, with a strengthened Medicare.
A just transition will help workers retrain and move to jobs in the clean energy sector. Labor knows that education and employment are about dignity and opportunity.
From fee-free TAFE courses to supported apprenticeships, from uncapped university places to giving small business a tax cut if they give unemployed young people and older Australians a job – addressing disadvantage is part of Labor's DNA.