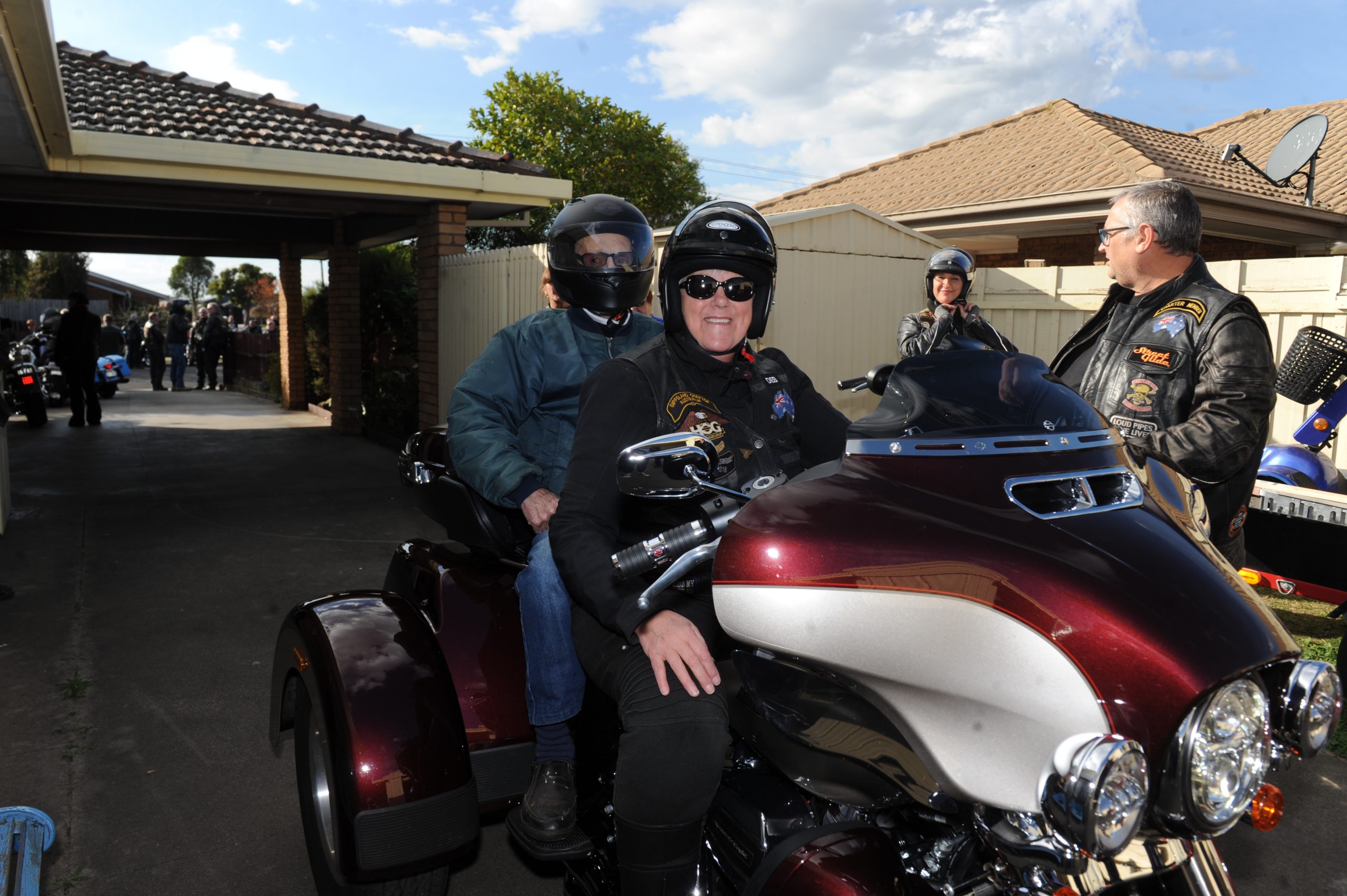 Cher Jimenez
A dying man's wish was fulfilled by his son who had been away for 35 years.

On a fine Saturday morning close to 50 Harley Davidson bikers descended on the Morwell property of French-born artist Richard Pinero.
Mr Pinero, who has cancer, was only recently given weeks to live.
The bikers were from the Harley Owners Group Gippsland chapter while a contingent from the Yarra Valley rode for hours to meet Mr Pinero and his family.
The bikers had learned of Mr Pinero's condition through a message sent by his son Phil.
Phil moved back to Australia in 2017 from Vanuatu where he worked as a humanitarian worker for 35 years after learning of his father's diagnosis.
"For 35 years I didn't see much of mum and dad and so when [he] got cancer I decided to pack it all in just to be with him," Phil said.
Phil, now 60, said there were initially no job prospects for him when he came back to Australia two years ago, however, he did not think twice about coming home.
"When you're young in your 20s you have no time for your parents [and] all of a sudden they get sick. Sickness at later life brings you closer. It's time to say goodbye. It's hard but it's nice to have time to say goodbye," he said.
Phil said his father moved to Australia with his family from France in 1969 and was a biker all his life.
The elder Pinero, 81, rode his BMW ex-police bike every day from Korumburra where the family lived at Noble Park.
"He loves big bikes but we can't afford a Harley," he said.
Richard was diagnosed with lung cancer two years ago and underwent chemotherapy. The cancer moved to his brain and spread to his pancreas. He is now in palliative care.
Phil said doctors gave his dad a few weeks to live so he decided to surprise him by asking the local HOG chapter how much it would cost to rent someone to park a Harley at his dad's garage for him to have a look and touch.
On Saturday Richard got more than that as a huge contingent of bikers, with some riding all the way from Melbourne, arrived to meet him.
Phil said the sound of Harleys coming in droves towards his dad's home sounded like a "plane was landing down on our driveway".
He said everyone was in tears as the bikers came forward and shook his dad's hand. Richard was also presented with a badge by each group – an honour usually reserved for members.
Phil said his father was "smiling from ear to ear" as he rode on the back of a bike around the neighbourhood followed by other Harleys.
"I was not expecting 50 bikes and that people would be so involved in my dad's departure," he said.
HOG Gippsland member Garry Parr, who lost his wife to cancer, said he was expecting only a few bikers would turn up to Mr Pinero's property and was surprised by the turn out.
Richard offered to give two of his paintings as gifts to the two bikers' groups. Phil encouraged families who have loved ones in palliative care to focus on making their remaining days memorable.