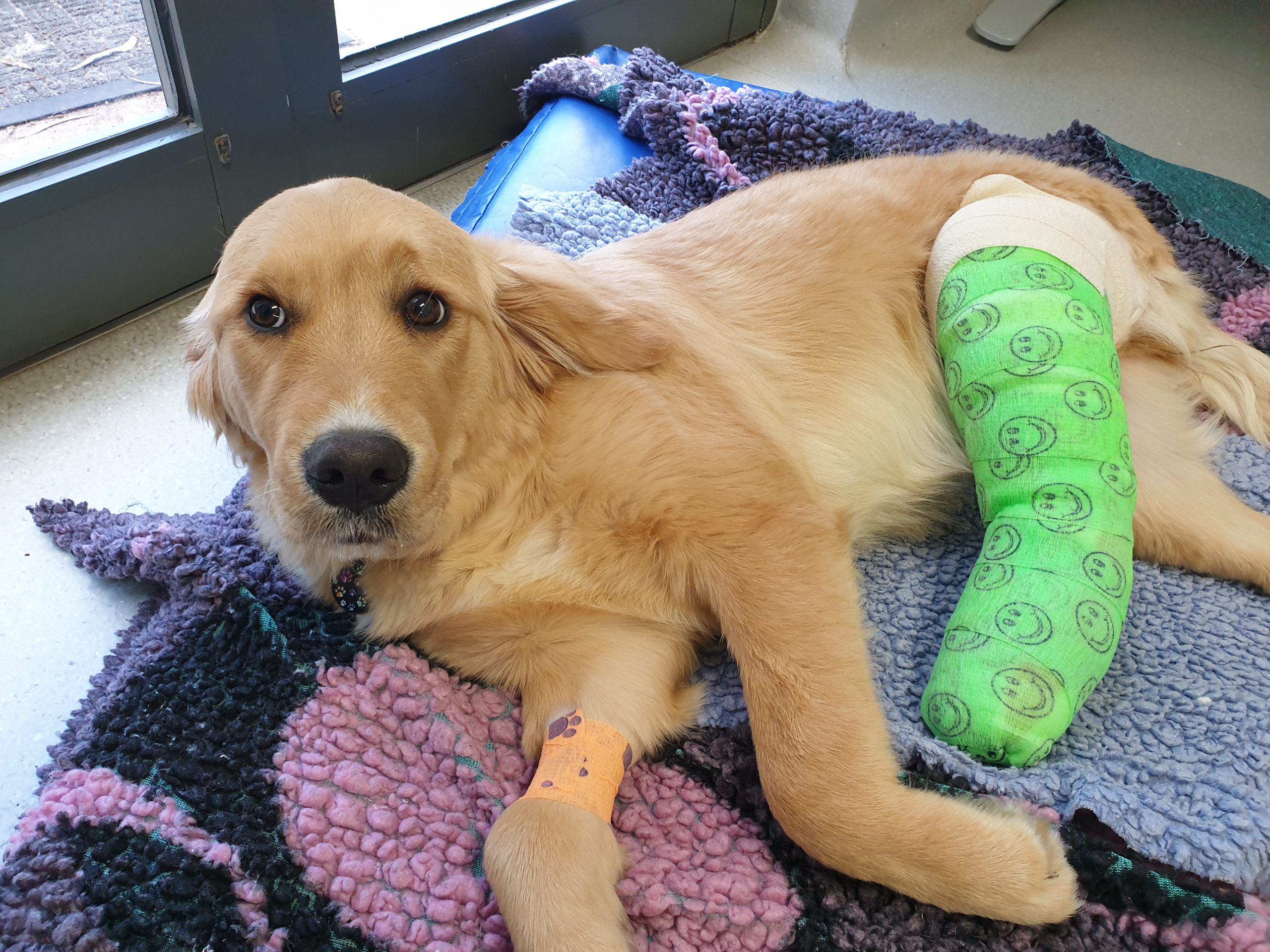 Cher Jimenez
Morwell Neighbourhood House's most popular resident is receiving an outpouring of love from community members following an accident on the weekend that left her with a broken hind leg.

Honeybell Lollipop, the golden retriever who was training to be Australia's first emotional therapy dog based at a neighbourhood house, was meeting her owner, Morwell Neighbourhood House manager Tracie Lund, on Saturday in Melbourne when the accident happened.
"She got caught in her lead under my legs which resulted in a tumble, the way she landed it broke her left hind leg. She got so excited … it happened so quickly," Ms Lund said.
An X-ray revealed the five-and-a-half-month-old puppy had a spiral fracture and she was immediately referred to a veterinary specialist in Moorabbin.
Ms Lund said surgeons performed the procedure on Monday and she was relieved that Honeybell responded well and was already able to bear weight on her injured leg.
"The good news is that the injury is completely treatable and there's no long-term impact on her," she said.
"It's been the most traumatic thing I've dealt with.
"To have her injured like that was traumatic for my family and the staff at the house. Everyone's been moved by the incident."
Ms Lund was overwhelmed by the show of support and love from community members who checked on her and Honeybell after seeing a post on social media.
A Go Fund Me account was organised to cover Honeybell's operation with the goal of raising $5500.
As of Wednesday Ms Lund said people had donated $2500 and some dropped money to her home and at the neighbourhood house.
There had even been a single $500 to the Go Fund Me account.
"I was blown away by the support from the community. A number of people got in contact with me and said they loved Honeybell," she said.
On Tuesday 44 Honeybell fans made cards at the Beattie Crescent facility to wish their four-legged friend a safe and quick recovery.
Ms Lund said she was now looking at the possibility of employing a local trainer to continue the golden retriever's training at the neighbourhood house instead of going back to Melbourne which may be traumatic for the dog.
"We're looking at options to do the training at the house. We don't want to traumatise her anymore. We want to make sure that her mental health is looked after as well," she said.
Honeybell has been an active member of the house since she was nine weeks old and was a huge hit among visitors and staff.
Ms Lund said the dog would continue her training despite the incident as she had already established a connection with people.