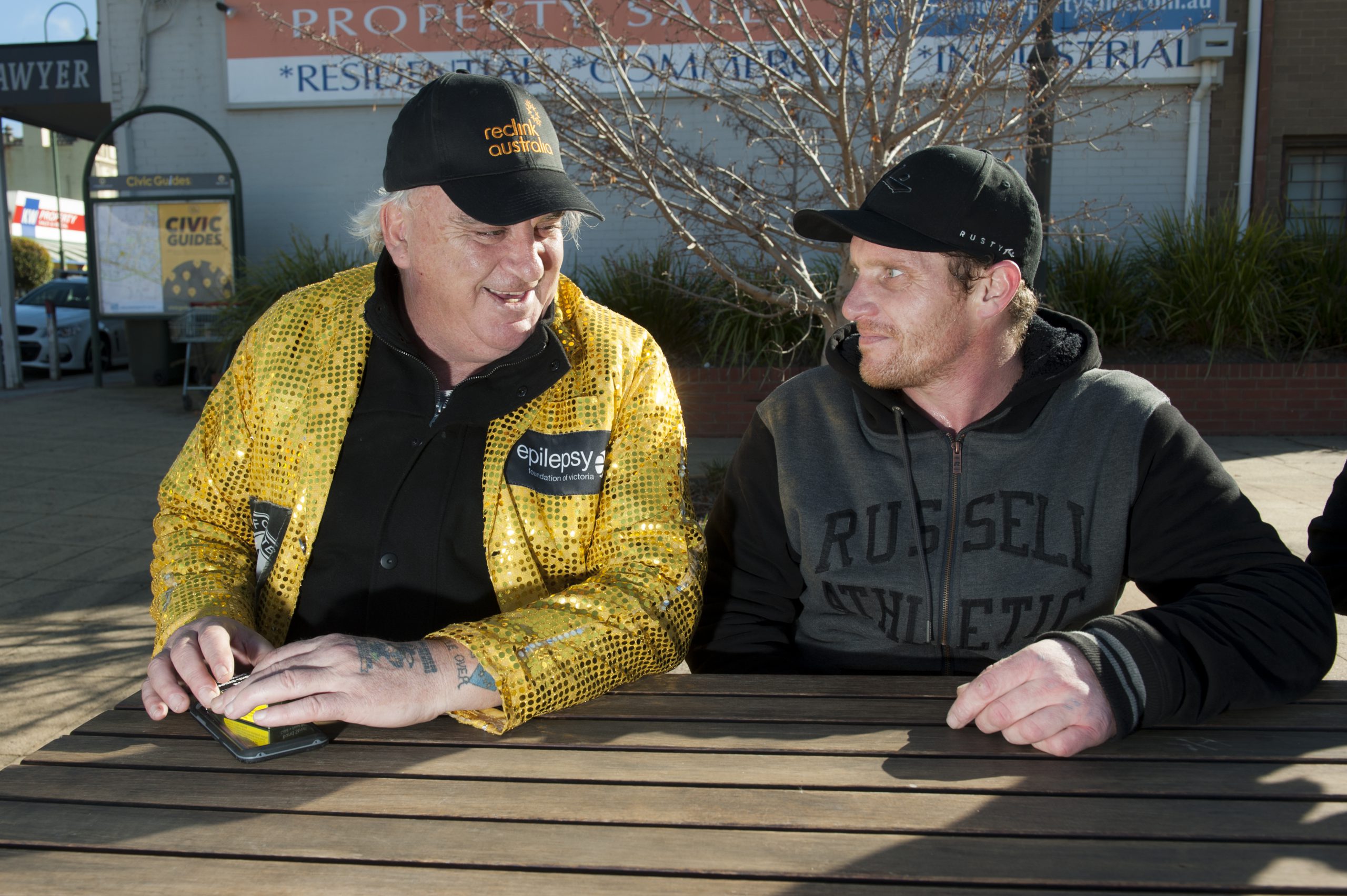 Kate Withers
He is without doubt the most recognisable footy fan in the country but last week Jeff 'Joffa' Corfe, the face of Collingwood, donned his famous gold jacket in Morwell to barrack for a cause of a different kind.

Joffa visited the Latrobe Valley in his capacity as an ambassador for Reclink Australia which provides sport and art programs to disadvantaged Australians in a bid to drum up support for a new football league in Gippsland designed specifically for people experiencing social disadvantage.
Reclink Australia has 25 teams playing across three leagues in Victoria and staff at the organisation believe Gippsland is the perfect place for a fourth league.
Joffa's own experience with homelessness and disadvantage is well-documented and his story is an exemplar of the capacity for football to act as a leveller and tool for social inclusion.
"If it wasn't for footy I probably wouldn't be here today," he said.
"I was homeless and on the streets of Melbourne when I was 14 and the only thing that kept me out of trouble was the fact I didn't want to miss a single game at Victoria Park.
"So I'd go down there every single weekend to watch Collingwood play and the people down there knew of my situation, so they'd look after me and get me something to eat and drink, but those people and that football community became my family."
Joffa said community football leagues targeted at the disadvantaged such as those operated by Reclink could also help players find a purpose.
"A lot of these people, they don't have jobs, they don't have anything to do when they're at home and that's a recipe for disaster," he said.
"Some of them don't have homes, they're suffering mental health issues … and playing footy each week is something to keep them busy. It's a social activity where they can forget about whatever else is going on in their lives at the time.
"It's not our job to judge these people. Everyone has their own story to tell and everyone is going through something but it's up to us to make the unincluded in society feel included again."
Reclink Australia founder and national development Peter Cullen said the aim of the football leagues was to break down barriers between those experiencing disadvantage and broader society.
"A lot of people, when there's high unemployment, can become isolated and this sort of aids in assisting to break that isolation down," Cullen said.
"We've had teams where most of the players had some sort of addiction and, for them, they would say playing footy was like a clean rush, it was real.
"When you've got something like that to look forward to midweek it has a huge impact on physical and mental health."
Reclink also provides wrap around support for participants with regular visits from guest speakers in the employment and health sectors designed to complement the social activity.
"It's just very powerful to be involved. To feel your body working, to meet with people, to be a part of a team on a regular basis provides immediate emotional rewards for people," Cullen said.
"We believe Morwell and other towns in Gippsland would really benefit from getting involved with something like this."
Reclink Latrobe Valley coordinator Peter Linton has been involved in sport in the Latrobe Valley for the last 50 years and will oversee the development and implementation of the local Gippsland Reclink league.
"[It's] the most rewarding thing I've ever been involved with," Linton said.
"I'll have footy boots, jumpers, shorts and everything – all they need to do is rock up and we think the impact this will have on the local community is huge."
Reclink is open to people of all genders, ages, cultural groups, and abilities who have experienced or are experiencing disadvantage.
Individuals, welfare agencies, local businesses and community groups are also invited to join a team or form their own to be part of the Gippsland Reclink league.
Free games of AFL 9's will be held for people aged 16 years and over every Wednesday from noon-1.30pm at the Morwell East Football Ground on Vary Street, Morwell.
There will also be a free barbecue every week.
For more information, phone Peter Linton on 0409 011 198.