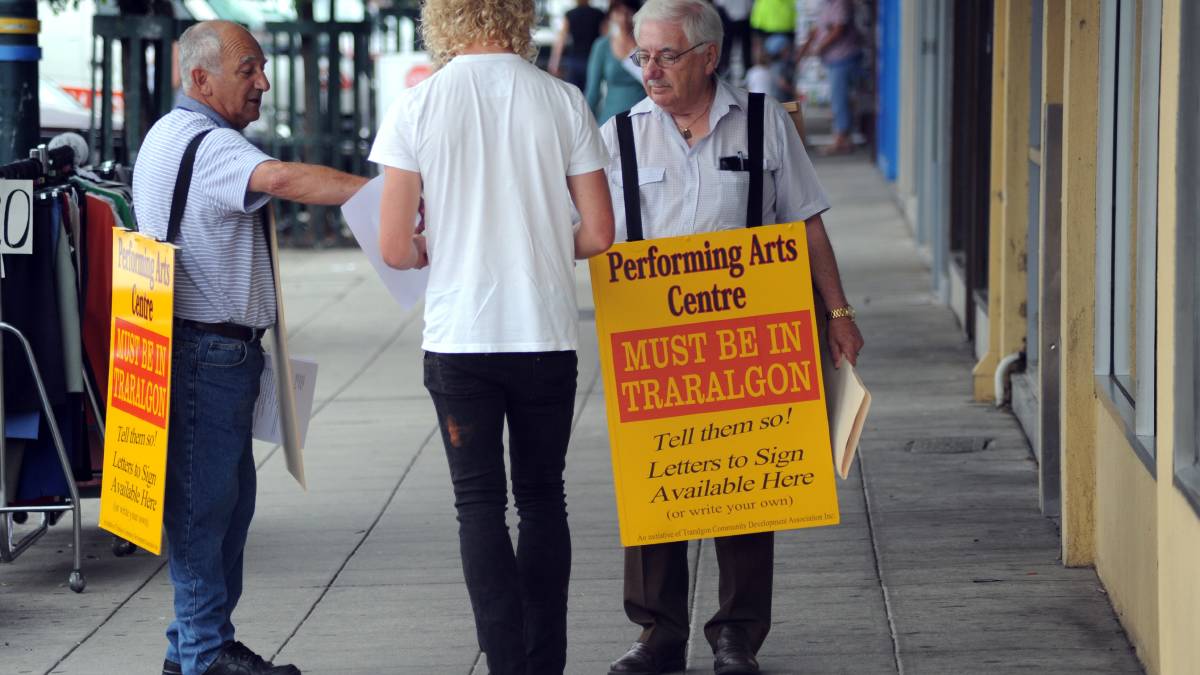 Bryce Eishold
OBITUARY

Traralgon kingpin Peter Wood was a man of intensity, leadership and strong views; and a person who was committed to the growth of his home town.

The former two-time Traralgon mayor died last month after a two-and-a-half-year illness. Friends have remembered him for his wisdom and passion and his efforts to have Traralgon placed on the map.
Former colleague, Bernie Carrington, who lived across from Mr Wood and his wife, Heather, in Heather Grove more than 50 years ago recalled Mr Wood as a person of great talent.
"He was a very genuine individual. He was so knowledgeable and very committed to Traralgon as a citizen,' Mr Carrington, who also served as a mayor of Traralgon, said.

"Then we got a bit involved when the amalgamation took place, and Peter took great interest in trying to ensure Traralgon came out favourably.
"He was a very conscientious guy, very well known in the community. We didn't live in each other's pockets but we were good friends."
After marrying Heather in 1961, the couple moved from Brunswick to Traralgon three years later after Mr Wood was offered the role of secretary and accountant at Roland Hill – a Holden dealership.
The original sign of the dealership can still be seen above the shops in Hotham Street.
Mr Wood also served on number of community organisations including the Traralgon Community Development Association where he fought to have the old Traralgon Court House repurposed and opened to the public.
Another former Traralgon mayor, Jim Hood, knew Mr Wood through the pair's involvement with the Justice of the Peace Gippsland branch, where he was remembered for his proficiency and aptness.
"He was a good mentor for us younger JPs because he had a lot of experience in that, and as a bail justice as well," Mr Hood said.
"He was a very intense sort of a guy. He had strong views on certain aspects but he was very community-minded and he used to support different activities like in the early days of the court house."
Through his passion for community service, Mr Wood joined Apex where he served as president and district governor before retiring at the age of 40 – the maximum age allowed in the association in those days.
In the early 1980s, Mr Wood went into business with Ken James to form James Peters Motors, known today as Colin Watson Holden.
After the pair was forced to sell the business, they opened a small used car dealership on Argyle Street and when the partnership finished, Mr Wood went on to work with the water boards in Traralgon and east Gippsland.

Mr Wood also served on the advisory committee of the Keith Chenhall Foundation, created in 2002 to help fund charitable organisations in Traralgon.
The foundation's chair, Neville Johnson, said Mr Wood – along with Keith Chenhall himself – received Order of Australia medals in 2014 for their service to the community.
"Four of the seven advisory committee members were awarded Order of Australia medals that year – including Keith and Peter," Mr Johnson said.
"Each of those four people made an outstanding contributions to their community, and Peter was one of them. I felt very privileged to work alongside him."
In the same year, Mr Wood appeared in The Express where he made an impassioned plea for the community to lobby the government for the retention of the Australian Securities and Investment Commission services in the Latrobe Valley.

He also campaigned for the performing arts centre in Traralgon, donning walking billboards which read the centre 'Must be in Traralgon … Tell them so!'
Former Traralgon Shire secretary Harry Alexander, who was the deputy town clerk during Mr Wood's first term as mayor of Traralgon City, said his friend was well respected in the community.
"He was a great advisor. He was very interested in state, federal and local government and he was very interested in governance and proper management," Mr Alexander said.
"He was sought after for advice for anyone who was having trouble with any of those fields of government."
Mr Wood died a day before his 83rd birthday.
He is survived by his wife, Heather, of 58 years.
Their two sons Glen and Craig, died in 2009 and 2018, respectively.