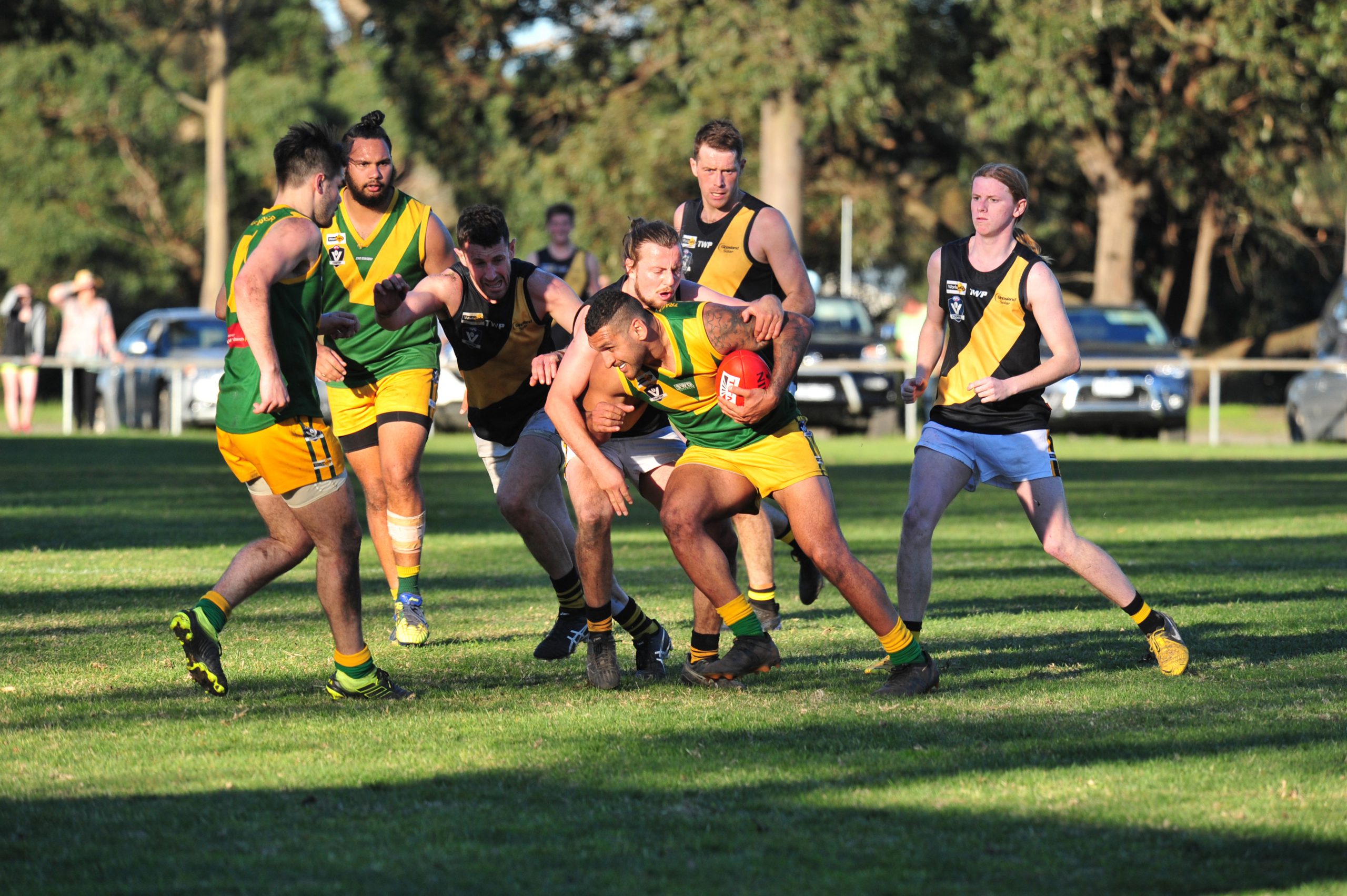 FOOTBALL

MID GIPPSLAND
Hill End dug as deep as they could, worked harder than they ever have and manufactured a memorable come-from-behind win over Mirboo North to earn their first grand final berth since 1981, the final score 13.7 (85) to 11.9 (75).

In perfect conditions on a beautifully presented Newborough ground, the opening 30 minutes had all the excitement, intensity and pressure of a final.
Both teams were playing with an obvious desire to represent their club and their community as best they could, the expectation of a close contest between the preliminary final combatants evidenced by a game tied at quarter-time at three goals and one behind apiece.
The second quarter provided a little more freedom for both sides, the high-risk, high-reward style of play by the Rovers opened the door for Tiger opportunities more times than Hill End would have liked.
Although they matched their three goals and one behind of the first quarter in the second 30 minutes, it was Mirboo North who pounced on a half-time lead of 15 points.
The premiership quarter can more often than not sort the men from the boys and it seemed that the finals' experience of the Tigers was to be the difference as they built on their half-time lead to a game-high 27-point lead compliments of some good work by the likes of Julian Blackford, Josh Taylor, Mitchell Wightman and DamienTurner.
It wasn't until late in the quarter that the Rovers started to surge, breaking the Tigers' momentum and assuming some control of the play themselves.
The brilliant efforts of Amburupa Uliando, Dillon Clark, Jack Hudson, Rob Fiddelears and Aaron Fawcett inspired those around them to drag the team back to within two straight kicks at the final break.
It was Hill End who became dangerous in the final 30 minutes, continuing to control long periods of play and hitting the lead late in the match.
As the final siren sounded the margin was 10 points and Hill End secured their first grand final berth in near 40 years.
"[It was] another amazing game of footy. [We] started off fast and hard and was tight at half-time although I thought we wasted chances early. They dominated us in the second term," Rovers coach Mike Santo said.
"They continued to have the upper hand until the mid third when our leg speed started to become a factor, especially Dane Fawcett and Lachie Fanning, I thought our ball use was great all day, we gave ourselves a chance at three-quarter-time.
"To prove how classy [Mirboo North] are, their president Steve Rogers came in and addressed our players after the game and congratulated us. I have lots of respect for them but we couldn't be happier about where we are at."