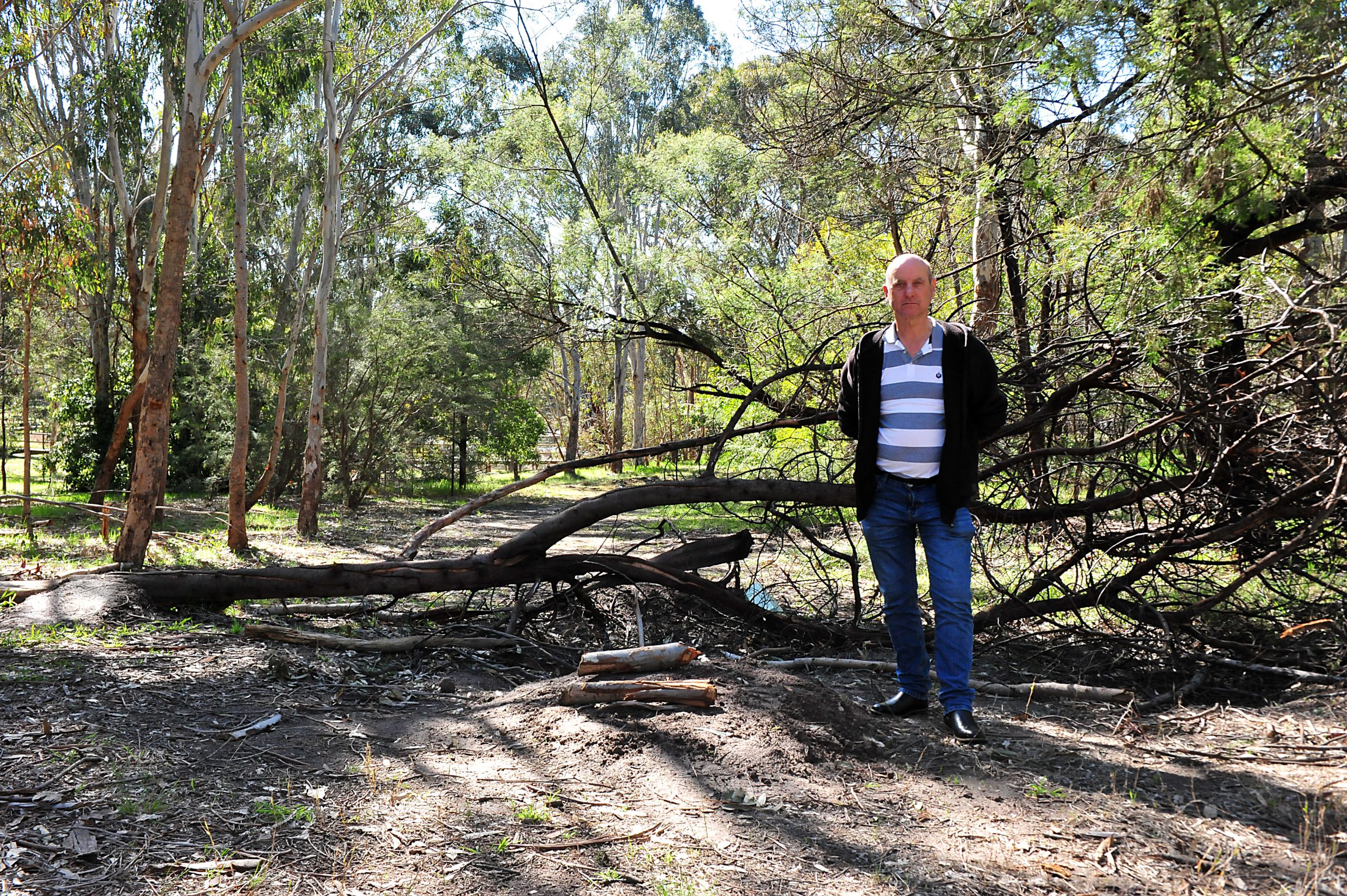 Kate Withers
Volunteers at the Traralgon Railway Reservoir Conservation Reserve have voiced their disappointment after a reported spike in vandalism and theft at the Hickox Street park.

Lopped trees, makeshift bike ramps and dumped rubbish have been discovered at the reserve in recent weeks while a valuable piece of machinery was reportedly stolen on the weekend.
TRRCR executive committee member Graeme Turner said the vandalism and theft was "disheartening" for volunteers and users alike.

"We mow it, we plant the trees, the grasses, the shrubs and we clean the buildings and we're all volunteers," Mr Turner said.
"Motorbikes have been coming in and aren't supposed to be in there and have done damage to the reserve wall and we've also had probably a dozen trees cut down.
"People are dumping their green waste and litter there too."
Volunteers have attempted to use lopped trees as barriers along the dam wall to prevent motorbike riders from "cutting trenches" and "hooning around" the reserve.
"The motorbikes are there. We see them but because it's a bush reserve, there's 30 hectares. The motorbikes are gone and you can't chase them.
"We had to build a nine-metre-long barrier using donated pine which is enough to stop the motorbikes going up the bank of the dam," Mr Turner said.
"It's a big issue and as volunteers we've got to put more time into cleaning it all up when we should be doing other work. Every dollar we spend on repairing vandalism is a dollar we don't get to spend on trees."
Mr Turner said the reserve's Rat Barrow – a ride-on vehicle used for transporting rubbish and waste – was taken on Sunday night.
"They broke into the container we have, drove it out of there, cut through the wire fence, pulled it aside and drove the Rat Barrow away," he said.
"They also rifled through the cupboards and stole a ladder but the worst part was we bought the Rat Barrow with a grant and it was only eight weeks old.
"It cost $4700 and now we're going to have to wait for another grant to replace it but it's a lot of money. That's money we could have put into park benches or plants."
Traralgon Sergeant Jo Sinclair said the burglary was reported to police on September 2.
"We were made aware of the burglary from the Traralgon Railway Reserve and at this stage we have to canvass for CCTV footage," Sergeant Sinclair said.
"It was reported the fence had been cut and one of two shipping containers had been opened by way of bolt cutters and a motorised wheelbarrow had been removed."
Anyone with information about the burglary is asked to call Traralgon police on 5172 2700.