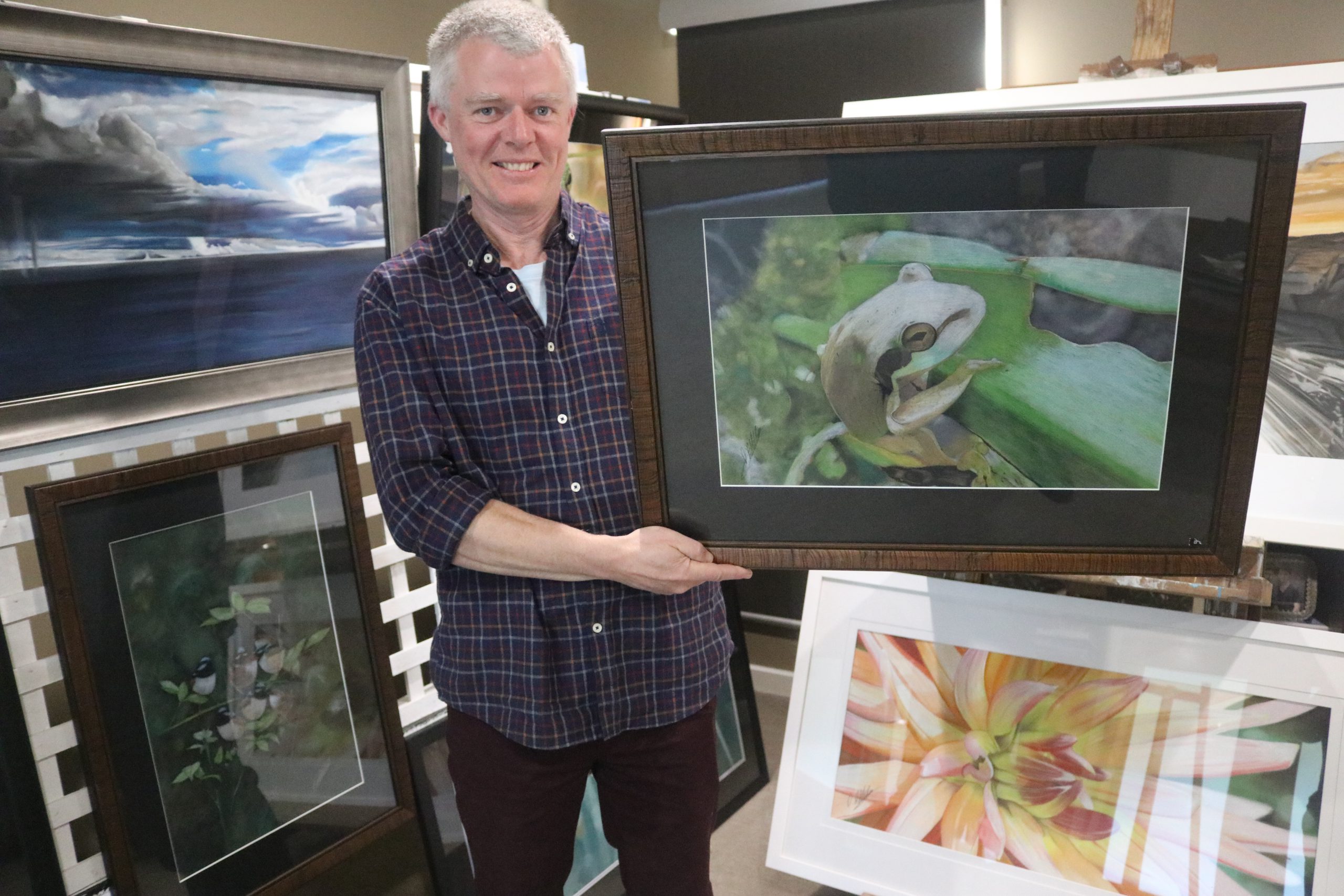 Michelle Slater
Hazelwood North artist David Alldridge took on the biggest project in his life when he was asked to paint a 35-metre long mural to highlight threatened species.
Mr Alldridge has just installed the 10 panel painting at the Mount Rothwell conservation and research reserve near Little River, which is the largest feral predator-free ecosystem in Victoria.
The 420 hectare site is run by volunteers and houses Australia's most threatened fauna, including the Eastern Barred Bandicoot, Southern Brush-tailed Rock-wallaby and Eastern Quoll.
Mr Alldridge said he fell in love the with place on a visit a couple of years ago when he went on a night time tour and saw some of the nocturnal animals up close.
The former professional photographer took more than 300 snaps which he pieced together to create a night and day panorama which became the basis of his painting.
"My inspiration comes from what I see in nature and I like to share this with everyone. When I photograph, I walk in silence and sit for an hour and wait for what I could see," he said.
"I also did this at night to be there and see what's around. There were all the colours of the massive granite rocks which is totally different from Gippsland. I found the whole place inspiring."
Mr Alldridge said he worked in conjunction with Mount Rothwell to ensure his mammoth mural included certain trees and species that were integral to the reserve.
The entire artwork took him two years to complete in his home studio, painting on specially-built easels to hold the 3.5 metre long zincalume panels that he was working on.
Mr Alldridge said he painted with two panels side-by-side to make sure the night and day images flowed smoothly into each other.
"I'd never worked on this scale before. I was excited and I didn't find it daunting. I took each panel as an individual challenge," Mr Alldridge said.
"When I painted each one, I put them away and I didn't see the first
one for two years. It was so good to see them again."
Mr Alldridge said he put doonas between each panel to make they were not damaged on the journey to their new home.
The massive artwork has been installed in the Mount Rothwell Eastern Barred Bandicoot breeding enclosure and will help provide the native marsupials with added shelter.
"I'm so proud now and also relieved it was installed safely," he said.
"The mural will be the first thing that visitors see. I'm hopeful the public will be more aware of endangered animals and I hope this mural will attract more visitors."
Visit David Alldridge Artist Facebook page to see more of his work.