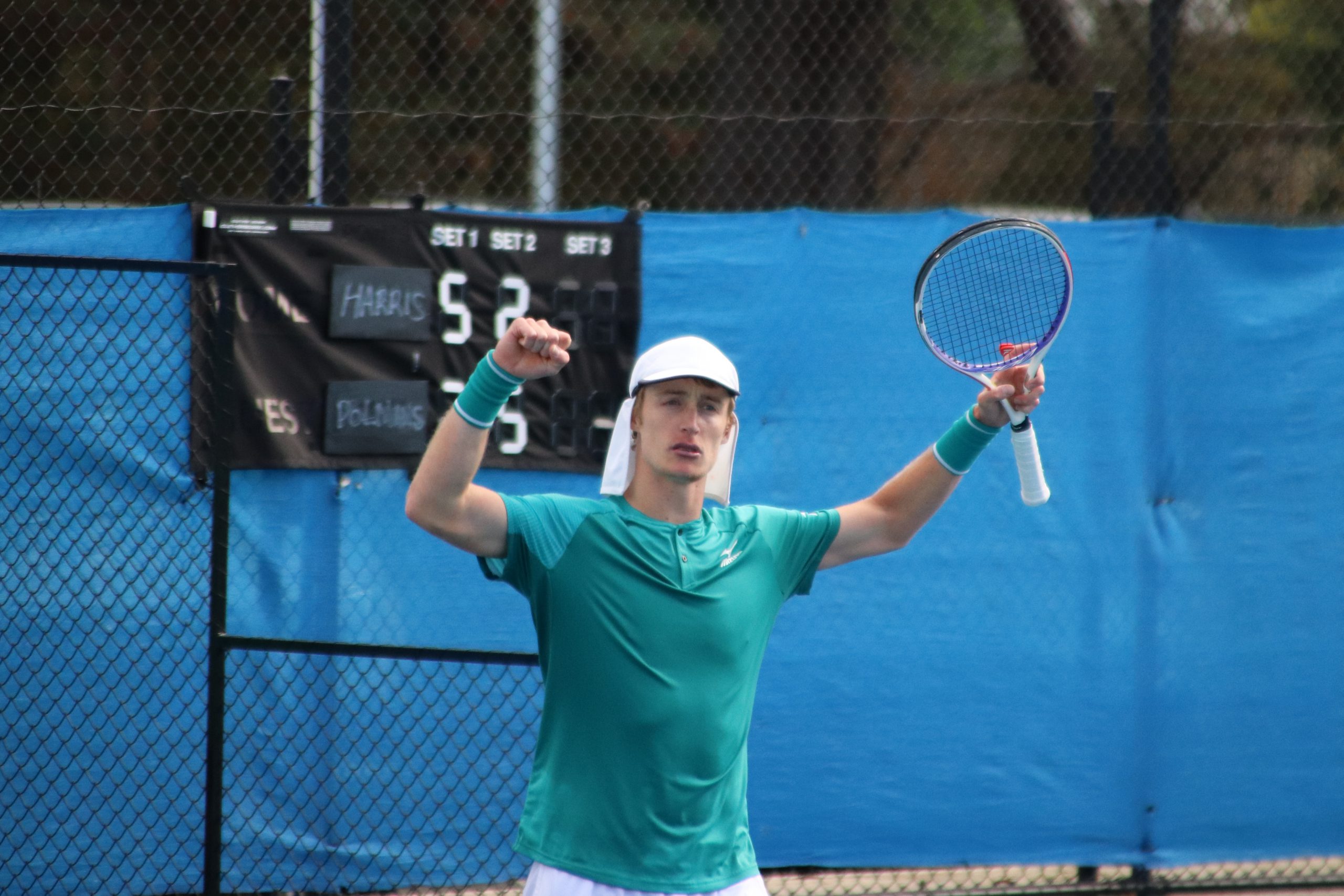 Dylan Arvela
The ATP Traralgon Challenger wrapped up on Sunday afternoon with fourth seed Marc Polmans downing sixth seed Andrew Harris 7-6 6-3 in an all Australian affair.

Tennis fans were forced to wait for the final which was pushed back until 3pm after rain delays on Saturday meant the semi-finals had to be completed on Sunday morning.
Both finalists overcame Japanese opponents in the final four with Polmans beating 12th seed Hiroki Moriya 5-7 6-2 7-6 and Harris knocking out second seed Tatsuma Ito 6-4-7-6 7-6.
The Melburnians went blow for blow in the bitter chill during the opening set, Polmans secured a crucial break to make it 6-5 before going on to claim the set. Polmans managed to assert himself in the second set as Harris seemed to tire to take out the title and more than $10,000 in prizemoney.
The South African-born Polmans felt it was an extremely competitive match with the match swinging in his favour late in the first set, adding the rain delays over the weekend increased the difficulty of the task.
"[The first set] was a close set and I was able break," he said.
"Both of us were serving well, I was happy to get the first set and an early break in the second which was really important.
"There was great tennis from both of us, he kept putting pressure on me, he was serving well, he's playing great tennis and I'm just happy to be able to get through.
"There were a few rain delays in the [semi final] which was a bit tricky but I was able to find a way through in the third.
"I knew the final would be tricky with the wind and potentially the rain but I felt I did well dealing with the conditions."

To reach the final, Polmans saw off American Evan King in the opening round before beating Chilean Marcelo Tomas Barrios Vera in the round of 16. Polmans knocked out Barrios Vera's compatriot and eighth seed Alejandro Tabilo 6-1 7-5 in the quarter finals before the three set win over Moriya.
The 22-year-old is a regular in Traralgon, having won the doubles with Jeremy Beale in 2018. Polmans said he loves coming to the region and he doubt's this year will be his last tournament at the Traralgon Tennis Association.
"I've been coming here for many years now," Polmans said.
"I came here ever since my junior days so I am used to the conditions, the courts and I really like coming here and I plan on coming here for many more years.

"The improvements to the two centre courts over the last two years has really made a difference, it's a really nice centre with plenty of courts so the players are happy here."
Polmans' Traralgon triumph is the 22nd singles title of his career and it will see him jump from 154th in the world top the low 130s. This would see him better his career-best standing of 137, a mark he reached after last year's Challenger.
Polmans will be back on court tomorrow in Adelaide as he competes in the Playford Tennis International. It will be his last tournament of 2019 and he admits one eye is on the upcoming Australian open.
"There's not much time to celebrate," he said.
"I've got to get back to work and I fly to Adelaide tomorrow and I am looking forward to the last tournament of the years – hopefully it's a good one.
"I am looking forward to [the Australian Open], last year was my first time in the main draw so I will be looking to go through the qualifiers if I need to.
"I am looking forward to a big Aussie summer, I feel very at home at all the tournaments and I feel like I can do a lot of damage and I would like to crack inside the top 100."
Tournament top seed Yasutaka Uchiyama wasn't able to make a major impact with the Japanese retiring against compatriot Moriya in the quarter finals. Third seed and top ranked local James Duckworth also dropped out in the quarters, beaten 6-3 6-3 by Harris.

In the doubles final, it was Aussie duo Max Purcell and Luke Saville who reigned supreme. The top seeds beat Australian Scott Puodziunas and his British teammate Brydan Klein 7-6 6-3 10-4.
A rain delay forced a lengthy delay with the match poised at championship point but Purcell and Saville were able to keep their composure and seal the match a year on from losing the 2018 decider.
TTA manager Susie Grumley hailed the event, which began back in 2013, as a success despite having to push through thumping heat during the week and persistent rain over the final two days.
"We've had a great tournament," she said.

"It's gone on without a hitch apart from the hard day yesterday with the semi finals having so many rain delays meaning our semis weren't completed until this morning.

"In the scheme of things it's really only a little minor thing so overall it's been great." The TTA received plenty of positive feedback regarding its fantastic facility which Grumley said is a badge of honour.
"We're very proud of our complex here including our show court facility," she said.
"It's been built now for the last couple of years and we really try to keep it up to a good standard – having it resurfaced when needed and having it professionally washed.

"It's a great facility and it is good for holding major events."
Grumley concluded by thanking the hardworking volunteers who ensured the competition ran smoothly.
"Thank you to the wonderful ball children and their parents who supported us," Grumley said.
"The parents allowed them to take time off school and be part of the event which is just amazing.
"We couldn't hold the event without them as well as the volunteers that come and help from the kitchen, driving the bus, setting and packing up, it's just wonderful to get the support from everyone."