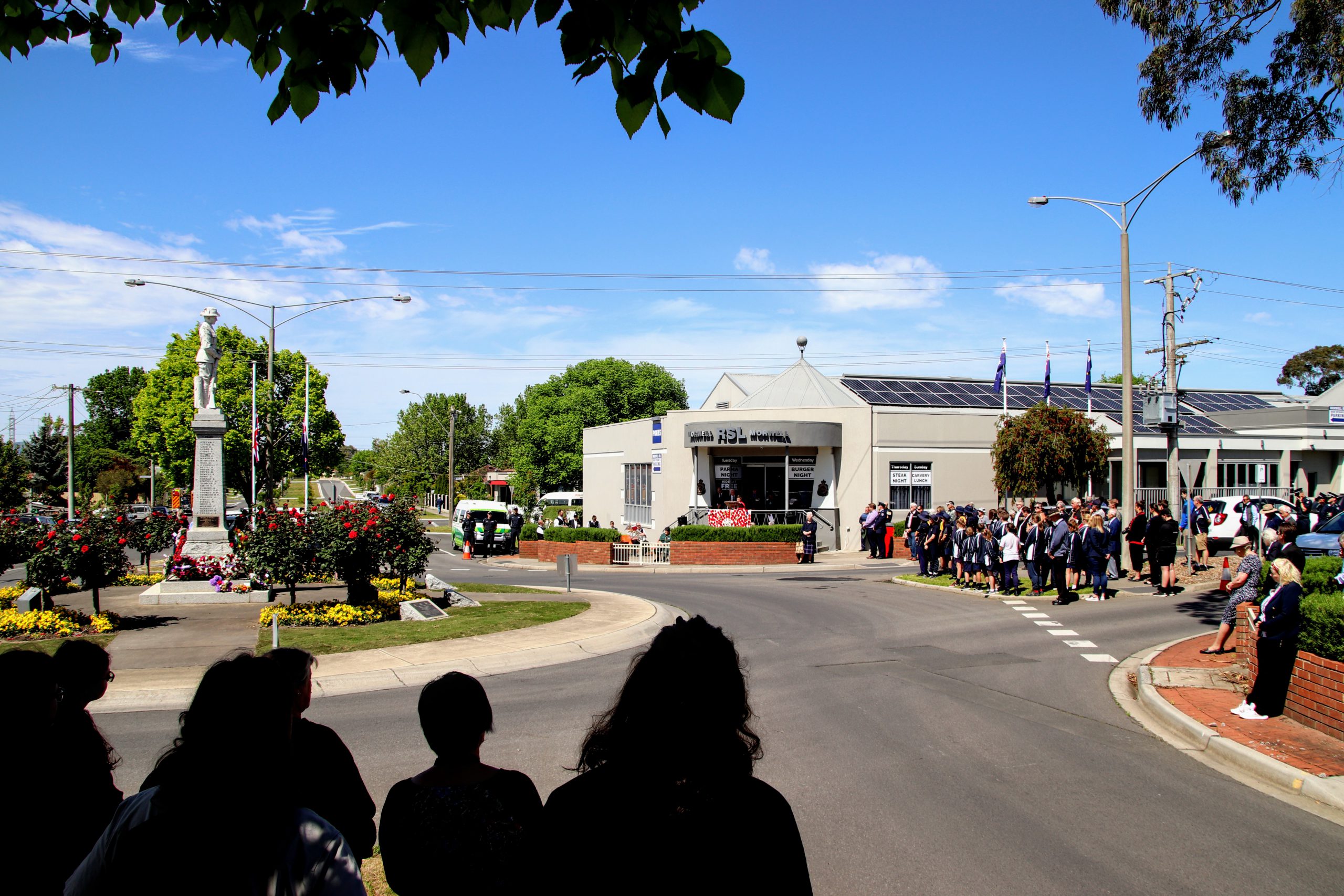 Dylan Arvela, Kate Withers and Gregor Mactaggart
The Latrobe Valley stopped at 11am today to mark Remembrance Day with services held across the region.

The services in Morwell, Traralgon and Moe were three of the most well-attended ceremonies with hundreds of people stopping to remember those who had made the ultimate sacrifice in war.

The ceremonies, which included the playing of the Last Post and the Ode of Remembrance, was followed social gatherings within the respective RSL branches.

Morwell RSL Sub-Branch president Wayne Hutchinson said it was important to mark the date, highlighting the role young people having in carrying on the legacy.

"To me it is a very important date," Mr Hutchinson said.
"I served for 39 years in the Rec Army and what I went through it nothing like what [World War I veterans] went through and I appreciate the effort, the time and the losses they made to make sure we had a better environment and better community to live in.
"It is a very meaningful day and I think we need to carry it on in future years. We need kids to be deeply involved to keep this history alive.
"We run school excursions with each of the local schools in the area. They come here for a couple of days each year and we also invite them to all our ceremonies to get them participating as much as they we can."
Traffic came to a standstill on Kay Street in Traralgon as locals paused to observe a minute's silence.
Reverend Canon Jeff Richardson welcomed about 300 in attendance to join together in prayer and Major Geoff Pike implored the crowd to take a moment to acknowledge the contribution of servicemen and women who fought for their country on the 101st anniversary of the signing of the armistice.
"[Some] were fortunate enough to return home and rebuild the community after that terrible conflict," Major Pike said.
"We also honour and pay our respects to those who didn't come home.
"It is also time to recognise the generations of servicemen and servicewomen who have continued to defend the values in subsequent wars, conflicts and peace-keeping missions."
A procession of community members laid specially-crafted wreaths at the cenotaph before City of Traralgon Band bugler Lachlan Wilson played the Last Post.
A crowd of about 250 converged near the cenotaph outside the Moe RSL under blue skies.

Moe RSL Sub-Branch president Steve Mayes said it was heartening to see so many people pay their respects.
"It was a great turnout, we had a few more people than expected.
"There was a large cross-section of the community, to see the young faces and school students in the crowd is just tremendous.
"It shows the history and traditions are being passed down from generation to generation."
Grade 4 students from St Kieran's Primary School delivered a rendition of Advance Australia Fair, while students from a variety of schools including Baringa, Elizabeth Street and Lowanna College, laid wreaths.

There were also ceremonies held in Trafalgar, Thorpdale, Yallourn North, Mirboo North, Yarragon, Rosedale and Newborough.