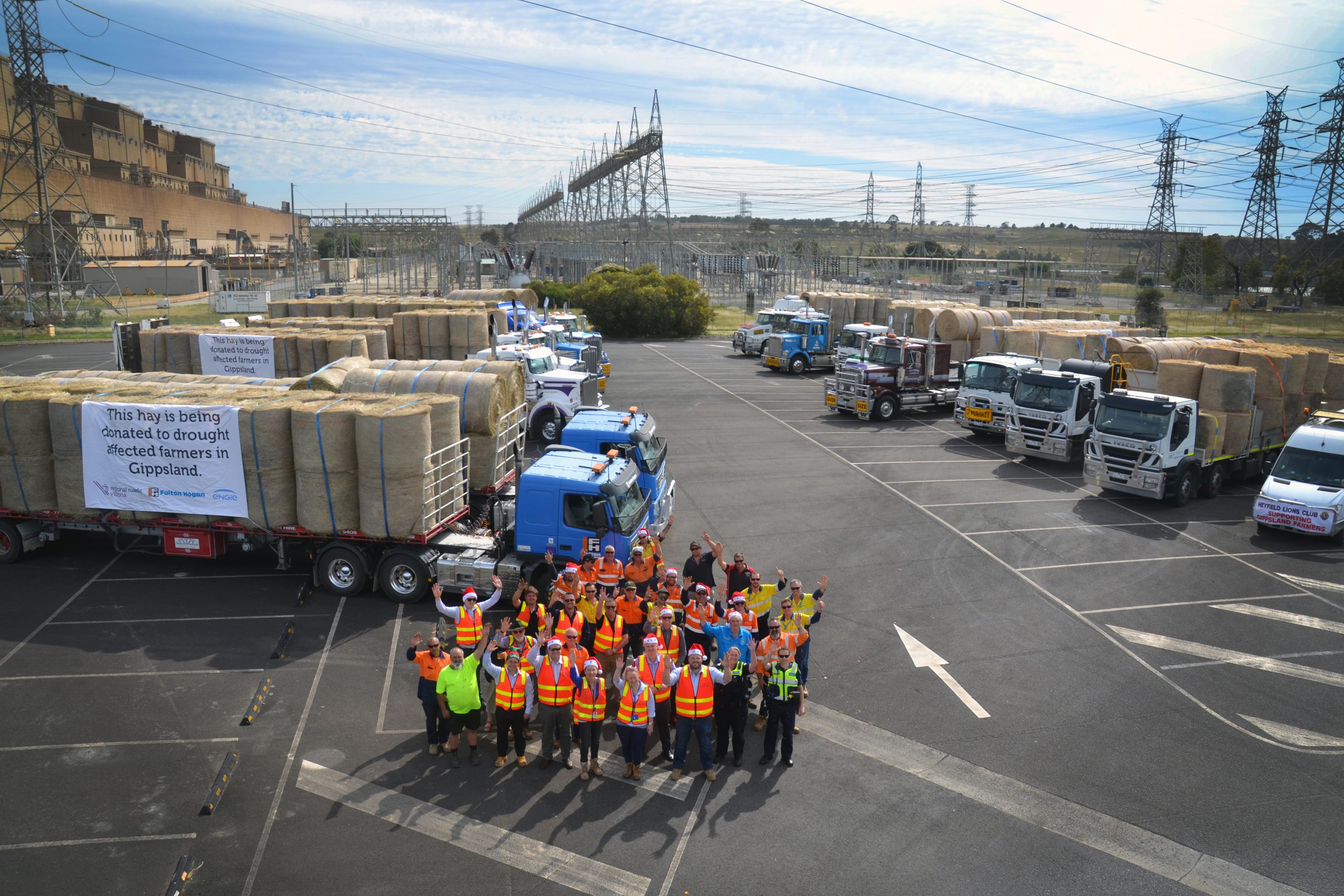 Tessa Randello
More than 500 hay bales harvested from roadside grass for stock feed have been donated to drought-affected farmers in the East Gippsland region.

Fifteen trucks carried the donation to Bairnsdale earlier this month, providing free feed for 55 farmers.

The convoy left from Hazelwood Power Station, with a barbecue for the farmers being held at their destination.

The second year of the project saw ENGIE came on board to donate grass cut from the Hazelwood mine site.

Mine superintendent David Shanahan said it was a great way to use the excess grassland at the site.

"We have a lot of land around the mine site, that's grass land which traditionally we've been slashing, but this is an opportunity to help the farmers up east," he said.

"It's a bit of a balance between getting rid of the grass before the fire season, to obviously eliminate those risks, so we try and bale early."

Mr Shanahan said it was a great chance to "gift it to the farmers in need".

"We're already talking about next year so we are trying to reserve some grassland that we can bale again," he said.

ENGIE partnered with Heyfield Lions Club Supporting Gippsland Farmers, Fulton Hogan and Regional Roads Victoria to bale and transport the donation.

Heyfield Lions Club Supporting Gippsland Farmers co-ordinator Ray Akers said this co-operation has allowed for a great project to continue for another year.

"You look around here and its all green but 50 kilometres up the road it's all dust," Mr Akers said "We have a convoy going up there to help the farmers out, seeing hay come into the area it gives them that lift and it's good for their mental health."

Mr Akers said the donation provided a boost at Christmas time for farmers,who have been battling the drought.

"We have 55 farmers coming in to pick this up, that's 55 happy people tonight," he said.

Trucks and drivers from Fulton Hogan made up the convoy to deliver the bales. Fulton Hogan general manager of infrastructure services in the southern region Peter Curlsaid the trip was"an emotional day".

"Giving something that's not necessarily monetary driven in the sense of being able to give something that's desperately needed, and its very hard as a commodity to come by,is a great opportunity," he said.

Mr Curls aid drivers who were involved for the first time this year were "blown away" by the amount of support.

He added he would like to see the initiative continue for many years to come.