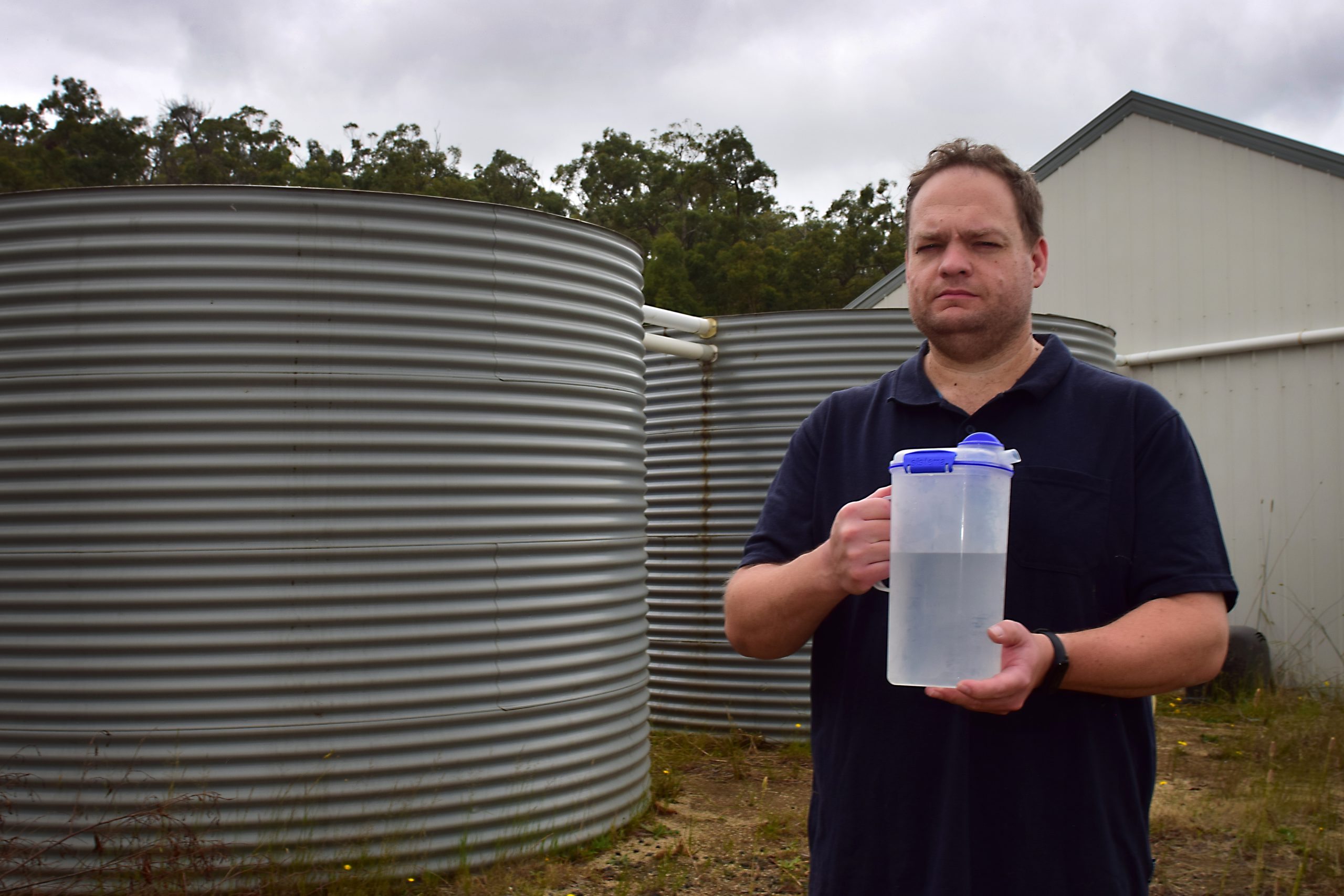 Michelle Slater
Hundreds of Latrobe Valley residents say their tank water has been tainted by bushfire smoke in the past few days, with some unsure what to do with their water supplies or looking for clear advice.

Locals reported their domestic water had a smoky taste or smell and were hesitant to drink it or bathe in it.
Hazelwood South resident Bree Downs said her tank water tasted a "bit funny" on Sunday, but was now "so bad we can't drink it".
"It absolutely reeks, it's dark brown. The washing stinks, I thought the detergent would take the smell away, but it didn't," Ms Downs said.
"I know we are not affected by the actual fire, but we are still affected from a health perspective. It would be nice to have an answer of what we can do."
The family-of-four was now relying on bottled water but Ms Downs said she was not prepared to empty her tanks and called on council to help replace the water.
Boolarra local Chris Milne installed a first flush system and a filter on his household water tanks following last year's Yinnar South fires, but said his water was still tainted.
He said his water "still looked clear" out of the taps but was smelling and tasting smoky due to fine particulates in the water, but "running the bath you can see it's a bit discoloured".
He said he was planning to install carbon filters in his home, hoping to fix the problem.
Mr Milne said he saw one local fill up a trailer load with bottled water after a "supermarket raid".
"I know some neighbours were cleaning their roofs to make extra sure, but even this still wasn't enough," Mr Milne said.
"This has hit at least hundreds of people, but there was no warning given that something like this would happen." He called on Latrobe City to act with government agencies to take some leadership on the issue, as no prior warnings had been issued to residents to protect their tank water.
"In the past there were warnings when we were affected by ash, so we disconnected our tanks and installed first flush systems, but now everyone has been put off guard, there should've been warnings," he said.
"I feel council is shirking its responsibility as so many people in the area have tank water. They should work with relevant government bodies to check tanks as this is going to be a bigger issue."
However, Latrobe City stated that as the municipality was not being directly impacted by bushfires, it had no plans to offer replacement water to affected residents.
A council spokesman told The Express it was "important to note the difference in information from that of those who are in a bushfire affected area to those who are not, like we are in Latrobe City".
"As the Latrobe City municipality has not been directly impacted by the current active bushfire events there is no water replacement program available to Latrobe City residents," he said.
"Tank water is a private water supply and owners are responsible for replacing water. Protection of your tank water is up to you."
According to the Department of Health and Human Services, "smoke taint alone is unlikely to be a health concern".
"However, if you are concerned about the taste of your rainwater, use bottled water for drinking and continue to use your rainwater for other uses," it said in a statement.
Latrobe City also issued a statement saying "smoke infused water is acidic in taste, but not usually a health risk. This is due to smoke particles in the air settling on roofs which is then washed into water tanks".
It said locals could use contaminated water on gardens "and then clean and refill tanks with fresh supply once the impacts of poor air quality from the east Gippsland bushfire passes".
Latrobe City also advised residents to prevent contamination by installing a first flush diversion or a water filter on taps.
Member for Morwell Russell Northe said yesterday he would raise the issue with the Premier's office to say that locals were seeking assistance and looking for direction.