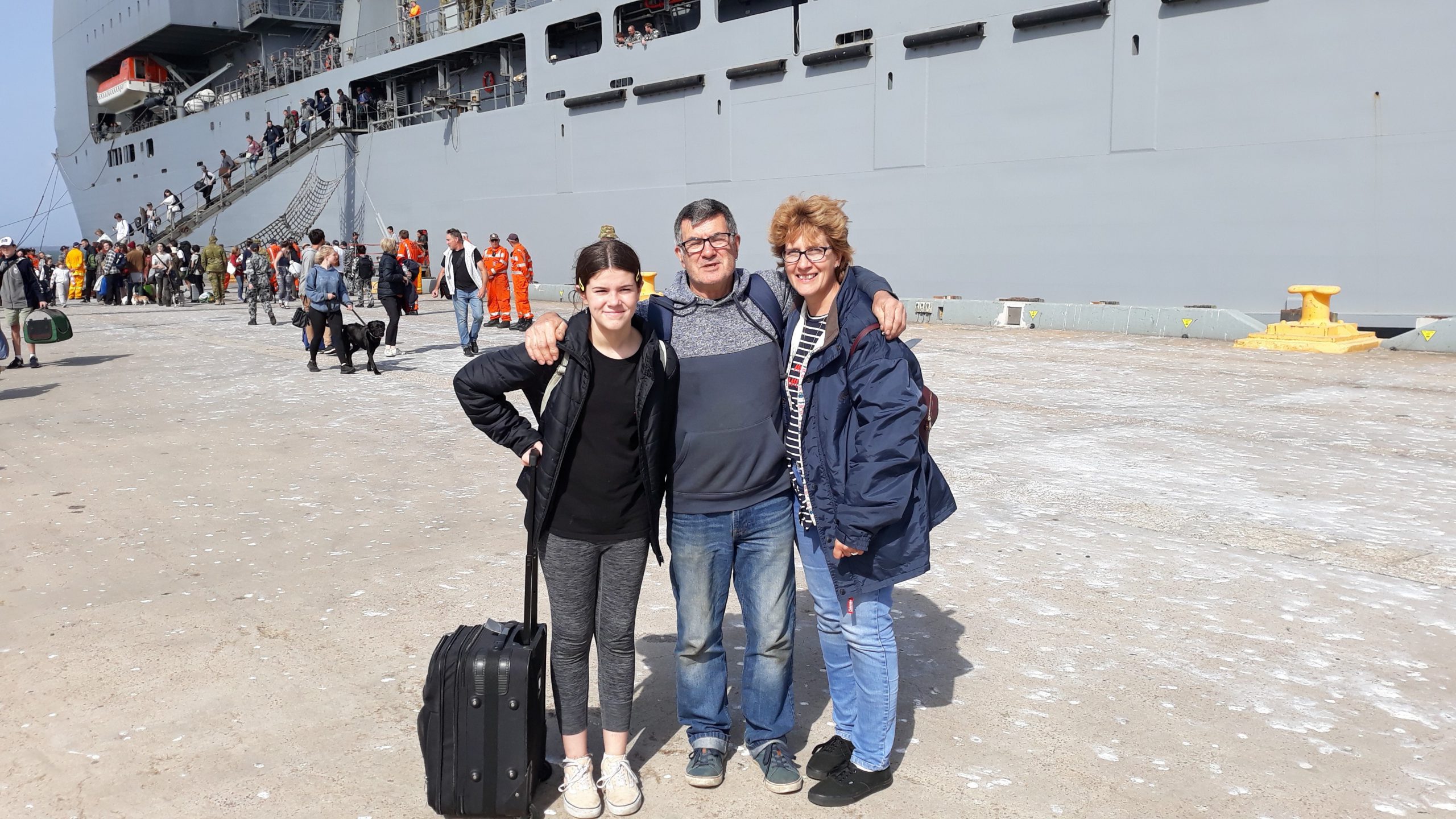 Cher Jimenez
IT was one holiday experience Jeeralang Junction mum Lisa Short is still processing.

Ms Short, her husband Ron and her 13-year-old daughter Olivia were among the first people evacuated out of Mallacoota by a navy ship when bushfires hit the area on New Year's Eve.
Her family, together with two other families, went to Mallacoota on Boxing Day as they have done for the past eight years.
"We were aware that there had been fires in Gippsland, but nowhere near Mallacoota at that stage, otherwise we could have rethought our trip," Ms Short said.
The families spent some lovely days at the caravan park until they all received a text advising of fire incidents on December 30 that was immediately raised to an emergency evacuation.
"The advice we were given from the caravan park manager was to evacuate to either the community centre, which is the oval at Mallacoota, or to the foreshore at the wharf area because the fire was coming east and would directly impact the township of Mallacoota," Ms Short told The Express.

Her group, comprising 12 people including six children all under the age of 14, headed down to the foreshore.
"We were also told that we would never hear the CFA sirens until the point of impact so that we knew if we heard the (siren) we knew at that stage that the fire would be upon us," she said.
Ms Short said her group met a shop owner at the foreshore, who distributed wet bandanas to people to help them deal with thick smoke that had blanketed them and the thousands of other people stranded in Mallacoota.

She said the man had an apartment on top of the shop and offered to accommodate her group.
Ms Short said people were advised that a cool change would arrive at about 4am the next day so her group did not sleep and waited for further information on a battery-operated radio for news.
"My thought was if we could get through the night we would be ok," she said.

Ms Short said the unthinkable happened on New Year's Day when everything went 'pitch black' as her group was based inside the apartment.
"We were thrown into complete darkness, it was pitch black, you couldn't see your hand in front of your face," she said.
"We were absolutely terrified."
Ms Short said everything was in total darkness for a couple of hours and then embers came down like rain from the sky.
She said looking through the window from the apartment they also saw a "massive orange glow" like a "big orange globe of death" that appeared to be coming closer and closer to them.
Ms Short could not believe that her group, along with the thousands of people stranded in Mallacoota, would make it out alive.
On January 3 her family was among those who were evacuated by the navy ship HMAS Choules out of Mallacoota and made the 20-hour trip to Hastings.

"I still couldn't believe that nobody was killed at Mallacoota," she said.
The CFA, they were fabulous, at one stage they said to us if the fire comes to the foreshore (they) would literally create a wall of water in front of everybody."
Ms Short, whose family evacuated from their Jeeralang Junction property during the Yinnar South-Budgeree fire in March 2019, said their experience at Mallacoota would not stop them from going back to support the community as it gets back on its feet again.