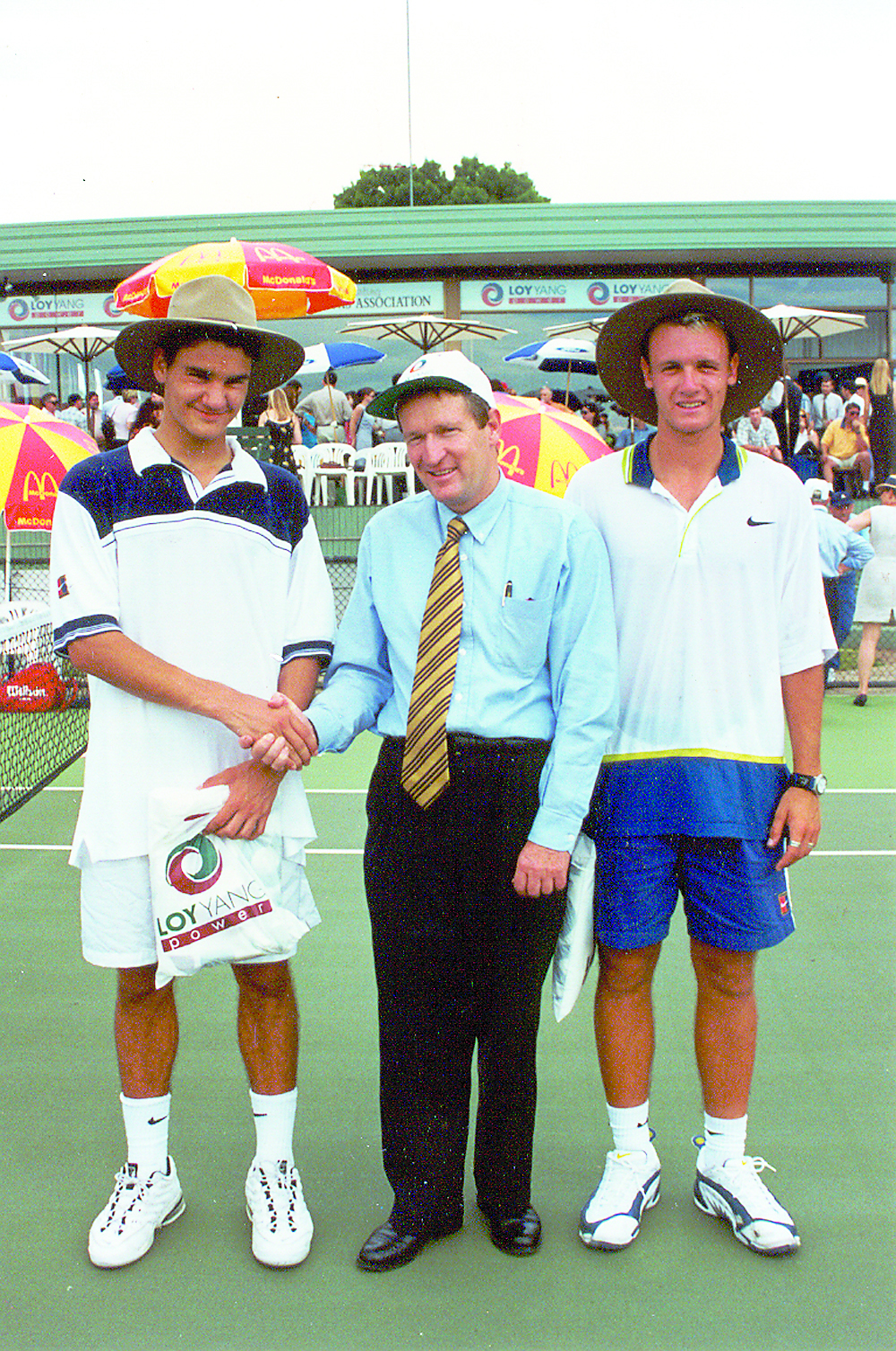 Gregor Mactaggart
HE is now the most successful men's grand slam singles champion of all time, but when Roger Federer arrived in the Latrobe Valley 22 years ago, things were much, much different.

The year was 1998, a time when John Howard occupied The Lodge as prime minister, Jeff Kennett was still ruling the roost as Victorian premier and The Panel proved the breakout hit on Australian television.
Then known as the Loy Yang Power ITF Victorian Junior Championships, the Traralgon event attracted world-class players for both the boys and girls junior events.
Federer barely rated a mention in the lead-up despite being the junior national champion in Switzerland, also the home of Martina Hingis, the winner of the 1997 Australian Open women's singles title at the age of 16.

But he was not a complete unknown, having broken through for a first ITF tournament win at Prato, Italy in May 1997, defeating Croatian Luka Kutanjac 6-4 6-0.
Federer plotted his way through the tournament in impressive fashion to set up a final showdown with top seed Julien Jeanpierre.
Jeanpierre was the world's number one ranked junior with tournament wins in Venezuela, Roehampton and the 1996 Orange Bowl on his resume.
The Express' reporter Curtis Cooper covered the decider and described Federer's 6-4 6-4 win as an "upset".

Federer thanked the Traralgon Tennis Club for putting on a great tournament and said he was "happy" he played well.
Traralgon was the scene for Federer's second ITF triumph and while it would be Jeanpierre who bounced back to seal the Australian Open boys crown, success in the Latrobe Valley would be a portent of things to come.
Six months after winning at Traralgon, Federer won the Wimbledon boys title and later in the year finished runner-up to David Nalbandian in the US Open boys before making the step up to the senior ranks.
He is back Down Under this summer vying for a remarkable 21st grand slam singles title at the Australian Open.
Federer has earned prizemoney of more than $129 million on tour during his outstanding career, while Jeanpierre departed the ATP tour having earned $225,543 in a senior career highlighted by three Challenger titles and only five main tour matches.

TRIP DOWN MEMORY LANE

Latrobe Valley Express, January 15, 1998

By Curtis Cooper

In the boys final, top seed Julian Jeanpierre of France was upset by Switzerland's Roger Federer in straight sets 6-4, 6-4.

Federer won the toss and surprisingly elected to receive.
He may have been rethinking his decision when Jeanpierre held comfortably to win the first game of the match.
However, Federer did not have to rethink for very long as after holding serve, he got the early break and led Jeanpierre 2-1 at the change.
It was a case of poor serving from both players as in an amazing first five games of the set, there were three breaks of serve without consolidation.
A mishit at 40-30 from Jeanpierre, however, allowed Federer to hold serve and take a 4-2 lead.
Jeanpierre's service worries continued as he faced another two break points.
He played aggressively to get it back to deuce and played consistently to get the first back to 4-3 in favour of Federer.
Federer held to love and Jeanpierre found himself serving to stay in the first set. He began shakely with a double fault, but scrambled his way back to hold.
Federer, serving for the set, held to love and surprised spectators by taking the first set.
Jeanpierre's service worries continued as he faced three break points in the first game of the second set.
He managed to get it back to deuce, but it was to no avail, as unforced errors began to creep into his game and Federer pounced on the opportunity to take an early break.
Good serving from Federer saw him hold service and look like running away with the match.
Jeanpierre's unforced error count continued to climb, although he still managed to gain a game point.
A controversial foot fault call brought the game back to deuce, however the Frenchman fought on well to take the game and be down 2-1 at the change.
Federer saw his serve go to deuce, and even a classy drive volley wasn't enough to spark him to take the game as Jeanpierre fought on and gained the vital break back.
Some thundering ground strokes from Federer saw him jump to a 0-30 lead on the Jeanpierre serve, but the top seed fought back and cracked a firing backhand winner down the line to hold serve and take a 3-2 lead.
At 3-3, Federer faced yet another break point, but managed to serve his way out of it and take a 4-3 lead at the change.
Jeanpierre's unforced errors continued to hamper his cause and eventually cost him his serve and gave Federer a chance to serve for the championship.
As he done all match, the Swiss played confidently from the baseline and continued to attack to close out Jeanpierre in straight sets.