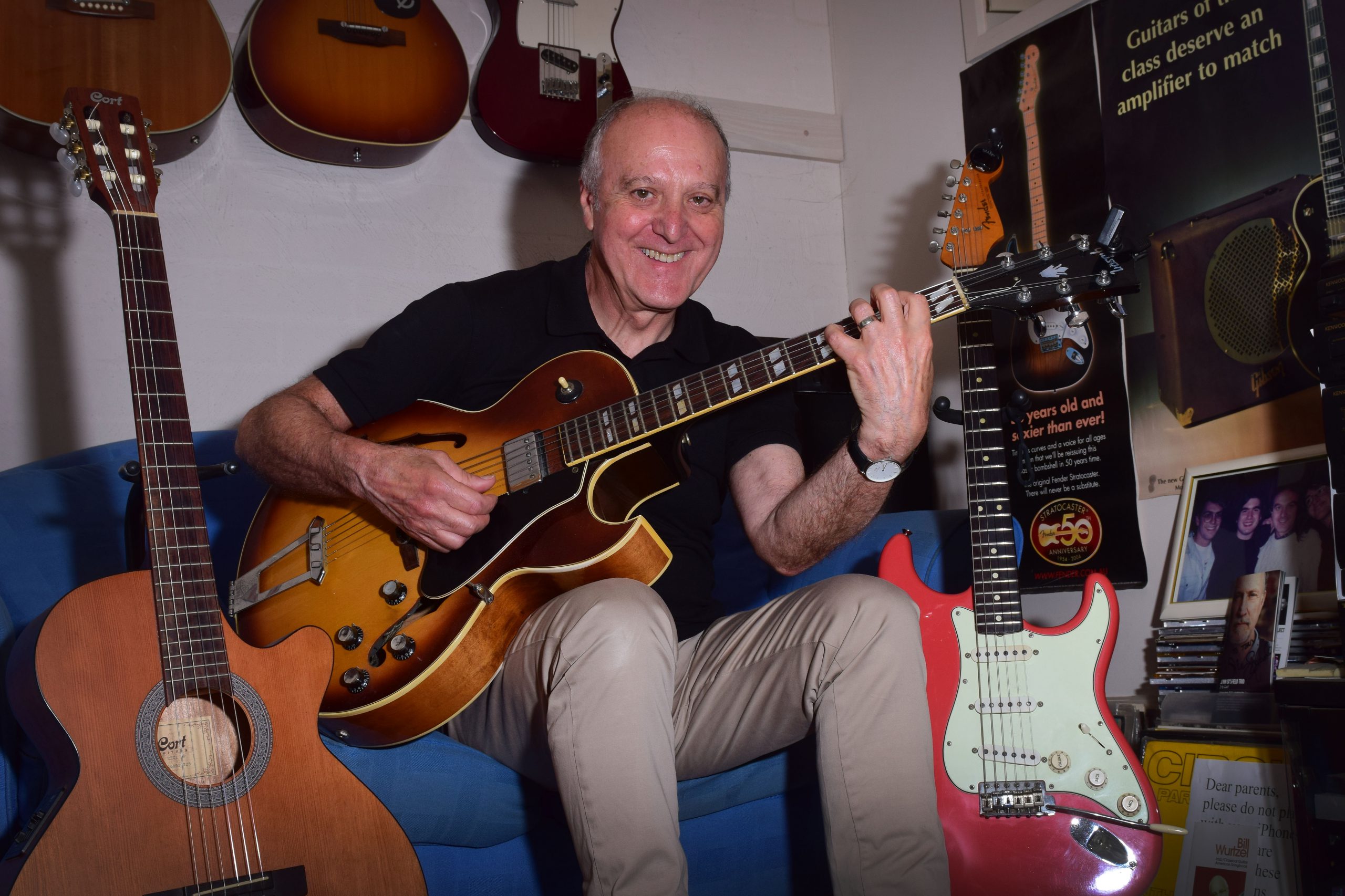 Michelle Slater
Morwell guitar legend Tony Calabro still feels passionate about music and getting the best from his students as he marked a massive 50-year anniversary of guitar teaching last week.

Mr Calabro has played with some of the world's most important guitarists and has legged-up some of the country's most successful musos – including Southern Sons front man Jack Jones from Traralgon.
He estimates he has taught 12,000 students in the past five decades, and is booked weeks in advance to teach lessons in his home studio in Morwell, with some pupils coming from as far as Geelong.
"Students learn more than just music form me, they learn mentorship. If you put in and persist, I've never had a failure, but it's hard work and they need to follow the plan," Mr Calabro said.
"You can be a great player but a rotten teacher. I've been blessed with all the people I've met and I've been privileged to teach so many people from all walks of life."
The lifelong muso started out fronting a Newborough band Priority as a singer in the late 60s, but it wasn't until the band split that he picked up the guitar and began teaching himself by ear.
Mr Calabro was writing a local In Beat music column for The Express and landed a job as a guitar teacher with Morwell music store Keynotes.
"I told them I was only a beginner, but they told me to keep 10 lessons ahead of my students. I was studying civil engineering, but I didn't enjoy it," he said.
"After 12 months of teaching, I was making more money than an engineer by doing what I loved."
Mr Calabro joined a few other local outfits including Pyramid and Noggins and Bats which supported John Farnham, Johnny Young and Mike Brady in an era when "Morwell was a live music mecca".
However, he decided to knock back becoming a full-time touring muso to focus on raising his family in Morwell, watching how band life had put strain on the relationships of his muso friends.
Mr Calabro's hunger to become a better player led him to take lessons from Melbourne teacher Laurie Ralphs, which he said "opened the door for bigger things later on" learning jazz and classical.
He said he had a "life changing moment" when he met his guitar hero American jazz guitarist virtuoso Jo Pass in 1979 which led to a lifelong friendship until Pass died in 1993.
"I began writing to US guitar players and I wrote three letters to Jo Pass. One to his record company, to his boom publisher and to Guitar Player magazine asking for advice," Mr Calabro said.
"He wrote back to me saying he was coming to Australia for a series of workshops and told me to look into it and we could meet up."
Mr Calabro won a Victorian Arts Council grant to study with Pass two hours a day where he said he learnt "confidence and to keep persisting and to never give up".
The grandfather of eight said he aimed to give his students the best chance, but warned they had to stick with it.
Mr Calabro said a good guitarist needs to "play by ear well, read music and play a variety of styles, be versatile and be able to sing".
"I think the guitar is the greatest instrument God created. It's versatile, portable and affordable," he said.
Some of his more well-known proteges included Rohan Hayes and Steve MacKay who went on to form internationally renowned rock outfit 12 Foot Ninja.
Mr Calabro said he almost kicked Jack Jones out of classes for not practising.
"I rang his mum saying
I felt guilty for taking your money, she asked me to have him for another term and he took off like a rocket," he said.
"He was amazing. Jack came from a musical family, music was in his blood. He had a good ear and a flair for it."
Mr Calabro said he still takes his guitar on holidays with him and aims to keep improving and encourage others.
"Morwell has been extremely good to me, it's given myself and my family a good quality of life and I've never missed out on anything," he said.