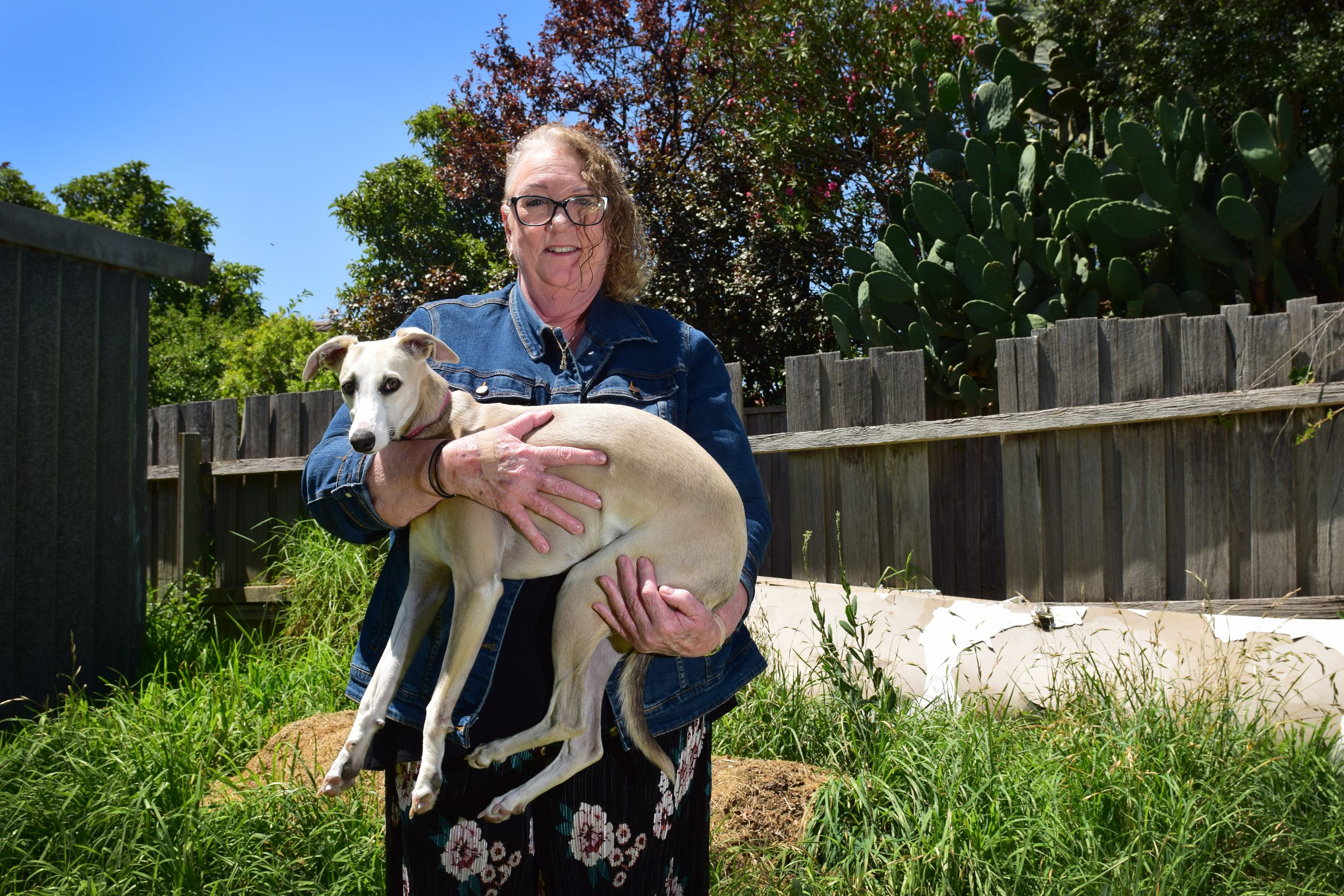 Kate Withers
A frustrated Traralgon resident is calling on council to foot some of the cost to replace damaged fencing on a property which borders a public access laneway.

Debbie McDonough, whose son owns a house which shares a common fence with West Lane, said rotting palings were being picked off by people using the thoroughfare through to West Court.
"Really, two-thirds of the lane is my property. It's not fair. We've tried to block it off as best we can," Ms McDonough said.
"The palings are rotten and falling off, so people just love walking past and ripping them off. It's absolutely had it.
"People walk through it late at night. It's a public thoroughfare, so the shire is inviting them to walk through there – it needs to be properly fenced."
Ms McDonough's dog, Opal the 10-month-old whippet, has escaped on multiple occasions through gaps in the fencing.
"I was fined a fair bit of money, it cost me $165 to get her back and then there was an account for $248 which is because she got out," she said.

"I called Latrobe City and asked if they could help repair the fence and waive the infringement notice, but they told me they would only do that if it was adjoining a public reserve.

"I just got a surprise because I thought that would be their responsibility, but it's mine. It's just wrong.
"And then when I said 'well can I ask that (the laneway) is closed off?' Really, I should be able to stop people walking by my fence if they're saying it's my responsibility."
The house adjacent to Ms McDonough's which borders the other side of West Lane is also missing palings.
"What if there was no fence there and someone was drunk and fell in my yard and broke their neck? Whose responsible for that?" she said.
"We've had two pushbikes go missing, one scooter out of the backyard, those palings have been missing so they can see what's in there."
According to Latrobe City's website, residents may apply for half-cost fencing if their property "adjoins council land".
The site says: "It is the owner's responsibility … to pay all costs associated with the repair or replacement of any damaged section of a boundary fence abutting a council owned property where damage has occurred through the action or neglect of the property owner or occupier".
A Latrobe City spokesperson said council was "not required to contribute to fencing works where a property adjoins council land".
"Victorian councils are not required to contribute to fencing works where a property adjoins council land," the spokesperson said.
"Although Latrobe City Council is not obliged to contribute, it has developed a policy to contribute to fences that face council reserves to ensure that they are of a standard that is fitting for a public reserve.
"Council does not share the cost for fences that abut roads, laneways and pedestrian walkways.
"Potential property owners should consider the longer term costs of these fences in their decision to purchase as they will be part of the ongoing costs of property ownership."
However, Ms McDonough said she was not aware of the policy when she sold the house to her son, who is in a wheelchair and requires in-home care.
"(My son) has no idea that he's responsible for that, but also, his funds are held by the Supreme Court," she said
"I would have to approach the Supreme Court for the funds to fix this, so it's going to be the Supreme Court against Latrobe City."