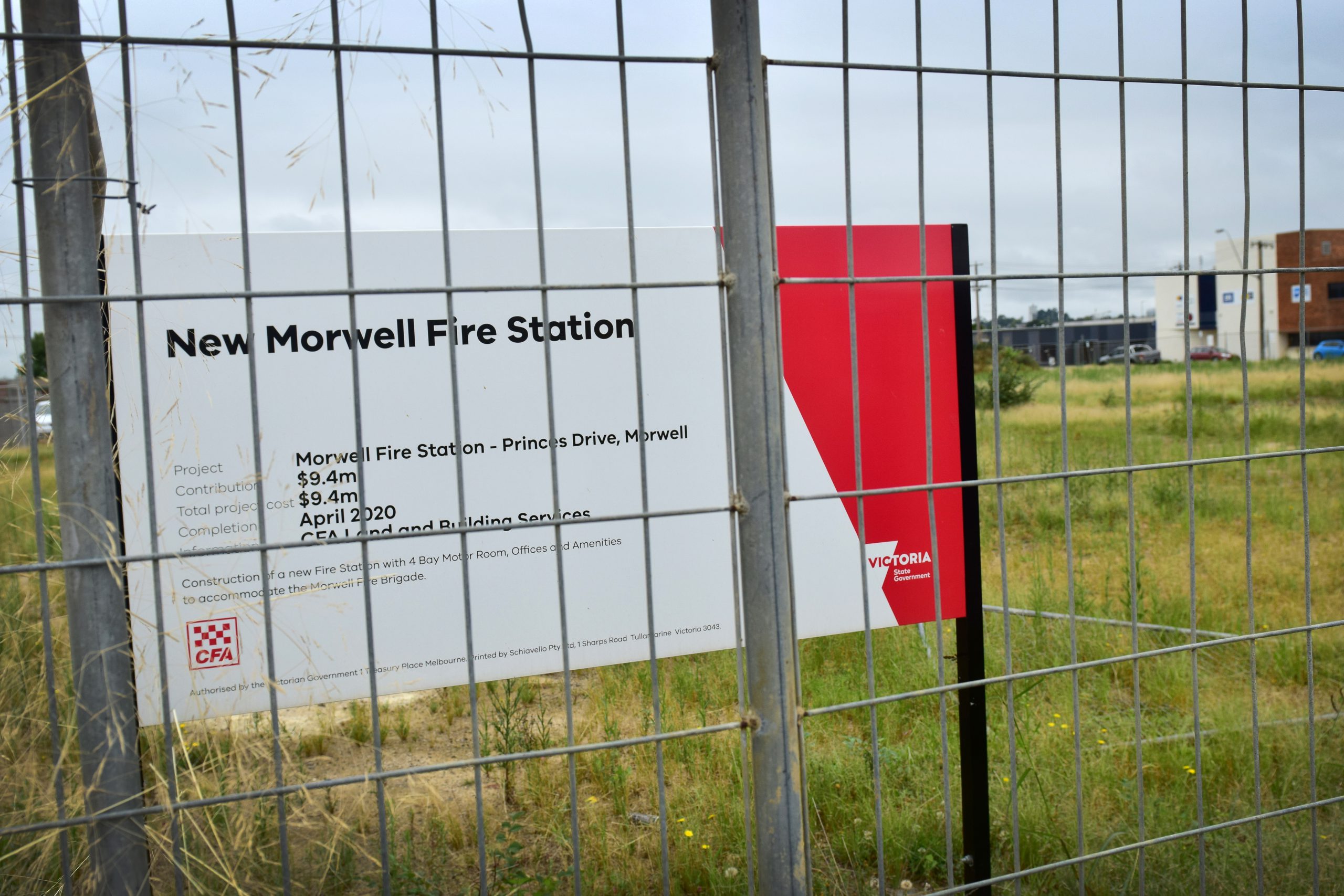 Kate Withers
Volunteer firefighters have told the CFA they will not move to the new Morwell fire station along with paid staff.

Speaking with The Express, Morwell First Lieutenant Peter Keenan said volunteers were given notice by the CFA a fortnight ago they "must move" with career firies to the new integrated facility slated for Princes Drive.

"We've met (the CFA) a number of times over the last three-plus years and they've given us no lip service whatsoever," Lt Keenan said.
"They've come to meetings and listened to us, but at the end of the day we've got one letter from them a fortnight ago to say we must move."
Lt Keenan, who has been a volunteer for 46 years, cited brigade-wide concerns over the future of volunteer firefighting in the region if they were forced to co-locate.
About 50 volunteers are based out of Morwell, including a ladies auxiliary.
"If we go to the new station eventually they'll push us out and we won't have a volunteer base," he said.

"Lets face it, the (paid) staff are qualified and do it very well, and the volunteers are good at what they do and are trained very well too.

"We're going to stand our ground because we want to make sure that we are there to represent the community – that's what matters here."
The volunteers last year voted to split from career firefighters at Morwell.
They expressed a desire to stay at their current McDonald Street station, instead of co-locating to a new facility once the CFA becomes a volunteer-only organisation in July.

Career firies, who will become Fire Rescue Victoria staff, also supported the motion to separate the brigades.

"I must admit there are people in the staff system that see us volunteers as a threat, which is ridiculous, but nine times out of 10 we are all pulling in the same direction" Lt Keenan said.

"We have our own identity and own name, and this is something that we're very strong on, the whole brigade.
"If you think about the service to the community over many many years, we've got volunteers with 50, 55, 60 years of service to the community and we don't want to lose that.
"We have lost some over the years, which happens, but if we have anymore losses we won't be able to cover it."
Lt Keenan also argued a precedent for split brigades in the region had been set, with Moe, Newborough and Latrobe West all approved to operate separate paid and volunteer fire services.
"Why is Morwell any different? Why should we be dictated to?" he said.
"But what I really want to get out is that the community is going to be in our thoughts all the time, it doesn't matter what happens with the CFA and FRV.
"CFA volunteers will always look after their community that's what we're there for, to make sure they do get the service they deserve.
"The community will not suffer. We will keep doing what we've been doing for another 105 years. We are going to be here until the end."
Deputy Chief Officer Gavin Freeman said the CFA acknowledged the volunteers' "desire to stay" but maintained an integrated station with "dedicated volunteer areas" was "the best model".
"It is CFA's position that both career and volunteer firefighters will transition from their existing site to this site next year … to continue to provide an integrated response to the local community and deliver the best possible community safety outcomes," Mr Freeman said.