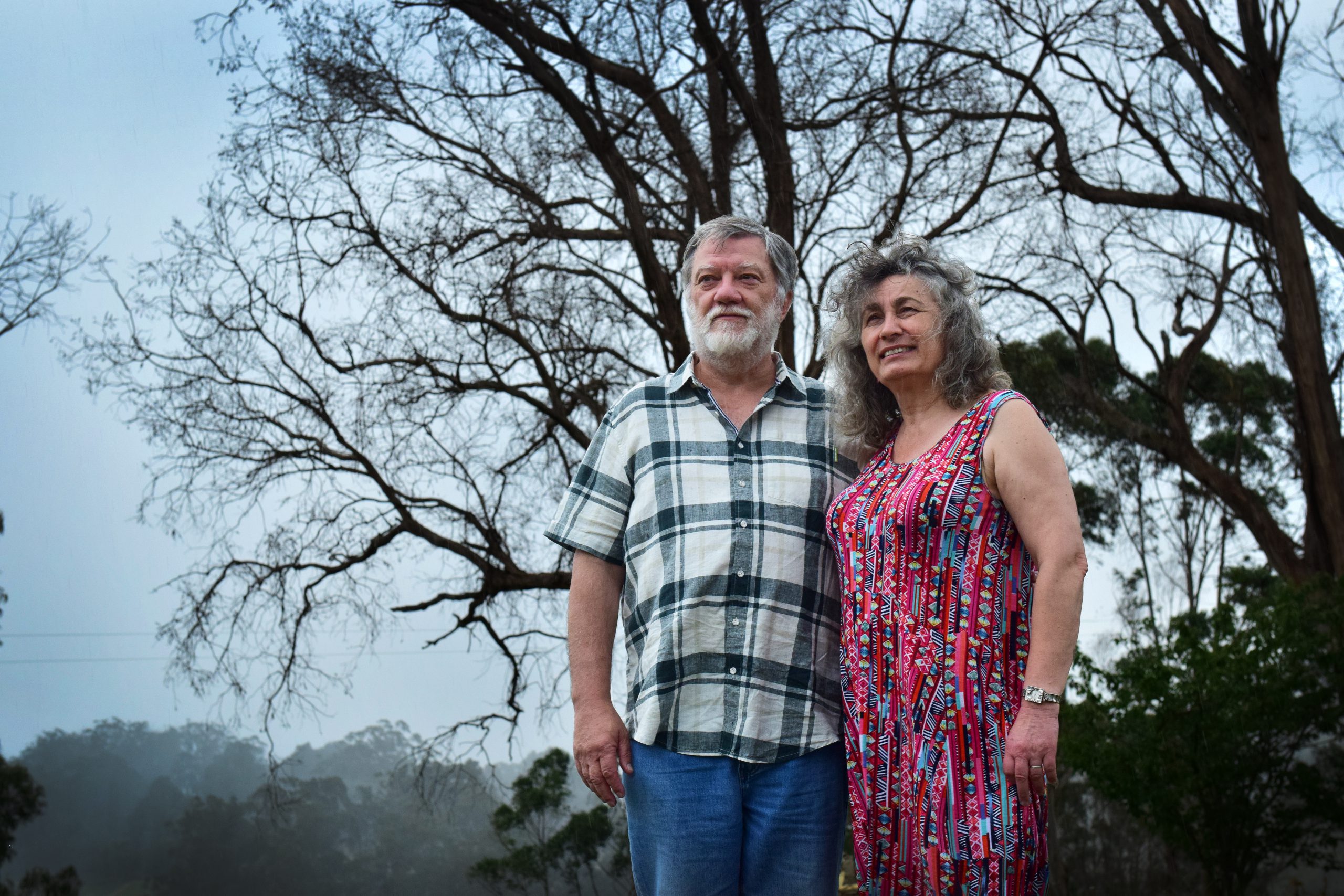 Michelle Slater
The Boolarra Folk Festival "will never be the same again" for Elke Frank and Steve Koczwara, who are marking a year since they lost their home in the Budgeree-Yinnar South fires on the same day as the local music festival.

The couple were one of two families to lose their house, both on Healeys Road, in last year's March bushfires, and decided "the time is right" to think about rebuilding on their two-hectare block.
Ms Frank and Mr Koczwara met with architects on Sunday after Ms Frank performed with local group Little Orchestra of Abundance at the Boolarra Folk Festival on Saturday.
"We are very thankful we have a terrific community, they've been extremely supportive and sought to help emotionally and in concrete ways," Mr Koczwara told The Express.
"We've been pretty positive all the way through which gave us some resilience, we can see things will fall into place given time."
Last year, Ms Frank received a VicEmergency warning while rushing out for a sound check to play at the festival with her band The Magentas.
Mr Koczwara stayed behind to monitor conditions before he evacuated to later learn their house was destroyed that evening.
The couple returned soon after to sift through the ashes to find the remnants of burnt ceramic pots, coins and cutlery, hoping to find any sentimental items.
The pair is now displaying a sculpture and some jewellery made out of the scorched roofing iron by a local artist.
"It was more disillusioning rummaging through the ashes, it was a constant reminder of what was there, but we responded differently," Mr Koczwara said.
Ms Frank said she found it challenging going to reach for mundane items such as socks or basic kitchen implements only to realise they were gone.
"This was boring old stuff you think you have, and going shopping for an ironing board or scissors is not much fun," she said.
Dealing with the contents insurer proved to be a heartache, particularly with Mr Koczwara's collection of more than 4000 "treasured" books, where he had to supply every title.
"This was emotionally challenging when we were most vulnerable, the contents insurer was combative, they undermined our claims at every opportunity and the complaints process was terrible," he said.
"They made me detail every single item, reviewed the claim, and then systematically reduced the values of items."
The couple said they were "overwhelmed" by the community's generosity after the fire, with strangers, friends and family offering them accommodation and local businesses offering them goods and services.
Ms Frank said she went to purchase a pair of shoes in Traralgon and the shop assistant was so moved that she paid for the pair out of her own pocket.
"I went back a few weeks ago and bought her a bottle of Baileys," Ms Frank said.