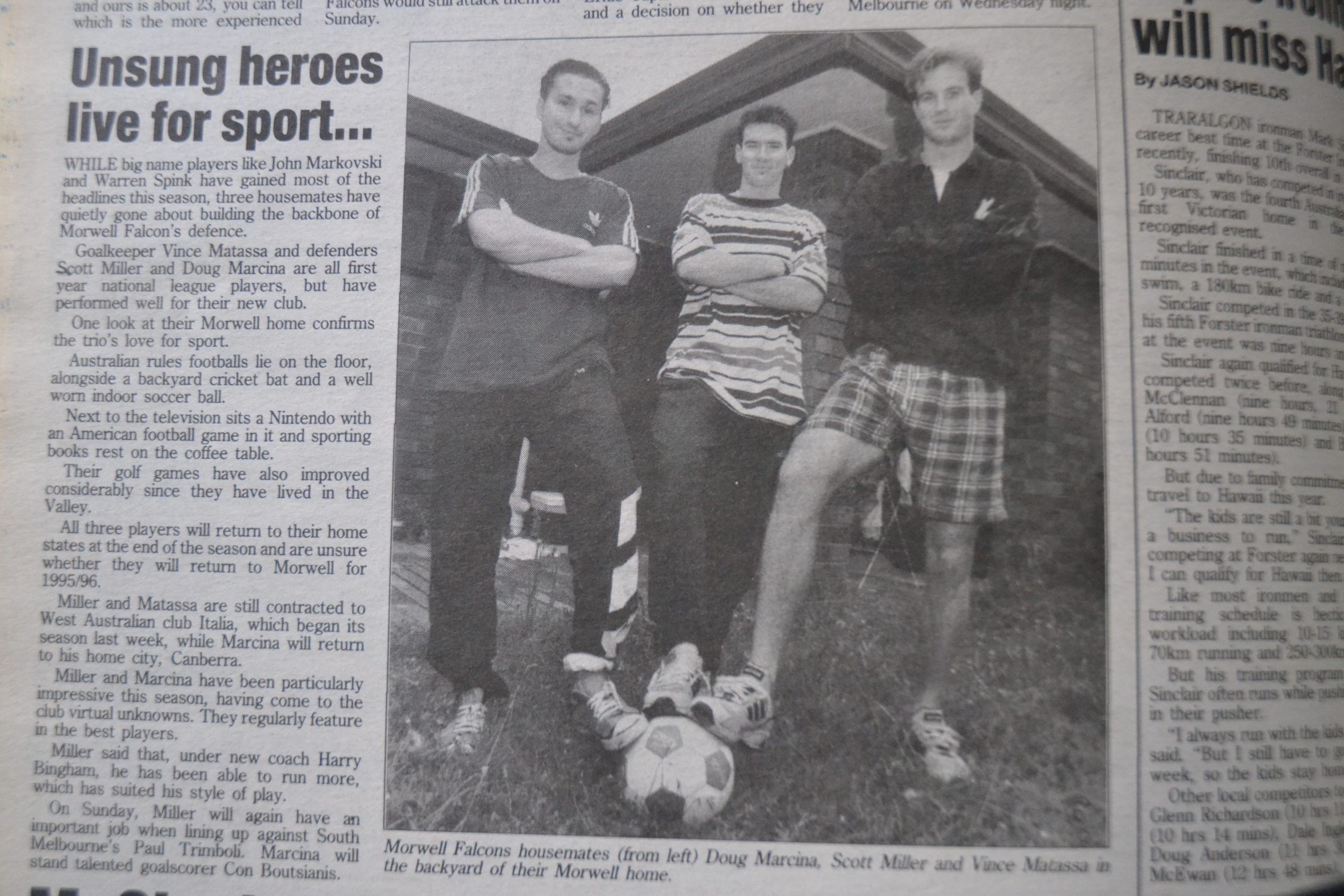 Gregor Mactaggart
Morwell Falcons were a remarkable club that flew the flag for the region on the National Soccer League stage during the 1990s. In this latest instalment of Glory Days, Express editor Gregor Mactaggart delves into the archives to reflect on the 1994-95 season when the club soared into the finals series.

THE story of Morwell Falcons is one of triumph over adversity.

Formed in 1961, the Falcons lived up to their names, rising through the Victorian ranks to win two state league championships in 1984 and 1989.
The timing was right for the club to join the National Soccer League in 1992.
Falcons placed 12th of 14 teams in its debut season, finishing ahead of Preston Makedonia and Brisbane United on the ladder.

Seven wins and seven draws from 26 matches was better than most of the pundits had predicted.
Season two saw sharp improvement following an influx of new signings.
Socceroo John Markovski headed the list of inclusions, which also consisted of Shaun Parton (Preston), Steve Douglas (Albion), Brian Bothwell (Fawkner), Lachlan Armstrong (Dundee), Carlo Villani (Canberra), Vasco Trpcevski (Preston) and Joe Gagetti (Canberra).
Under coach Bobby McLachlan, Falcons climbed the ladder, but would ultimately miss out on the finals by a solitary point, having garnered 11 wins, seven draws and eight losses from 26 matches.

That near miss stung the Falcons, who were intent on creating history in season 1994-95.
Morwell landed a number of key off-season signings headlined by creative midfielder Ernie Tapai, but it was the capture of two emerging talents from Western Australia which garnered headlines in The Express on September 9, 1994.

Young goalkeeping sensation Vince Matassa is set to don the Falcons strip following an agreement reached between the Falcons and Perth Italia.

The clearance deal also includes midfielder Scott Miller, a versatile player who also excels in defence, particularly down the left side.

The Falcons are now busy on salary negotiations with both players and hope to see them both training in the Valley very shortly.

Success came on the field when Falcons won a first Dockerty Cup in September.

Here's how The Express on Tuesday, September 27, 1994 reported that triumph.

Morwell Falcons defeated Melbourne Zebras 2-1 on Sunday to clinch their first Dockerty Cup.

The Falcons entered the final as favourites after they overcame the powerful South Melbourne side in the semi-final.
After 35 minutes however, the Falcons were behind following a penalty awarded against Gary Upton.
Zebras player George Karkaletsis converted truly.
Morwell then stepped up a gear and in the next minute nearly scored the equaliser, due to a Claudio Canosa shot which hit the upright.
It seemed only a matter of time before the Falcons would score and in the 44th minute, Brian Bothwell levelled the game.
Morwell looked impenetrable at the back with Canosa, Waddell, Steve Douglas and Shaun Parton repelling everything that came their way.
After the halftime break, the Falcons picked up from where they left off.

In the 63rd minute, they were ahead after last season's best and fairest winner Sonny Sevin, was fouled by Gonzalez in a goal scoring opportunity.

John Waddell converted the spot kick and it was all the Falcons from then on.
Defender Claudio Canosa was named man of the match.

Falcons also announced the capture of Portuguese midfielder Francisco Dinis, but it came with news that Matassa had spurned Morwell and set his sights on England.
Maybe the talented shotstopper heard the wrap given to Falcons from then Premier Jeff Kennett in October 1994 after his appointment as executive president of the Victorian Soccer Federation.
"The Morwell Falcons have done a marvellous job in developing their ground and facilities and although they still have a long way to go, they are the only country team in the national competition and they have carried their colours and Victoria's colours very well," Kennett said.
Less than a week later, Matassa was back in Australia after a short stint with UK-based club Cardiff City.
The fluctuating fortunes of Matassa and Dinis continued, with the Portuguese midfielder, who had played at clubs such as Nacional and Maritimo, returning home due to his father's illness.

In better news, Falcons were closing in on the signing of renowned Socceroo forward Warren Spink, although a $24,000 transfer fee from Malaysian side Perak was hanging over his head.

Morwell coach Bobby McLachlan told The Express' sports reporter Jason Shields how significant his new players would be.

"Locals don't realise what's happening," McLachlan said.
"Here's Morwell, a country town, playing against the best in Australia and signing players of this quality.
"People don't realise the work that goes into convincing players to give up this and give up that, so that they can come and play with the Morwell Falcons.
"The criteria for Morwell this year was to sign quality players and Tapai, Spink, Matassa and Miller all fitted that."
Falcons opened their NSL campaign with a frustrating opening round result as reported by The Express.
Despite dominating during regular time, Morwell Falcons could not convert a winner in its National Soccer League season opener against the Melbourne Zebras and lost in a penalty shootout.

Falcons were continually denied in front of goals due to the outstanding performance of Melbourne's new goalkeeper Maurice Gonzalez.
The game was tied 0-0 at the end of 90 minutes, with the match taken to penalties for the first time with the Zebras winning 3-1.

The penalty shootout format offered an extra point to the winner.
In 24 matches of the 1994-95 season, Falcons would feature in shootouts 11 times, winning just four.
One they won came in Round 3 against South Melbourne.
Here's Jason Shields from The Express, November 8, 1994.
Morwell Falcons produced one of their best ever performances on Sunday night to defeat the powerful South Melbourne Hellas in a thrilling penalty shootout.

After finishing regular time locked at 3-3, Falcons started the shootout well when keeper Vince Matassa, who had played an outstanding game, saved Paul Wade's spot kick.
The Falcons then converted through captain Shaun Parton and looked set to hold onto the goal advantage before Claudio Canosa's spot kick was saved by former Morwell keeper Steve Mautone.
The shootout then went goal for goal before Matassa again denied South Melbourne with an excellent save to give Morwell the extra point (6-5).
It was just reward for the Falcons, who were denied the outright victory by a cruel South Melbourne equaliser in the 90th minute.
Holding onto a 3-2 lead, Morwell defended valiantly against a gale force wind, until a shot from Paul Trimboli deflected off the back of Steve Douglas to find the back of the net and tie the game at 3-3.
Considering the terrible weather conditions, the match was one of the most entertaining National Soccer League matches for some time.

Melbourne Knights, featuring a young Mark Viduka, had been setting a cracking pace at the top of the ladder, but found Falcons a tricky assignment in Round 8.
The match finished 1-1 with Brian Bothwell cancelling out Mark Silic's first-half goal before the Knights edged out the shootout 7-6.
Despite some encouraging results against the league's top clubs, Morwell was paying the price for defeats to the likes of Marconi Fairfield, Parramatta Eagles and Sydney Olympic.
Falcons had won just three of their previous 12 matches coming into a rocky first fortnight in March and the last thing they wanted to see was Mark Viduka.

Here's Jason Shields' report in The Express.

Morwell Falcons suffered the worst defeat of their short National Soccer League history on Sunday night, being thrashed 6-2 by the powerful Melbourne Knights.

The Knights, inspired by Mark Viduka's four goal onslaught, were far too good for the undermanned Falcons, who now look like missing out on an NSL finals berth.

With that loss, the Falcons have dropped to ninth position on the ladder, seven points behind sixth-placed Brisbane Strikers.

Falcons were up against it from the start when defender Claudio Canosa was ruled out with a back injury.
The Knights moved 12 points clear of Adelaide City with that result, while Falcons were seven points adrift of the top six.
A midweek clash against Adelaide City at Falcons Park drew the club's lowest ever crowd of 1251 and according to marketing manager Ray McCluskey resulted in lost revenue of $30,000.
The game was notable for two things – a Craig Foster winner and the last match Bobby McLachlan would be in charge.
McLachlan called time after eight years in the role, paving the way for Youth Team coach Harry Bingham to take charge.

It would prove a decisive moment as Jason Shields reported on March 14, 1995.

New Morwell Falcons coach Harry Bingham had a dream start to his NSL senior career with a record 5-1 win over Brisbane on Saturday night.

Bingham took on the senior coaching role when Bobby McLachlan resigned from the position last Thursday night.

It was a dream debut for the youth team coach, as Morwell kept its slim finals hopes alive by totally outplaying Brisbane.
With Saturday night's thumping win, the Falcons moved to within three points of a top six spot after South Melbourne, Wollongong City, Marconi, Parramatta Eagles and, of course, Brisbane all lost on the weekend.
McLachlan was happy with the Falcons performance, but was upset that it took his resignation to bring out the best in his players.

"I think they (the players) realised they had nobody else to blame on Saturday night, so they had to play well," McLachlan said.
"They couldn't blame me because I wasn't there and they couldn't blame Harry because he had just started, so it was all up to them."
McLachlan shocked the Falcons by resigning after eight years as coach.
He said the players weren't playing well under him and needed a 'new voice' to lead them in the final five rounds.
Bingham's appointment had the desired effect as Falcons smashed Wollongong City 4-1 on the road, defeated West Adelaide on penalties thanks to Matassa's heroics and charged into the top six after a 2-1 win against Parramatta in Sydney.

Jason Shields reported in The Express.

Morwell Falcons continued their dream run to the NSL finals on Sunday night with a thrilling 2-1 victory over Parramatta Eagles.

The Falcons scored the winner in the final minute, when Socceroo striker Warren Spink scored his third goal in as many matches.
Morwell remains in fifth position on the NSL table and sits one point clear of South Melbourne and three points clear of Brisbane Strikers who are in seventh.
The Falcons opened the scoring in the 25th minute with an excellent goal to Doug Marcina.
In the 83rd however, it appeared the Falcons would go to another penalty shootout as Michael Reda levelled the game for Parramatta.
But in the dying minutes, Falcons earned a corner.
Sonny Sevin sent in the cross which was headed by captain Shaun Parton, Spink pounced on Parton's header to slot home the winner.

The coach's unbeaten run continued in the final round as Falcons defeated a Sydney United line-up featuring Zeljko Kalac, Ante Milicic and David Zdrilic to finish fourth on the ladder with 47 points.
He had netted 18 points of a possible 20 since taking charge, but life wasn't all roses for the popular Bingham.
This from The Express, April 11, 1995.

Morwell Falcons coach Harry Bingham could afford the luxury of putting his feet up yesterday following the club's thrilling 3-2 win over Sydney United on Sunday.

Morwell will now play in its first National Soccer League finals series after joining the league just three seasons ago.
For Bingham, Sunday night's win added some joy to what had been a tough week off the field.
He was one of 61 workers retrenched from Fluor Daniel.
It was upsetting for Bingham, who despite leading the Falcons to the finals, still considers work as his number one priority.
But calls for Bingham to make coaching his permanent job are strengthening, following his outstanding run with the Falcons.
Bingham took over as Morwell coach five weeks ago and has led the club to four regular-time wins and a penalty win in its final five matches.
It was not the only history-making feat Bingham had orchestrated, with his Youth Team also reaching the finals for the first time in the club's history.
"This is a major achievement by the boys because when you compare the number of players in Melbourne to here, you can see that we're disadvantaged.
"But they've been committed and I'm very happy for them to make the finals."
As for the senior team, a date with the Frank Arok-coached South Melbourne loomed, with the first leg to be played at Morwell.
With admission prices of $15 for reserve seating, $12 standing, $6 pensioners/students and $3 for children, it was no surprise Falcons Park was heaving as a record crowd of 8400 people converged on the night of April 15, 1995.
Despite creating the better opportunities, Falcons were hit on the sucker punch as Ivan Kelic's 60th minute goal separated the two sides.
Star striker John Markovski trudged off early due to a calf issue, while the team was already without leading goalscorer Brian Bothwell.
Bothwell was the lead in Jason Shields' preview for the second-leg.
Morwell Falcons will welcome back leading goalscorer Brian Bothwell for the cut-throat elimination final against South Melbourne at Olympic Park.
This follows Morwell's disappointing 1-0 loss to South at Falcons Park on Saturday night, in which South striker Ivan Kelic scored the winning goal in the 60th minute.
Morwell now needs to win this weekend or its historic National Soccer League season will be brought to a close.

Sadly as the record-books show, that is precisely what happened.

For the final time during this memorable season, Jason Shields in The Express, April 25, 1995.

Morwell Falcons' dream finish to the national league season ended with a thud on Sunday night, with a humiliating 5-1 loss to South Melbourne in the second leg of the elimination final.

Morwell lost the elimination series to South Melbourne 6-1 on aggregate after losing the first leg at Morwell 1-0.
Morwell coach Harry Bingham made no excuses.
"We were beaten by a much better team on the night," he said.
"They were better in defence, better in midfield, better on the flanks and better in attack.
"Full credit must go to Frank Arok. He knew where we were strong and he was successful in stopping us.
"We maintained our attacking game, but we just didn't convert our opportunities."

Bingham said it was a disappointing way to bow out of the finals, after the club had stormed home to make the top six.
"Everyone was on a great high to make the finals, but I didn't expect to go out with that sort of score deficit.

"But we're closing the gap on the rest of them and I'm sure our time will come.
"I'm just sorry to all those supporters who travelled down."
That season would hold greater significance as the years passed.
Falcons would languish in the National Soccer League cellar, changing their name from Morwell to Gippsland.
Names such as Frank Arok as coach, Eddie Krncevic, Archie Thompson and Scott McDonald graced the club, but results proved more and more difficult to come by.
Falcons were reinvented as Eastern Pride for the 2000-01 season, but the move, aimed at broadening their appeal outside the Gippsland area and tap into possible business interest from the south-eastern corridor failed to materialise.
The cash-strapped club went bust and forfeited their last four matches against Wollongong, South Melbourne, Sydney United and Sydney Olympic.

NATIONAL SOCCER LEAGUE 1994-95 LADDER

Team P W PW PL L F A PTS
Melbourne Knights 24 16 2 2 4 56 25 70

Adelaide City 24 16 1 3 4 41 20 69
Sydney Utd 24 15 3 2 4 34 19 68
Morwell Falcons 24 8 4 7 5 41 37 47
West Adelaide 24 8 5 3 88 28 32 45
South Melbourne 24 9 3 2 10 42 36 44
Brisbane Strikers 24 8 3 3 10 34 32 41
Wollongong City 24 8 2 2 12 39 46 38
Sydney Olympic 24 8 1 3 12 27 34 37
Marconi Fairfield 24 6 4 3 11 34 43 35
Melbourne SC 24 6 4 2 12 20 37 34
Parramatta Eagles 24 7 2 1 14 25 34 33

Heidelberg Utd 24 6 1 2 15 27 53 28

1994-95 MORWELL FALCONS SQUAD

Lachlan Armstrong, Brian Bothwell, Claudio Canosa, Jason Dastey, Steve Douglas, Ozan Fehmi, Pablo Ferreira, Justin Geri, Doug Marcina, John Markovski, Vince Matassa, Scott Miller, Shaun Parton, Sonny Sevin, Warren Spink, Marcus Stergiopoulos, Ernie Tapai, Garry Upton, Carlo Villani, John Waddell.