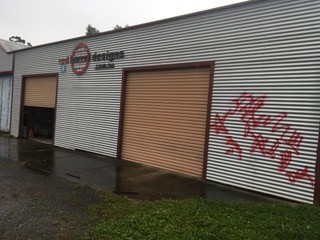 Michelle Slater
Police are investigating after a spate of robberies and property damage in Yinnar at the weekend.

Latrobe CIU Detective Senior Constable Peter Ferguson said people had targeted Yinnar Farm and Hardware, Yinnar Fuel and Farm Supplies and Yinnar Recreation Reserve in the early hours of Saturday morning.

Graffiti was sprayed on the wall of Red Barrel Designs and arc Yinnar, and there was a series of attempted thefts from motor vehicles around the township.

Snr Const Ferguson said offenders had returned to Yinnar Fuel and Farm Supplies earlier this morning.

"We want to hear from anyone with CCTV footage so we can review the footage to see if there was anyone suspicious as it could be the same person," he said.

"We are after information about who is getting around. Yinnar is normally a quiet place."

Yinnar Fuel and Farm Supplies Jan Holt said she had found a lock was cut-off a fuel bowser on Saturday morning.

A further two locks had been cut-off bowsers this morning.

She said that the CCTV footage revealed three people allegedly entered the premises at about 3.25am on Saturday, with footage allegedly showing two people on site at 1.25am today.

"This is absolutely disgusting. It's an invasion of our business and our privacy and it's put the wind up a few people. We've even thought of putting a dog here to deter people," Ms Holt said.

"Yinnar is usually a quiet and laid back community, it's bad enough with coronavirus as our sales are down and now we have to contend with this."

Yinnar Farm and Hardware CCTV footage allegedly revealed five people on camera at 3.28am on Saturday.

The owner was asleep in the building at the time and awoke to find locks had been broken and doors were open.

People with information should call Crimestoppers on 1800 333 000.