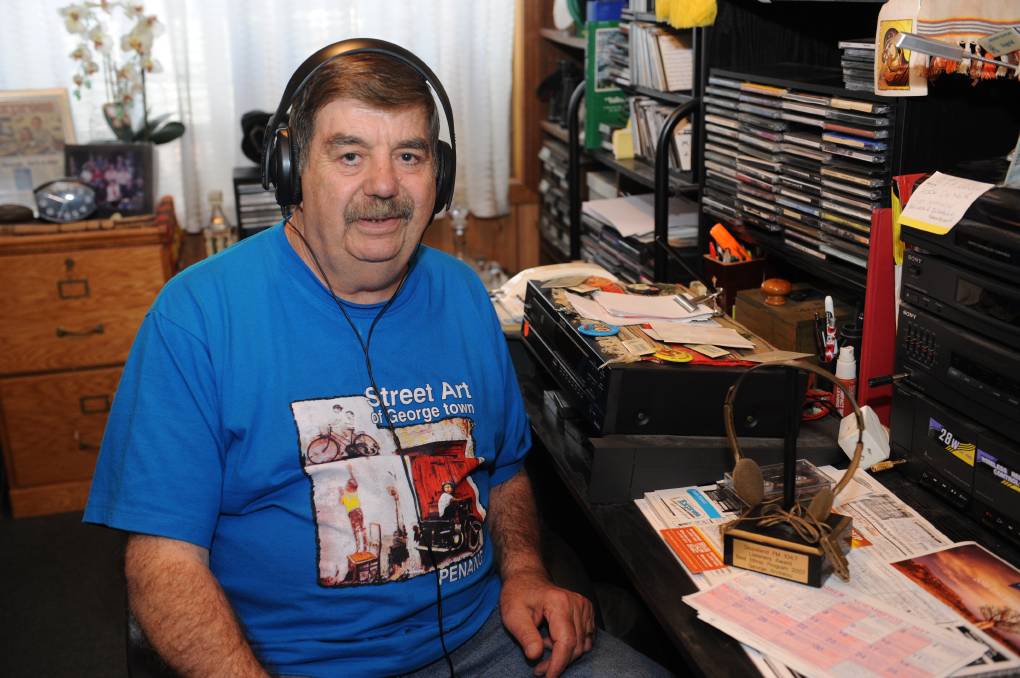 Bryce Eishold
One of Gippsland FM's longest-serving presenters, George Andreou, is being remembered for his charisma behind the microphone and his leadership in the local Greek-Cypriot community.

The veteran broadcaster died unexpectedly on Saturday at the age of 74 after a short illness and has since been remembered as a "generous and highly-regarded" person by members of Gippsland FM where he presented the Greek variety program for more than four decades.
He migrated to the Latrobe Valley from Cyprus in November 1964, aged 18, and took up a general labourer's job with the State Electricity Commission at Yallourn W power station.
Initially moving in with a relative at Moe, Mr Andreou relocated to the single men's quarters at Yallourn where he lived up until he married Ingrid Kloos in 1967.
"We got married in two churches on the same day," Mrs Andreou said.
"George was Greek-Cypriot, but I wanted to be married in English so I could understand what was going on so we did that first in St Mary's and then later in the day we had a second wedding at the Greek church in Morwell.
"We always joked that if we got divorced we would have to have two divorces and that was an ongoing joke between us because George was always a joker."
The couple celebrated their 50th anniversary last November.
In November 2017, Mr Andreou celebrated 40 years on air at Gippsland FM, originally 3GCR when he joined.
His friend and fellow Gippsland FM life member and presenter Ken Thompson, who joined about the same time as Mr Andreou in 1977, described him as an icon of the station and leader of his community.
"He was a very generous man and highly regarded around the station," Mr Thompson said.
"He maintained a passion for broadcasting for 42 years, he was an excellent fundraiser for the station, a great supporter of ethnic programming and was always very supportive."
In 1985, Mr Andreou was made a life member of the station, recognised for his ongoing and continuous service to the organisation.
Nine years later he retired from the SEC finishing as a leading hand at Hazelwood before taking up the role of kitchen hand and relief chef at Hazelwood House in Churchill where he remained for almost 10 years.
"I have many fond memories of Friday nights at his house in the garage when he would cook Greek meats and bring a little bit of Greece to Morwell and for us Aussies that was a lot of fun," Mr Thompson said.
While Mr Andreou assumed the spotlight on air, behind the scenes Mrs Andreou would assist with incoming calls and requests.
During an interview with The Express in 2017, he regarded Mrs Andreou as an integral part of his success, both on air and in life.

Gippsland FM chairperson Keith Ritchie said Mr Andreou was one of three remaining honorary life members at the station.
"As members of the board, our meeting was always on his broadcast night and he would always come in with a joke for us, a smile and he was always inviting us to various functions in the Greek community," Mr Ritchie said.

"George would've been one of the longest-broadcasting multicultural presenters on community radio in Australia and he brought with him a wealth of knowledge and experience which unsurprisingly will be dearly missed."
Outside of Gippsland FM, Mr Andreou delivered Meals on Wheels for Latrobe City for more than a decade and ran a casual Greek catering business for several years.
In December 2008, he was recognised for his excellence in multicultural affairs by then Victorian Governor, Professor David de Kretser at a ceremony at Government House in Melbourne.
Mr Andreou is survived by his wife Ingrid, children Sharon and Paul, son-in-law Travis, daughter-in-law Laura and seven grandchildren.

George's funeral will be held on Wednesday, April 22 at 11am and be live-streamed online at www.latrobevalleyfunerals.com.au.

To view the funeral online, select Funeral Notices from the Menu, then Tributes and Service Recordings. Scroll down to George's photo and click for the live stream.