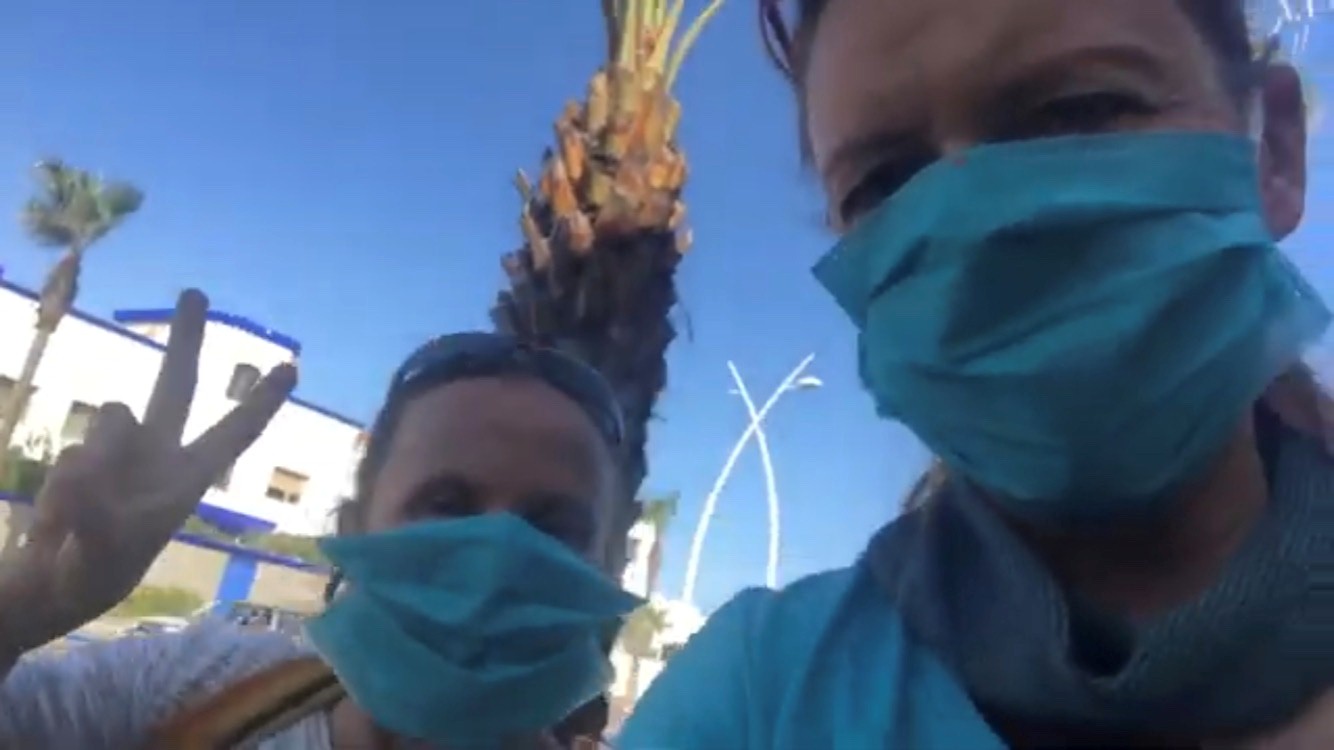 Michelle Slater
A Budgeree woman and her sister are pleading for the federal government to bring them home from Morocco as the nation has halted commercial flights due to COVID-19 lockdowns.

Kelly Van Den Burg and her sister Tracy Lewis, who lives in Korumburra, have been holed up inside an apartment in the north African nation for nearly a month while waiting for a flight home.
"The problem is that we have no way to get out of Morocco. It may take months to get out," Ms Van Den Burg said.

Ms Van Den Burg was one of this year's Boolarra Australia Day citizens of the year for her role in organising fodder drops for livestock in bushfires.
She began planning her international adventure with her sister two years ago to visit Spain and Morocco, leaving in mid-February well before COVID-19 hit the world headlines.
They arrived in Morocco on March 4 and were following Australian travel advice, but later heard whispers that Morocco was closing its airspace so attempted to cut their trip short.
The sisters tried to get a flight out but had just missed the last plane to Australia by hours, so decided to book an apartment in a small coastal village to ride out the situation.
"We heard there were Aussies camping at Marrakesh airport and queuing up for four hours trying to get on flights going to the UK," Ms Van Den Burg said.
"We heard the flights were being overbooked and there were fights breaking out at the airport."
Ms Van Den Burg said her travel insurer would not cover the pandemic, and she feared getting sick in a foreign country without medical cover.

She said people now needed a permit to leave their home to either visit a doctor or go shopping, and it was compulsory to wear a mask outside.

The two sisters had been staying motivated by posting a daily YouTube cooking video and occasionally heading out for fresh produce.
"The community here is amazing, they are kind and generous and we've been treated really well, the hospitality is amazing," she said.
Ms Van Den Burg said she was keen to head back to her Budgeree farm and get stuck into some gardening.
"We have a permaculture set-up and grow our own food. I've been planning things from here and ordering seeds and discussing winter crops with my partner," she said.
Federal Member for Monash Russell Broadbent said he had been passing on his constituent's situation to the Foreign Affairs Minister Marise Payne.
"She has been wonderful in her response to people's needs. The difficulty is governments on the ground based in other countries we have no control over," Mr Broadbent said.
"We are organising repatriation flights all over the world, we are having these situations all over the world, we are doing the very best we can in every situation."
A Department of Foreign Affairs and Trade spokeswoman said the Australian Embassy had helped around 250 Australians "identify commercial flight options to leave the country".
She said the embassy was continuing to provide support and information on local conditions.
"The Australian Ambassador in Rabat is working with the government of Morocco,commercial airlines and other governments to identify special commercial options for those Australians seeking to leave," she said.
"Australian consular officials around the world are doing all they can to assist Australians overseas impacted by the COVID-19 pandemic."