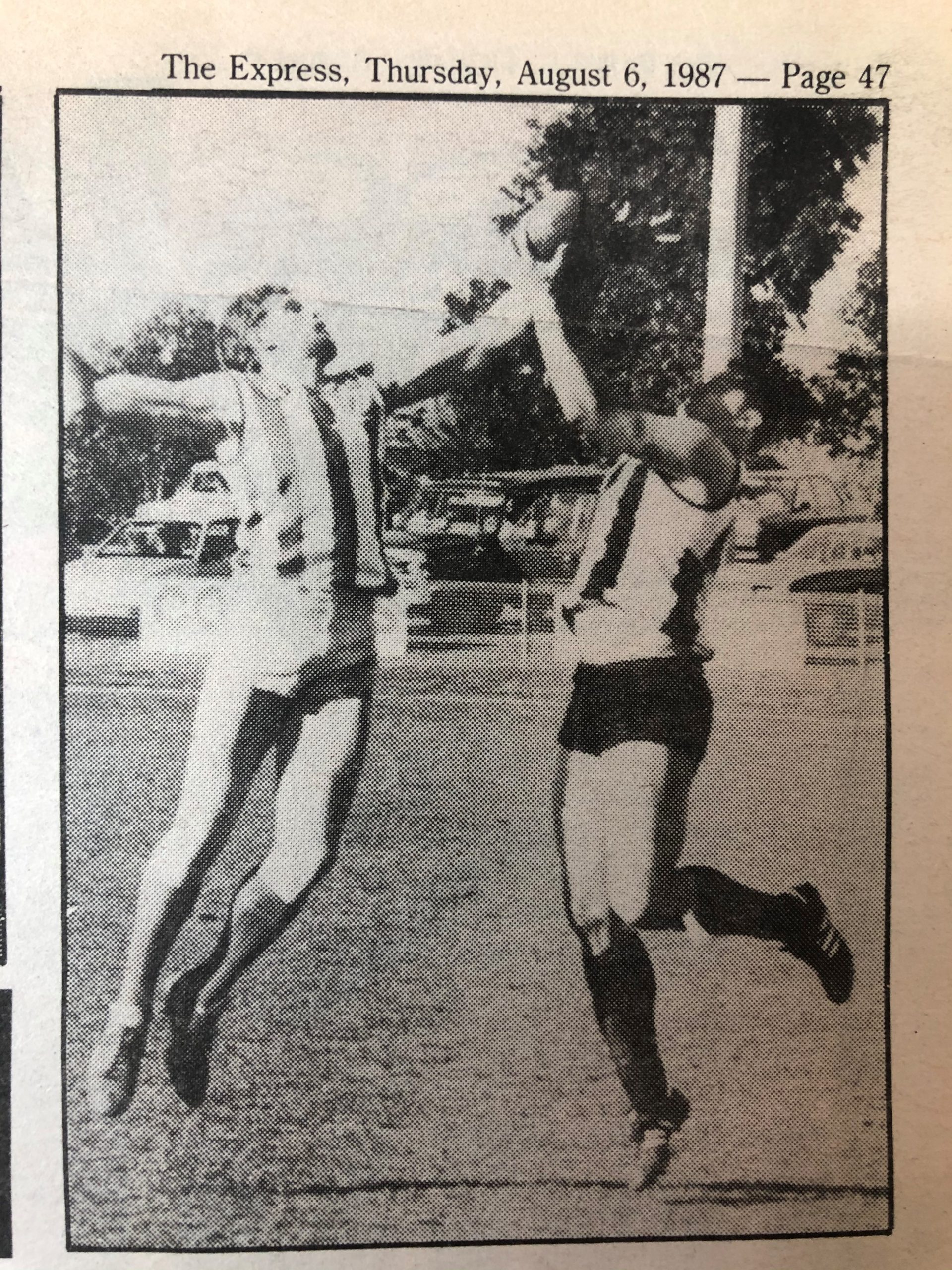 Gregor Mactaggart
THE history of Victorian country football is littered with many great goalkickers.

Names such as Trevor Sutton, Ron Best, Perry Meka and Tony Doran resonate further afield than the regions where they booted majors.
So too the man we look at today, Shane Loveless.
Loveless booted more than 2000 goals during a peripatetic career that took him not only to the VFL with Footscray, but saw stints at clubs across Victoria, Tasmania and South Australia.
But for all the places he played, it is his record-breaking season at home club Sale in 1987 that we have dug into the archives to examine.

Loveless was 28 heading into the 1987 Latrobe Valley Football League season.
He had finished the previous year by kicking four goals in Sale's flag-winning side against Morwell, a season where he brought up his 100th major in the final round.
But his haul of 104 goals, fell eight short of the mark set by Moe spearhead Ian Jennings in 1971.
Loveless opened his season with a bang as Sale thumped Moe by 92 points in Round 1.
Terry Goldsborough from The Express on Tuesday, April 7, 1987.

Big Shane Loveless kicked 13 goals in a match-winning display.

Sale, with 11 changes from last year's grand final side, took control from the start in the 23.12 (150) to 8.10 (58) win.
It was the start of an explosive month for Loveless, who kicked 46 goals in his opening four matches.
He booted 11 majors, but Sale were beaten in the grand final re-match against Morwell in Round 2, 22.14 (146) to 21.11 (137).
The Magpies lost to Leongatha in Round 3 by 22 points, although Loveless was in brilliant form according to Terry Goldsborough.
The highlight of the game was seeing Sale's Shane Loveless kick 10 goals to bring his tally in three games to 34 goals and at the other end of the ground Leongatha's Neil Park with eight. It was certainly a day for the forwards.

Loveless then slotted 12 as Sale steamrolled TTU by 93 points in Round 4.
Terry Goldsborough from The Express, Tuesday, May 5, 1987.

The big gun Shane Loveless again fired in a display of brilliance with 12 goals. There has been joking around the clubs of Shane kicking 200 goals this season, some say impossible, but with 46 up in four games, he is certainly well on the way to it.

Loveless was selected in the Latrobe Valley side for the Country Championship clash with Bendigo in Morwell and booted seven goals in the 20.16 (136) to 13.13 (91) victory.

With representative football on the backburner for a few weeks, the spearhead returned to the Magpies.
It spoke volumes that an eight-goal haul in the Round 5 win against Maffra was described by Goldsborough as a 'quiet day'.
Loveless was on song in Round 6 with a 13-goal bag as Sale defeated Churchill at Churchill by 96 points.
Terry Goldsborough from The Express, Tuesday, May 26, 1987.

Sale journeyed down to Churchill where in blustery conditions, the big gun Shane Loveless fired and with 13 goals, he is starting to be a legend.

The big man, who has kicked 67 majors after six rounds played, has only to hold his cool to create an all-time record.
Sale (4-2) sat fourth on the ladder behind pacesetters Traralgon (6-0), Morwell (5-1) and Warragul (5-1).
Loveless slotted five majors as the Magpies took care of Bairnsdale in Round 7 before interleague football commitments called again.

Latrobe Valley had qualified for the semi-finals against the Ovens and Murray at Traralgon.
The OMFL demolished the LVFL by 81 points and while Loveless slotted five goals in a losing cause, all the talk was about the other full-forward.
John Longmire, then a 16-year-old from Corowa-Rutherglen, announced his arrival as a player of genuine quality, booting eight goals in the 25.23 (173) to 14.8 (92) win.
By the end of that year he had played for North Melbourne in the infamous Battle of Britain match, debuted at VFL level in 1988 and by 1990 had won the Coleman Medal as the AFL's top goalkicker.
Loveless mustered two majors as Sale defeated Warragul by 39 points in Round 8.
Rain, hail and fog was the story in Round 9 where the Magpies took on Traralgon in a LVFL blockbuster.
A crowd paid $2200 at the gate to see the Maroons 17.9 (111) defeat Sale 10.5 (65) and restrict Loveless to one goal.

He then booted two goals in bog-like conditions as Sale played out a 5.4 (34) draw against Moe in Round 10.

Despite a quieter few weeks, Loveless still had 77 goals to his name from 10 matches, more than 50 clear of any other player in the competition.
But Sale had dropped to fourth as Traralgon, Leongatha and Morwell all displayed good football.
The Magpies bounced back in Round 11 against the Tigers as reported by Terry Goldsborough in The Express, July 7, 1987.

Reigning premiers Sale were much too good for Morwell at Sale on Saturday, winning by a huge 31 points – 20.14 (134) to 15.13 (103).

This proves Sale need dry conditions to play at their best.
With a gate of nearly $2000, the fans were treated to a game of top football, after a fairly even first quarter.
Sale came out a different side and rattled on seven goals in the second term, with the scoreboard.
Sale's Shane Loveless was certainly back in form kicking seven majors to take his tally to 84 goals in 11 games this season.

But a two-point loss to Leongatha in Round 12 where Loveless kicked four of Sale's six goals saw the Magpies slip out of the top four.
Then we arrive at Round 13, a noteworthy game for Loveless as reported by Terry Goldsborough in The Express, July 21, 1987.

In one of the greatest efforts ever seen in the Latrobe Valley Football League, Sale's star full-forward Shane Loveless kicked 14 goals to take his tally to 102 for the season.

Sale completely annihilated the visiting TTU side by 193 points – 34.16 (220) to 4.3 (27).
It was now a matter of when, not if Jennings' 16-year record fell by the wayside.
Loveless drew within one of the magical mark after nine goals in a 29.14 (188) to 4.2 (26) win against Maffra in Round 14.
And Terry Goldsborough reported when it fell in The Express, August 4, 1987.

In a best on ground performance, Sale's Shane Loveless kicked 15 goals against Churchill on Saturday to take his tally for the season to 126, shattering Ian Jennings' former LVFL goal-kicking record.

And with three rounds to play, who knows what the record will end up being.

Shane has been the perfect player in the last two seasons after his return to his home club Sale.
The Magpies won the match 27.16 (178) to 8.8 (56), but remained in fifth spot despite a 10-4-1 record.

Five goals in the Round 16 win against Bairnsdale proved important.
Warragul lost to Traralgon and the Magpies soared back into the top four.

Sale then confirmed finals football by downing the Gulls by 32 points in Round 17, although Loveless was held to one goal.
Four majors in a 36-point loss to Traralgon saw Loveless finish the home and away season with 136 goals.
It speaks volumes of his dominance that the spearhead booted 90 more goals than the next best forward, Neil Park (Leongatha).
Having finished fourth, Sale faced a cut-throat first semi-final showdown with Morwell.
The Magpies led by 17 points at the main break, but were overrun in the second-half by a hungry Tigers outfit, who prevailed 22.10 (142) to 15.10 (100).
Loveless booted four goals to take his season's tally to 140.
His magical mark has stood the test of time despite some outstanding full-forwards gracing this region and the way football is played these days, is unlikely to be usurped any time soon.

BY THE NUMBERS

SHANE LOVELESS – 1987 LVFL SEASON

ROUND 1 v MOE – 13
ROUND 2 v MORWELL – 11
ROUND 3 v LEONGATHA – 10
ROUND 4 v TTU – 12
ROUND 5 v MAFFRA – 8
ROUND 6 v CHURCHILL – 13
ROUND 7 v BAIRNSDALE – 5
ROUND 8 v WARRAGUL – 2
ROUND 9 v TRARALGON – 1
ROUND 10 v MOE – 2
ROUND 11 v MORWELL – 7
ROUND 12 v LEONGATHA – 4
ROUND 13 v TTU – 14
ROUND 14 v MAFFRA – 9
ROUND 15 v CHURCHILL – 15
ROUND 16 v BAIRNSDALE – 5
ROUND 17 v WARRAGUL – 1
ROUND 18 v TRARALGON – 4
FIRST SEMI-FINAL v MORWELL – 4

TOTAL: 140 goals in 19 games.