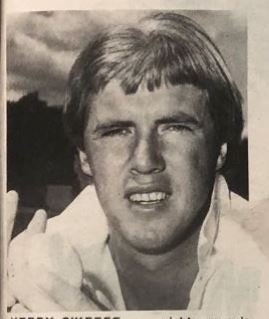 Gregor Mactaggart
WORLD Series Cricket heralded a revolution for the game.

Left frustrated after the Australian Cricket Board knocked back his bid for exclusive Test cricket rights in 1976, Channel 9 supremo Kerry Packer decided to set up his own series.
Packer secretly signed agreements with the top Australian, English, Pakistani, South African and West Indian players.
English captain Tony Greig, his West Indian counterpart Clive Lloyd, Dennis Lillee and Ian Chappell were among the headline acts to commit.
Quickly dubbed the "Packer Circus", World Series Cricket overcame a series of hurdles both on and off the field, to be ready for season 1977-78.
The first WSC game, a Supertest between the Australians and West Indians, began at VFL Park on December 2, 1977.
Despite low crowds initially, the standard of cricket was higher than the official Test series between a weakened Australian team, captained by Bob Simpson and India.
But it was the emphasis on one-day cricket where WSC would ultimately strike a winner.
The first day/night match was played at VFL Park in the 1977-78 season, but the most significant moment arrived on November 28, 1978.
The SCG hosted the WSC Australian and West Indian teams with a near capacity crowd of 44,377 turning out to watch the game.
Another innovation for season two was the introduction of a second tier tour for 1978-79.
The tour would take in centres across the country, including the Latrobe Valley, which played host to two matches just before Christmas in 1978.
The WSC Australian XI consisted primarily of back-up players who couldn't force their way into the top side.
Their opponents were the Cavaliers, captained by the great South African cricketer Eddie Barlow.
The cricket stars completed a match at Maitland in the Hunter Valley before heading south, with games at Traralgon (December 23) and Morwell (December 24) on the schedule.

The Express on Thursday, December 21, 1978 set the scene.

The Latrobe Valley will have its biggest feast of cricket ever this weekend when the World Series Cricket Australians and Cavaliers battle it out at Traralgon and Morwell.

The teams will play two limited-over games, on turf, the first at the Traralgon Showgrounds on Saturday and the second at the Morwell Football Ground on Sunday.
Many of the players taking part in the matches are household names throughout Australia, both through their efforts in the Australian Test team over the last few years and in the WSC ranks for the past season and a half.

As The Express report mentioned, the cricketers weren't just here to play, but to spread the message of the game.

Several coaching clinics will be held to coincide with the feast of WSC cricket.

An all-day clinic, starting at 8.45am, will be held for selected junior players in the Traralgon area at Duncan Cameron Park.
A seminar will be held tonight (Thursday) in the Traralgon RSL Hall, starting at 7.30pm.
There will be several clinics held tomorrow, most of which will be held at the Morwell Football Ground.
The report also advertised the admission prices, which were $4.50 for adults and a $1.50 for children and pensioners.

Thousands turned out for the Traralgon clash.

The Australian team was as follows: Greg Chappell (captain), Kepler Wessels, Bruce Laird, Ian Redpath, David Hookes, Trevor Chappell, Richie Robinson, Ray Bright, Max Walker, Mick Malone and Wayne Prior.
The Cavaliers team was as follows: Eddie Barlow (captain), Rick McCosker, Dennis Amiss, Taslim Arif, Richard Austin, Doug Walters, Rob Langer, David Holford, Sarfraz Nawaz, John Snow and Wayne Daniel.

Greg Chappell won the toss and elected to bat.
The Aussies suffered an early blow when Bruce Laird was bowled for a duck, before Wessels, then 21 and Redpath led the fightback.
Wessels scored a stylish 46 before English great Snow had him caught by Wayne Daniel.
That brought crowd favourite David Hookes to the wicket, but the left-hander fell for just one, the victim of West Indian Holford's leg-spin.
Redpath reached his half-century, but fell shortly after for 51, bowled by Snow.
Cameos knocks from Trevor Chappell (23), Greg Chappell (22), Robinson (14) and Bright (13) lifted WSC Australia to 7/183 from their 50 overs.
Snow (2/36) was the pick of the bowlers, while Barlow (2/38) also enjoyed multiple success.
The chase from the Cavaliers never got going as Malone and Prior made key early in-roads.
McCosker, Amiss and Arif were all back in the pavilion with just 21 on the board and when Langer became Prior's second victim, the Cavaliers were in strike at 5/41.
The popular Walters put on a show, top-scoring with 26 before he was bowled by Greg Chappell.
The skipper's medium pace cut a swathe through the middle and lower order as the Cavaliers were skittled for 85.
Chappell finished with the figures of 5/11 from 8.4 overs, while Prior (2/10) and Malone (2/18) impressed.

After enjoying a sociable Saturday night in the Latrobe Valley, the players backed up on the Sunday, which doubled as Christmas Eve at Morwell, for a match again played in front of a good crowd.
The teams were as follows:
WSC Australia: Greg Chappell (captain), Bruce Laird, Trevor Chappell, Ian Davis, Ian Redpath, Richie Robinson, Gary Gilmour, Ray Bright, Max Walker, Lenny Pascoe, Wayne Prior.
Gilmour, Davis and Pascoe were the inclusions, with David Hookes, Mick Malone and Kepler Wessels rested.
The Cavaliers team featured Dennis Amiss, Rick McCosker, Ross Edwards, Martin Kent, Rob Langer, Taslim Arif, Kerry O'Keeffe, David Holford, Sarfraz Nawaz, John Snow and Wayne Daniel.
Captain Eddie Barlow, Doug Walters and Richard Austin were rested, replaced by Edwards, Kent and O'Keeffe.
The Cavaliers batted first and found the Morwell wicket much more to their liking.
Kent, a Queenslander still yet to make his Test debut, impressed with a fine 48 before being caught and bowled by Bright.
Langer, the uncle of Justin, scored 37 and enjoyed a good partnership with Kent.
Edwards (25) and a breezy 23 not out from O'Keeffe lifted the Cavaliers to 6/172 from their 50 overs.
Gilmour (2/33) and Pascoe (2/38) were the pick of the Aussie bowlers.
The WSC Australians' chase got off to a difficult start when 'Stumpy' Laird's unhappy time in the Valley continued as he was run out.
He soon had Trevor Chappell (3) for company after he fell to John Snow.
It soon became the Snow and Sarfraz show as the pace duo tore through the Australian line-up.
Snow was nearly unplayable on his way to figures of 3/12, while Nawaz claimed the scalps of Greg Chappell, Davis and Redpath in his spell of 3/29.
Bright top-scored with 18 as spin twins Holford (2/12) and O'Keeffe (1/34) wrapped up the Australian innings in the 35th over for 100.
It proved the mid-point of a busy summer for the Cavaliers, who played 24 matches in total against the Australians, West Indians and World XI, winning five.
In addition to the Valley, they graced such towns as Bunbury, Gladstone, Toowoomba, Tamworth, Albury and Hamilton, bringing elite cricket to regional areas.
But it would prove a one-off as a truce to cricket's war was called in May 1979.
By the summer of 1979-80, Greg Chappell was back captaining Australia at Test level and Packer not only had exclusive rights to telecast Australian cricket, but was granted a ten-year contract to promote and market the game.

SCOREBOARDS

TRARALGON GAME
DECEMBER 23, 1978
WSC Australia

K Wessels c Daniel b Snow 46

B Laird b Daniel 0

I Redpath b Snow 51

D Hookes st Arif b Holford 1

T Chappell c Holford b Barlow 23

G Chappell c Langer b Barlow 22

R Robinson c Austin b Sarfraz Nawaz 14

R Bright not out 13

M Walker not out 2

Extras (b 2, lb 4, nb 2, w 3) 11

Total (7 wickets, 50 overs) 183

Bowling: W Daniel 10/1/1/48, Sarfraz Nawaz 10/2/1/12, E Barlow 10/0/2/38, J Snow 10/2/2/36, D Holford 10/1/1/38.

WSC Cavaliers

R McCosker c Hookes b Prior 6

D Amiss c Robinson b Malone 5

Taslim Arif c Redpath b Malone 6

R Austin b Walker 10
D Walters b G Chappell 26
R Langer b Prior 9
D Holford c Robinson b G Chappell 12
E Barlow lbw b G Chappell 0
Sarfraz Nawaz not out 5
J Snow c Wessels b G Chappell 1
W Daniel c Robinson b G Chappell 0
Extras (lb 5) 5
Total (10 wickets, 37.4 overs) 85

Bowling: W Prior 6/1/2/10, M Malone 10/5/2/18, M Walker 6/1/1/7, G Chappell 8.4/4/5/11, R Bright 7/0/0/24.
MORWELL GAME

DECEMBER 24, 1978
WSC Cavaliers
D Amiss c Robinson b Gilmour 6
R McCosker c Robinson b Pascoe 10
R Edwards c Walker b Gilmour 25
M Kent c & b Bright 48
R Langer c T Chappell b Pascoe 37
Taslim Arif c T Chappell b Walker 7
K O'Keeffe not out 23
D Holford not out 7
Extras (lb 8, nb 1) 9
Total (6 wickets, 50 overs) 172

Bowling: W Prior 10/3/0/24, L Pascoe 10/0/2/38, G Gilmour 10/1/2/33, M Walker 10/2/1/41, R Bright 10/1/1/27.

WSC Australia

G Chappell c Arif b Sarfraz Nawaz 10
B Laird run out 4
T Chappell lbw b Snow 3
I Davis c Edwards b Sarfraz Nawaz 12
I Redpath lbw b Sarfraz Nawaz 1
R Robinson c Arif b Snow 11
G Gilmour c & b Snow 9
R Bright not out 18
M Walker c Langer b O'Keeffe 14
L Pascoe c McCosker b Holford 13
W Prior st Arif b Holford 0
Extras (2 lb, 1 nb, 2 w) 5
Total (10 wickets, 34.3 overs) 100

Bowling: W Daniel 5/0/0/8, Sarfraz Nawaz 10/3/3/29, J Snow 10/3/3/12, K O'Keeffe 7/0/1/34, D Holford 2.3/0/2/12.