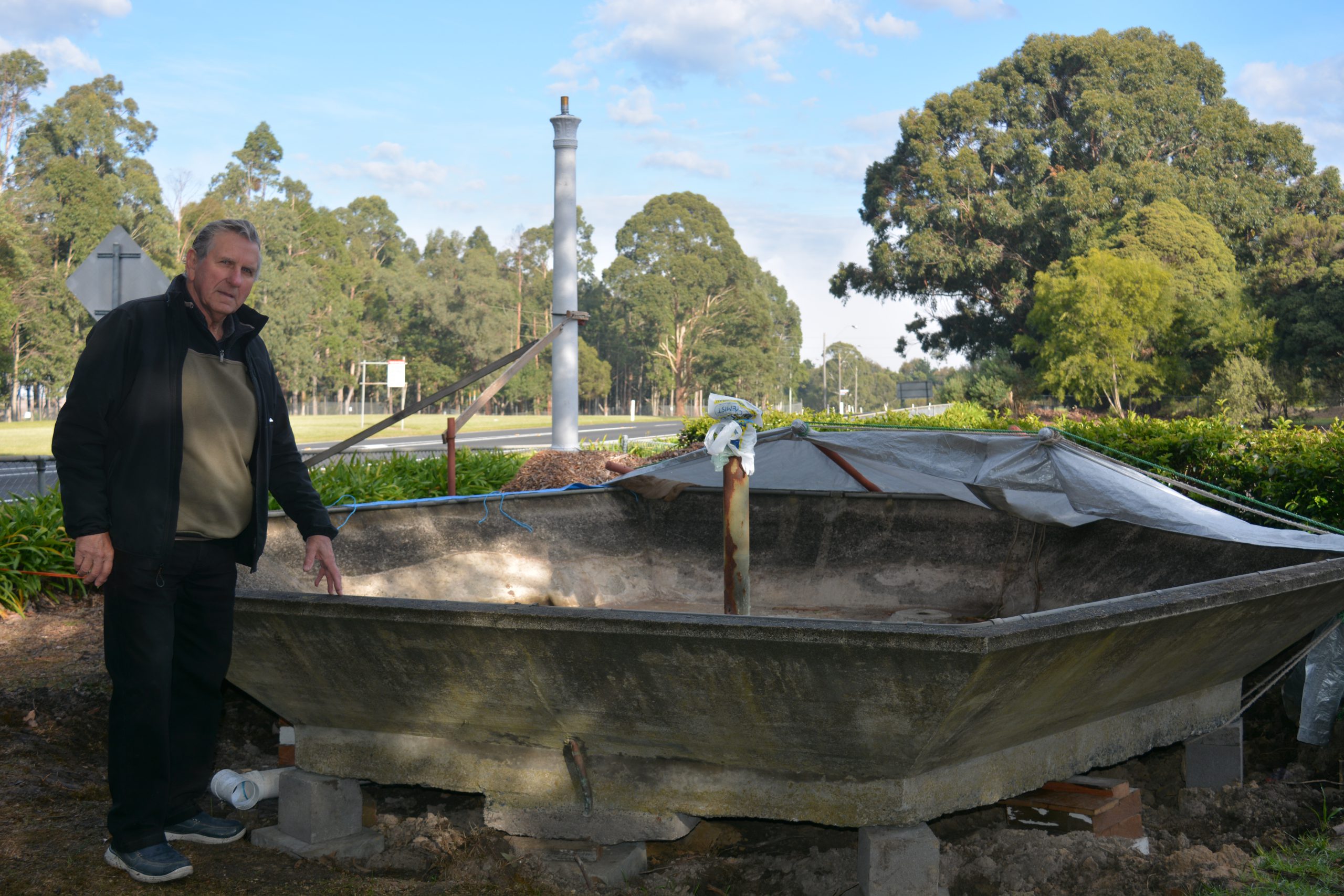 Cher Jimenez
One of two fountain features that used to grace the now demolished township of Yallourn has found a new home at the Old Brown Coal Mine Museum.

Yallourn North and District Historical Society president David Roberts said the fountains were sold by the State Energy Commission when the township was dismantled in the 1970s to make way for further mining.
"One of the fountains was relocated to a property in Heyfield, the other was sold to Wayne Somerville, a farmer at Tanjil South," Mr Roberts said.
He said Mr Somerville offered to donate the fountain in February this year during a visit to the Yallourn North museum which is run by the historical society.
"Happy days, we couldn't believe our luck to be offered this piece of Yallourn history," Mr Roberts told The Express.
With little resources, the society reached out to Yallourn Energy to ask for assistance in moving the fountain from a farm on Tanjil South to the museum grounds.
To Mr Roberts surprise, the company offered to sponsor the transfer and contractors started calling to make arrangements.
"They came up with a big crane (and) a big truck and lots of people to do it," he said.
"It's a big job I would imagine it'll probably cause them about $10,000. That was very good of them to do."
Mr Roberts said the fountains had a very interesting history prior to their official installation at the Yallourn town square on December 7, 1956.
Two temporary fountains were constructed in Monash Square (named in 1953 after Sir John Monash) in time for the Queen's visit in 1954.
"Following the Queen's visit, it appears that the temporary fountain feature was so well received that a more permanent feature was required," he said.
Mr Roberts said the fountains were built by public subscription.
He said the fountains were the "centrepiece" of the town and he recalled playing around it as a young boy growing up in Yallourn.
Mr Roberts said restoration works on the fountain had already commenced with a contractor sand blasting the steelwork and painting all the components.
Another feature of the town that the society was working to replace near the fountain was an original concrete light pole that used to light the streets of Yallourn.
Mr Roberts said the historic features would be open to the public in November when everyone involved in their restoration would be invited to be recognised and have a look.