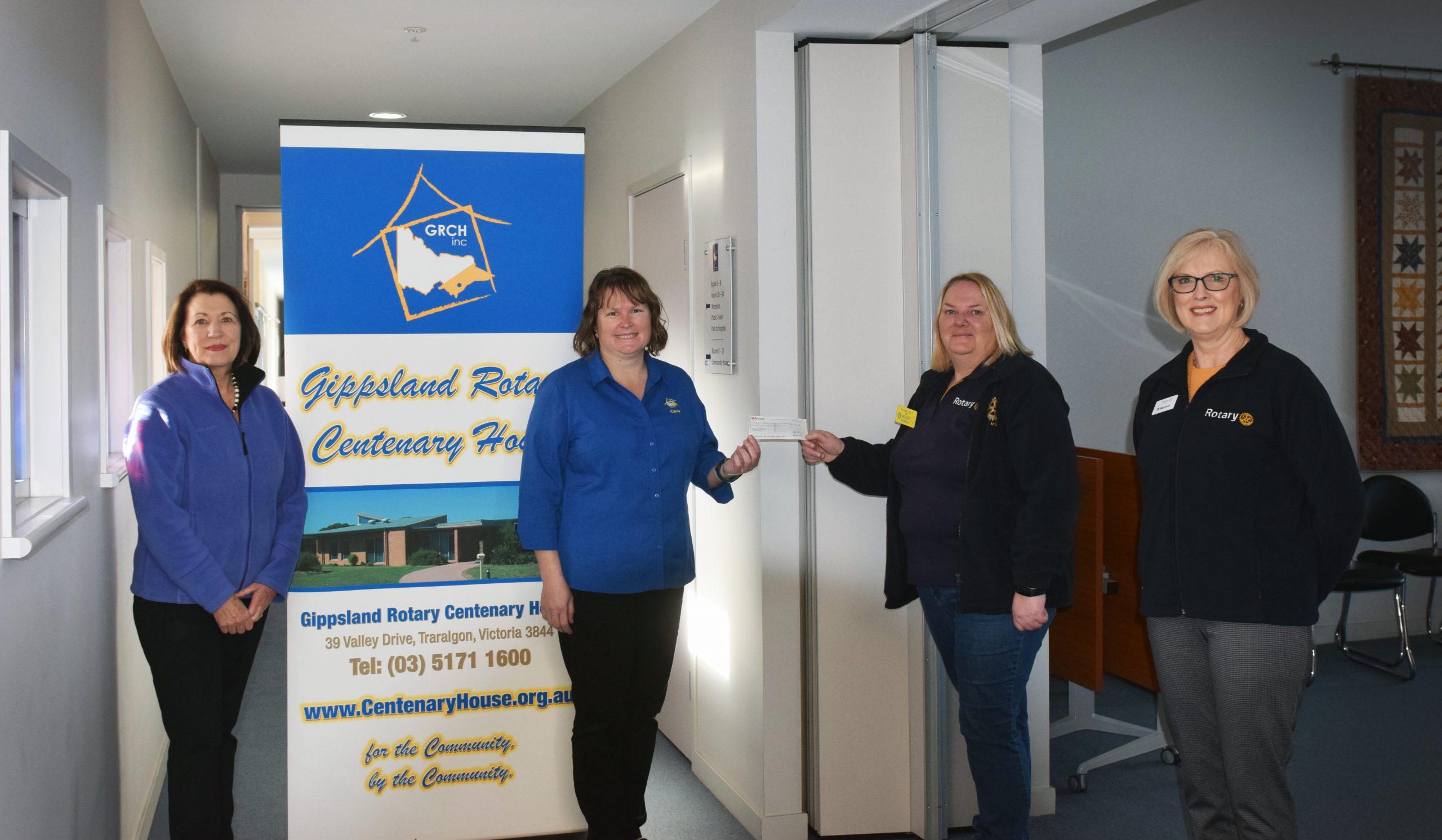 Tessa Randello
The Rotary Club of Moe donated $5000 to Gippsland Rotary Centenary House and Latrobe Regional Hospital last week.

The club held a golf day in March to raise funds and luckily were able to go ahead with the event just before coronavirus restrictions tightened in Victoria.
Rotary Club of Moe president Helen Morrison said the club were elated to be able to donate some of the proceeds to worthy causes in the community.
"We were lucky that our golf day was moved forward by a week and it went ahead just before the restrictions were imposed," she said.
"We are grateful to everyone who donated and were very happy to donate to two great local causes."
The donation to Gippsland Rotary Centenary House will be used for security upgrades to the building.
Deputy chair Diane Wilkinson said donations was essential for continued operation of the facility.
"We are very grateful for the donation, the feel of this place is warm and friendly and we love to be able to continue the work that we do," she said.
"The reason we are able to do all of this is down to the amazing volunteers, I am also a member of the Rotary Club of Moe so being a part of this supportive community environment is fantastic."
Gippsland Rotary Centenary House operations manager Carol Crewe said when you are "dealing with the house day-to-day you can see exactly where this money goes, it is great to be able to help people with whatever they need."
The donation to LRH will go towards the Support Life Appeal, raising money to replace defibrillators at the hospital.
The appeal stared in December of last year and Moe Rotary's donation takes the appeal to $91,000 of its $125,000 goal to replace 14 defibrillators nearing the end of their seven-year lifespan.
LRH critical services general manager and Support Life Appeal ambassador Claire Kent said the donation means a lot to the hospital.
"It is a two way relationship between a hospital like LRH and the community, that engagement both ways is very important," she said.
"All staff in the hospital are trained with these defibrillators so standard machines across the hospital are important to reduce any chance in error, these machines are especially important because they are so varied they can even be used for monitoring.
"In areas like critical care it is important to have these machines on hand to give help with any cardiac issues, not just for the cath lab."