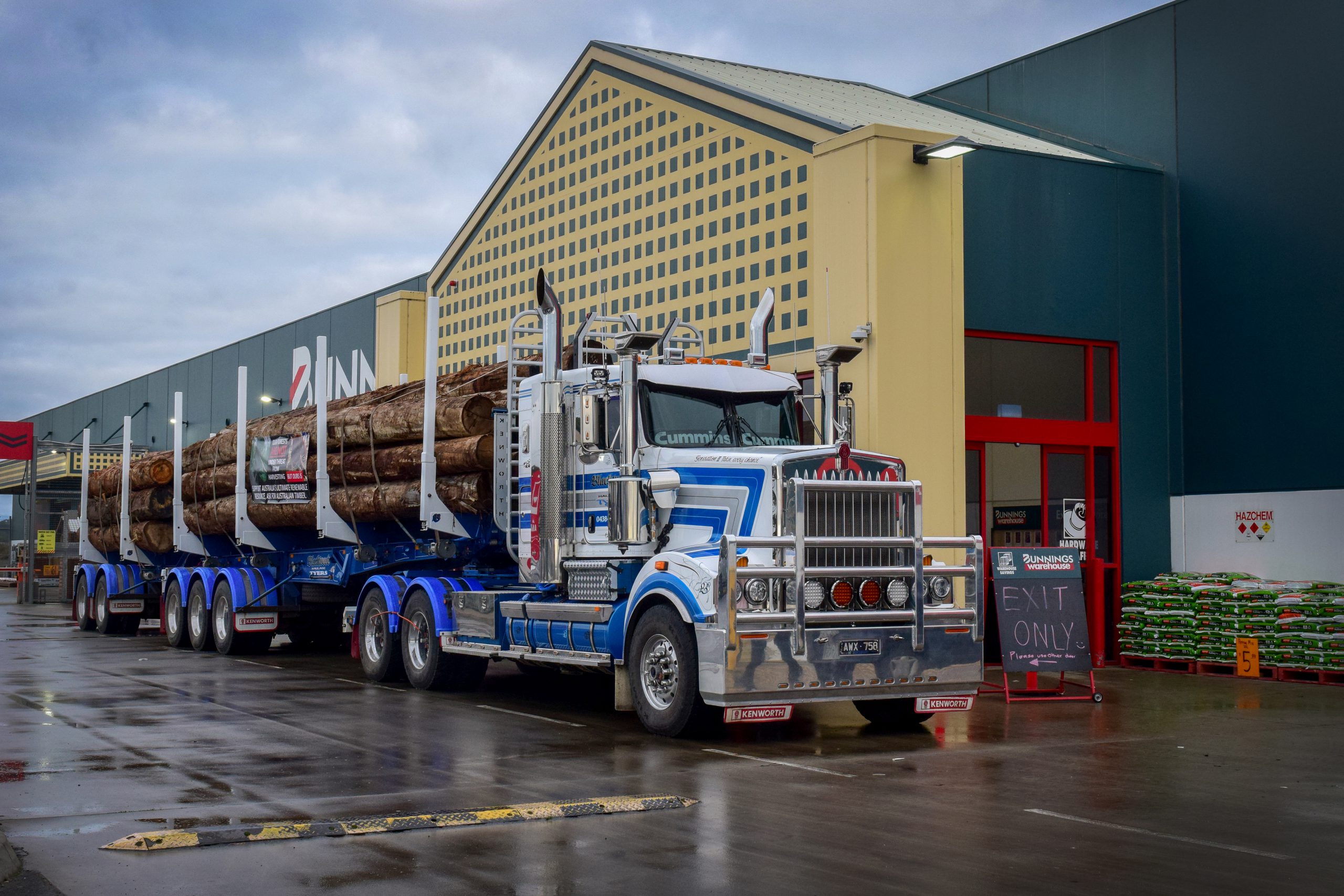 Kate Withers and Hayley Mills
Logging trucks have formed a blockade at the entrance of Bunnings in Traralgon this morning in protest of the hardware giant's decision to stop sourcing timber from VicForests.

Construction Forestry Maritime Mining and Energy Union national secretary Michael O'Connor said it was "a sign of things to come" if the hardware giant refuses to reverse the ban on local timber.
"Timber workers will not sit back and be pushed around by big end of town fat cats like those in Bunnings and Wesfarmers head offices," Mr O'Connor said.
"Regional Victoria is facing a jobs crisis, Bunnings' short-sited (sic) decision has added to the continued uncertainty in the industry and contractors are bearing the brunt of this."
Community advocate Felecia Stevenson, whose husband and sons work in logging, told media at the blockade that Bunnings owed local industry an explanation.
"Bunnings need to explain why they have taken a hard-line against local workers, contractors and businesses," Ms Stevenson said.
"(This is) a line which decimates jobs, families and communities and given themselves the green light to import timber from Indonesian rainforests.
"It's very important to keep the timber industry here, we've got small timber towns that rely on this. Shops will close, schools will close, and it's going to be devastating as a whole.
"We want the public to get behind us and we're here to let Bunnings know this isn't it."
But Bunnings Director of Merchandise Phil Bishop maintained the chain would not switch to sourcing all of its hardwood from overseas.

He said they were working closely with industry to discuss sourcing timber from alternative sources in order to maintain the sale of Australian products.
"We're aware of the gathering this morning in Traralgon and we have worked with police to ensure the safety of our customers and those involved," Mr Bishop said.
"While we only sell a small portion of VicForests' total harvest, we acknowledge some in the community are concerned about the industry.

"We are working closely with affected suppliers to establish transition plans that minimise potential impacts, and during this time we're continuing to accept timber from stock that is already harvested."