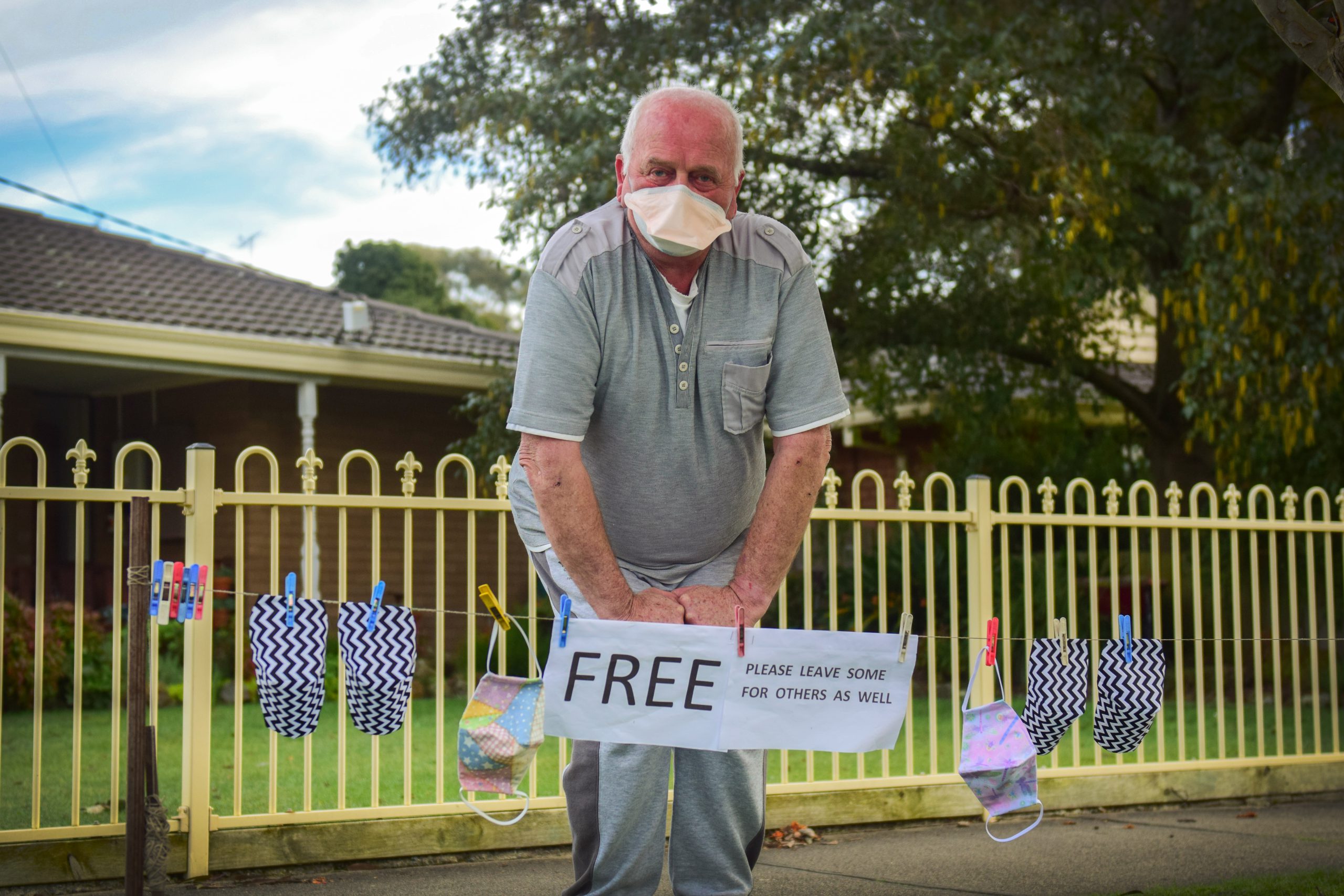 Kate Withers and Hayley Mills
John Van Berkel has endured a tough year but his heart of gold has not lost its shine.

The 75-year-old, who is now retired but worked as a carpenter, decided two years ago to embark on a new creative philanthropic venture.
"This whole project got started about two years ago, me and my little wife Maureen, we thought we would do something to keep ourselves busy," Mr Van Berkel said.
"We had retired and we would normally go to Yeppoon for the winter, grey-haired nomads, but I got crook so we thought 'what can we do in the winter time?'
"So I traded in my cordless drill for a sewing machine."
With spare time to burn, the Van Berkels got to work on an altruistic project to benefit some very special little people.
"We decided to make some rabbits for the kids at the hospital and we made about 2000 of these," Mr Van Berkel said.
"I would make them and Maureen would do all the stuffing, stuff the legs, stuff the body and attach the eyes, and we did this for about 18 months."
Maureen sadly died about two months ago, but Mr Van Berkel was determined to keep their joint legacy afloat.
"I thought 'I'll keep the rabbits going in honour of Maureen', but my fingers are too big and I can't do the stuffing in the little arms," he said.
"I thought 'now, what am I going to be doing'?
"I'm on my own, to pass the time of day, especially now in lockdown I thought I would make some masks because I had quite a bit of material left over."
Mr Van Berkel has turned to crafting face masks, which hang on a line out the front of his Traralgon home, free to take for passers-by in need.
"With my little stuffer not with us anymore I thought I would keep my sewing machine going and make the masks, and why not just give them away?" he said.
"It gives something to someone else, that's fine, I don't mind at all.
"The hard part is getting the elastic at the moment. I enjoy it, it kills time, it keeps me busy and if someone else gets a benefit out of it, terrific."
Mask-making is a time-consuming and fiddly process, but Mr Van Berkel's sewing skills haven't always been up to the test.
"When I started sewing about two years ago everything was zig-zagged," he said.
"I'd try to sew a straight line and it would still be zig-zagged but I caught on reasonably quick, just don't ask me to sew a button on or button holes.
"I have just sent some (masks) to my granddaughter who is at the National University in Canberra, and because they don't have any rules on masks but she is keen on wearing one, she is trying to get her professors to wear them as well.
"I just sent a dozen masks to Canberra this morning so they're now going interstate."
Mr Van Berkel has so far churned out and given away about 100 face masks and many more lemons from his thriving tree.
"I put them out the front and away they go," he said.
"The lemon tree has been very fruitful this year so for every mask, they take a handful of lemons.
"What a way to get rid of the lemons."