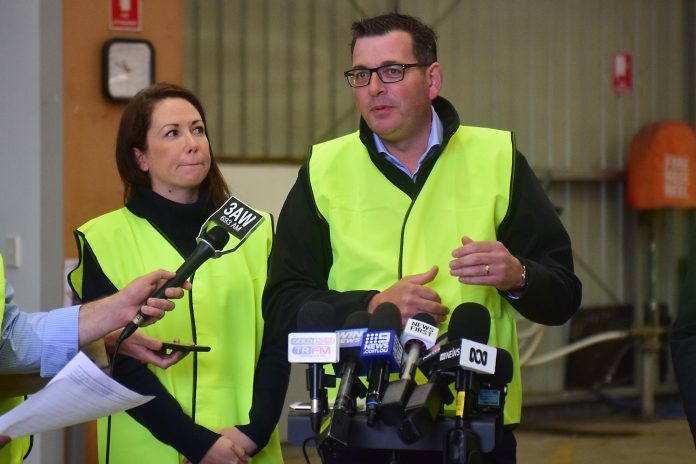 Premier Daniel Andrews has not ruled out increased coronavirus testing in the Latrobe Valley, as some locals have raised concerns about the rising number of positive cases in the Valley.

The state government last week increased testing resources in Geelong, Bendigo and Ballarat following increased numbers of COVID-19 cases in those regions.
However, Latrobe City Council, Member for Morwell Russell Northe, Member for Gippsland South Danny O'Brien and Nationals Member for Eastern Victoria Melina Bath have been pushing for more testing throughout the Valley.

The number of active cases in Latrobe City as of yesterday was 23, a drop of six from the peak of 29 on Friday.
Mr Andrews said testing would be increased if there were concerns around incidents of mystery cases in the Valley, but stressed that this was of "little issue" in the local area.

"Every case and every community is unique and I wouldn't rule out a testing push be expanded into the Valley if that's what the medical experts tell us what we should do," Mr Andrews said.
"There should be no sense of anyone not getting anything that the experts deem what's the most appropriate action, if the advice comes to me, then we won't hesitate more testing in the Valley."
Ms Bath accused the Premier of leaving the Valley "out in the cold" by focusing on larger regional centres.
"Traralgon has been experiencing increasing cases for over a week, with two clusters which will continue to play out for the next couple of weeks," she said.
"Daniel Andrews claims he is the Premier for all of Victoria, therefore he must turn his head eastward and acknowledge the issues being faced by Latrobe Valley."
The Premier was buoyed by the stability of figures in regional Victoria, but did not rule out imposing tighter rules in the regions if necessary – particularly towards the state's west.
"But this is not a matter for today, it's a matter for monitoring these numbers. We always make decisions based on proportionate challenges, we are not trying to inflict harm for its own sake," Mr Andrews said.
"It's only if we thought case numbers would take off we would impose additional measures, and we would make this as balanced and as proportional as possible.
"Exactly how that would be created is too early to say, but we would have more logical rules in place. We may never get to this rule, it's driven by the data and common sense."
Mr Andrews also encouraged people to minimise their travel to-and-fro metropolitan Melbourne to stop the virus from spreading further.
He said the "message seemed to be getting through" but would also look at imposing further rules if the need arose, such as staying put in one region if people travelled for work or study.
"We would certainly not rule out further steps to control movements, if you make heaps of trips that are not absolutely necessary then there's a risk you can be bringing the virus with you," he said.