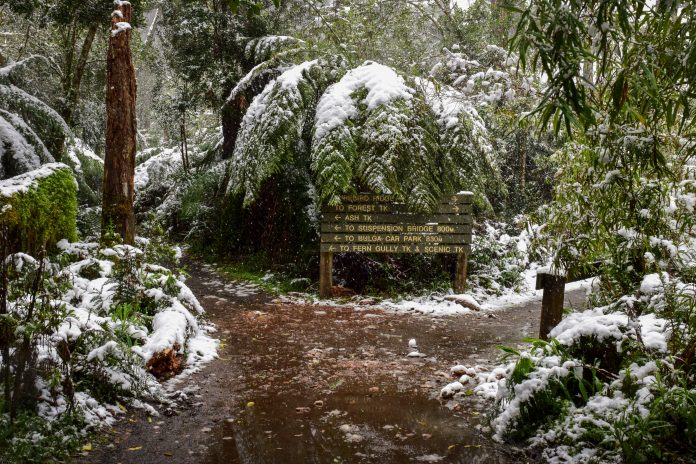 Kate Withers
The flurries of snow seen a fortnight ago across the Valley could well return this weekend.

The Bureau of Meteorology has forecast tops of just 11 degrees for tomorrow and Saturday.
BOM senior forecaster Richard Russell said snow falls could be seen as low as 400 metres.

"Broadly speaking snow will be around 600 metres but we've seen with the previous event that heavy showers can in fact cause some flurries of snow lower than that," Mr Russell said.

"We could see snow around 400 or 500 metres as that front passes through late Friday and into Saturday."
Solid rainfall of 4-10mm is expected tomorrow and Saturday, easing to 1-2mm from Sunday onwards.
"The next few days does see a fair bit of rainfall … in Gippsland areas as well as the sind shifts from westerly to more southerly," Mr Russell said.
"We've been enjoying some very mild conditions and temperatures around 16, 17 (degrees) for nearly a week now, but we'll see a return to those colder winter-like conditions at the end of the week.
"After that cold front maximums will struggle to push through the mid-teens.
"We get a pretty good cold front moving across state, starting in the west, which could also see the potential for some thunderstorms.
"Any of these storms have the potential for some very strong, gusty winds, possibly damaging winds."
The BOM also raised the El Nino-Southern Oscillation Outlook to La Nina alert status on Tuesday.
A La Nina is a sustained cooling of the central and eastern tropical Pacific which causes above-average winter-spring rainfall.
The chance of La Nina occurring this year has increased to 70 per cent, roughly three times the normal likelihood.
BOM manager of climate operations Dr Andrew Watkins said La Nina also leads to cooler and cloudier days.
"It typically brings … more tropical cyclones, and an earlier onset of the first rains of the wet season across the north," Dr Watkins said.
"The cooling of surface temperatures in the tropical Pacific Ocean and an increase in the strength of the Pacific Trade Winds indicates the chance of La Nina has risen.
"When these two changes occur at the same time, at this time of year, we see a greatly increased chance of a La Nina forming and persisting through spring."
The last significant La Nina event was in 2010-11, which was the Australia's wettest two-year period on record beating the previous record from the La Nina years of 1973-74.