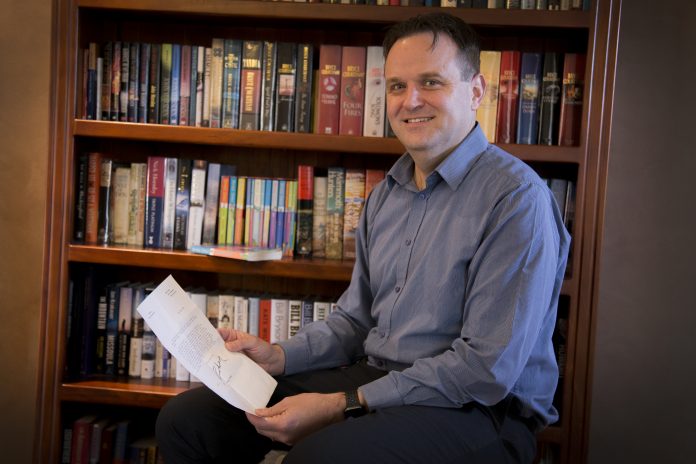 Kate Withers
Few authors possess a prose powerful enough to enchant multiple generations.

But for many readers in Australia, and indeed across the world, fond memories of school days spent in the library are underscored by the works of literary legend Roald Dahl.
The English novelist shot to prominence in the 1960s with his satirical take on children's fiction which produced some evergreen classics.
James and the Giant Peach, Matilda, Fantastic Mr Fox, The BFG and Charlie and the Chocolate Factory are all bookshelf staples today and gave rise to Dahl's perpetual celebrity.
Another of his works recently helped unearth a sentimental reminder for Traralgon resident Shane Reid.
At the height of Dahl's popularity in the 80s, Mr Reid was enrolled at Yinnar Primary School when librarian Jean Wilbraham introduced her students to the wonder of a book called The Witches.
"The book was brand new at the time and I have this memory of Mrs Wilbraham bringing it back to Australia after a trip to England," Mr Reid said.
"Listening to her read those books to the class sticks with me as a really powerful communal experience.
"One of our follow-up tasks after reading The Witches was to write to Roald Dahl himself, and somehow Mrs Wilbraham got all those letters to him."
The story, and the beloved librarian's retelling of it, roused in Mr Reid a passion for literature which helped steer him towards a career as a VCE English and literature teacher.
"It is not a very big leap to say that my lifelong love of literacy, literature and reading germinated in Mrs Wilbraham's library sessions all those years ago," he said.
Some time later, Roald Dahl found the time in his busy schedule to reply to Mrs Wilbraham and her starstruck Grade 3 students at Yinnar by return mail.
But until recently the special correspondence was just "a dormant memory" for Mr Reid, who was reminded of the letter after establishing a connection between one of his students and his school librarian.
"I completely forgot about the letter for 25 years, and then meeting Leah, who is Mrs Wilbraham's granddaughter, just brought back all of these memories," he said.
"It's one of those things that just resurfaced after Leah appeared in my class this year, and I had this memory of a letter coming from Roald Dahl, but because it was so long ago I wasn't sure if it was accurate.
"I went home and did some digging and I found a copy of the letter in my very old and tattered copy of Charlie and the Chocolate Factory.
"Someone got (my children) the box set for Christmas one year and we got rid of a few of the old books, so I thought we got rid of the letter.
"I don't even know why I hung onto it, he was famous back then but the passage of time has made it an even more significant event I think."
Mr Reid's daughter – "a big Roald Dahl fan" – was equally thrilled after the letter was unearthed.
"When we read the letter at home the thing that struck the kids and me was the high satire and judgement of the 'silly television watchers' he references in his letter," he said.
"It's the message in it that's the really important thing, but you can really hear Roald Dahl's voice and the cadence of his writing."
The famed letter addresses "beautiful Jean and all the clever children at Yinnar Primary School".
"May I tell you why it is important for children to read good books?" it reads.
"If, when you are young, you read just one book that is so funny and exciting that you fall in love with it, then there is a good chance that little love-affair with a single book will convince you that reading is terrific fun, and this experience is almost sure to lead you on to reading other good books.
"Then, with luck, you will become a ready of books for the rest of your life.
"An adult reader of books has a terrific advantage over the non-reader.
"Sooner or later, all of you are going to suffer some kind of loneliness or illness, and the comfort you will get from being 'a book reader' as opposed to just a silly television watcher will be enormous".
The letter has been passed onto staff at Yinnar Primary School.
"Their principal and current librarian were delighted to hear about that little special connection," Mr Reid said.
Meanwhile, student Leah has been playing messenger between her grandmother and teacher, helping rekindle a special connection in the process.
"She asked her grandmother about the letter and Mrs Wilbraham is currently going through her belongings to look for the original letter," he said.
"The real excitement is that it's been a great story for Leah to learn about her family.
"What I was able to pass on to Leah and the family was so many messages from my old classmates about what a special teacher Mrs Wilbraham was.
"The energy she brought to literacy, the messages I've been giving back to her prove that so many of us trace our love of reading back to library sessions with her and what she kindled within us."