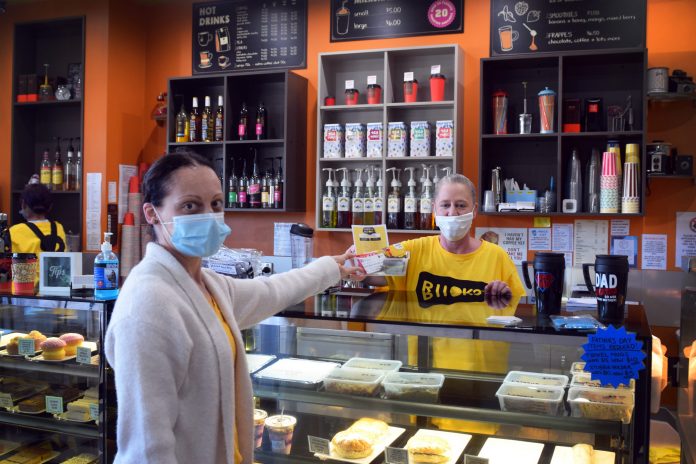 Tessa Randello
September 10 marks the annual R U OK? Day campaign, reminding Australians to check in with friends and family who may be struggling.

Moe's Turn Back Time Cafe started the conversation in its community, handing out gifts to customers to keep or give to someone they know.

The George Street business gifted KitKats and coffee vouchers to their customers and will also deliver free meals to locals who are having a hard time.

Turn Back Time Cafe owner Sue Broadbent said the gifts were a great way to break the ice and share a little pick-me-up.
"I was trying to figure out a way to encourage my customers to spread the R U OK? Day message and once I saw that KitKat had partnered with R U OK? Day, I bought a box and thought it would be the perfect ice-breaker for people unsure of how to start a conversation," she said.

"It has to be every day, but if you can just start something and hopefully the ball just keeps rolling.
"It might be handing out KitKats this year and we inspire someone else to get involved next year, or someone else could even have a similar idea throughout the year."

Ms Broadbent said she was delivering free meals later in the day, to locals she thinks may need a pick-me-up and also to people that residents have nominated through the Cafe's Facebook page.

"We have a few people who have nominated someone they think could really use a meal," she said.
"There's a group of units for elderly people close to me, so I made up a bunch of single meals to drop off for them tonight.
"Some of those residents used to all stand out the front when I would go to the shops and we would have a nice chat but I haven't seen many of them lately, so bringing them a meal is a nice way to check in."
Ms Broadbent also delivered morning tea to employees at a couple of local businesses to let them know she "was thinking of them".

"I love this area and the people here are the ones who will always do something to help you out, if you ask they will do it," she said.
"Times are hard, we are lucky we can still have our door open, we are ok so we wanted to make sure that someone else is."

If this article causes you or someone you know concern, phone beyondblue on 1300 224 636 or Lifeline Gippsland on 13 11 14.