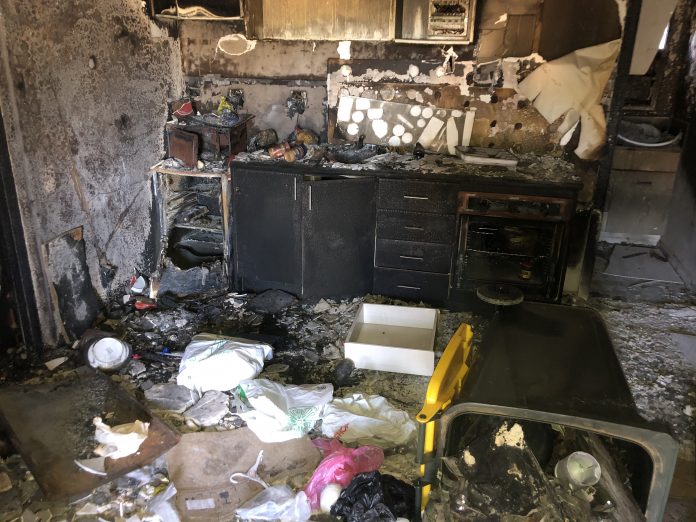 Kate Withers
Residents at a unit block in Moe say they are living in fear as a dilapidated, burnt out flat has started to attract "dangerous" visitors.

A unit at the Langford Street complex was gutted by fire about 10 months ago and has become a hangout for alleged illegal activity, according to tenants.
Police tape and protective boards cordoning off the unit have been slashed, and inside is littered with drug paraphernalia, empty alcohol jars and rubbish.

Tenants say the unit is frequented nightly by people using it for gatherings, but regular calls to police have done little to deter them.
One resident, whose identity has been withheld for privacy reasons, said occupants of the building hold serious concerns for their safety.

"What's happening in that house every night … I've rung the police several times and what can they do? They just say 'move on' … we're all scared," he said.
"They put a big plaster board over (the window) and all they do is kick it in.
"They just come back, they have no respect for authority and they have no respect for themselves.
"Every night here is a danger. All the junkies come around the corner here … I sleep with a knife by my bed and that's to save myself.
"That's how bad it is. They just bang on your door, there are needles out there … they rob you.

"I feel unsafe every night, and I shouldn't feel unsafe. No one should feel unsafe in their home. Nobody should have to put up with this."

The man said he had made "six or seven" phone calls to First National Real Estate Narracan about the state of the burnt out flat with safety concerns.
But First National Real Estate Narracan director Rebecca Robinson said the agency had not been approached by any residents with safety concerns.
Ms Robinson said the burnt out unit – because it is not habitable – is being self-managed by the owner of the building.
"We are not in charge of the unit, it is self-managed by the landlord until such time as it is habitable," she said.
"I've not been made aware of any safety concerns. The residents are more than welcome to speak to the office about those concerns but none of them have.

"The state of the complex is held up by insurance claims and building regulations and the landlord is attending to the renovations.

"It has taken a long time, no one has been more frustrated by that than us, but the majority of tenants have gone into the complex after the fire has taken place and are fully aware of the situation.
"I reiterate that no tenant has approached us with concerns about their safety.
"The unit has been boarded up in accordance with building compliance, and if that has been breached we have acted on it within 24 hours of it being brought to our knowledge."