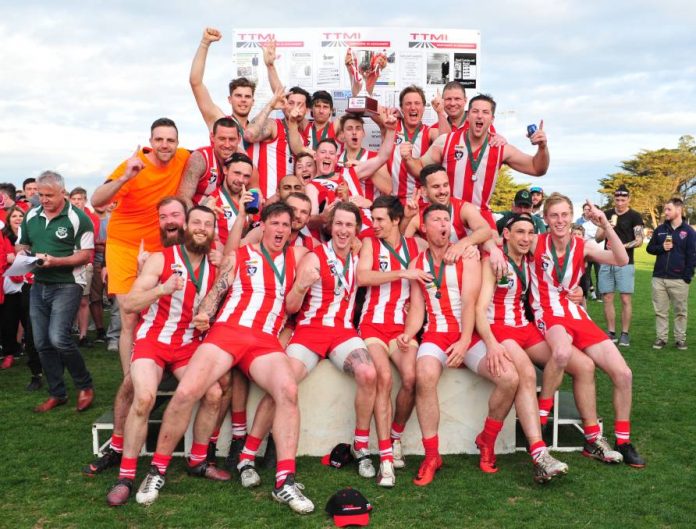 Kate Withers
BLOODLETTING has begun in the new-look Mid Gippsland Football Netball League with Trafalgar FNC given the green light to leave the competition.

The Bloods signalled their intent to breakaway from the MGFNL in July, referencing a lingering sense of "significant uncertainty" with regard to the state of play under a touted merger of the Mid Gippsland and Alberton leagues, which has since come to fruition.
But the move was stopped in its tracks last month as their application to leave the competition was rejected by members clubs in a vote, 7-2.
The club appealed the decision with AFL Victoria and was subsequently granted permission to defect from the MGFNL on Tuesday night.
It will now seek affiliation with the the Ellinbank & District Football League and Ellinbank & District Netball Association, bringing to an end a 51-year association with the Mid Gippsland competition.
In a post to Facebook on Tuesday night, the club executive announced the news "with much excitement".
"Unfortunately, we were denied disaffiliation from MGFNL and subsequently submitted our notice of appeal to AFL Victoria," it said.
"We now await the mere formality of the official vote of the EDFL/EDNA for the Trafalgar Football Netball Club to form part of the … league.
"We are so excited for the opportunity this gives our juniors and a return to having four games of football each Saturday.
"This was not a decision we took lightly and we wish the new MGFNL competition prospers into the future.
"We now look forward to creating new rivalries in our new home to the west."
MGFNL publicity officer Rob Popplestone said the feeling among the league executive in the wake of the news was one of "significant disappointment".

"I guess it's also (a feeling) of surprise, especially given AFL Gippsland and AFL Victoria were so set on having all six Alberton clubs join MGFNL and so adamant that a 15-team competition could work," Popplestone told The Express.
"For a lot of time, against our own best judgement over a period of time, we put in some really hard work and thought we could make this competition work.
"To have the 15 finally get together and within a month AFL Victoria allow a club to go out … goes against everything we were working towards."
The departure of Trafalgar leaves Mid Gippy with 14 clubs, but that could soon become 13 with Yallourn Yallourn North expected to follow suit.
The Bombers also declared they were looking to depart the league in July, but are yet to lodge an official application to leave.
Popplestone maintained AFL Victoria's decision to green light Trafalgar's departure flies in the face of its G25 Strategy recommendation the Mid Gippsland and Alberton leagues unite to form a 15-team competition.
"What this has done has created some uncertainty with other clubs, and they'll now be thinking 'well does this mean we can go wherever we wish?'" Popplestone said.
"If we felt as soon as we agreed to allow six clubs to join the MGFNL that they would then allow some clubs to leave … contradicts our whole intention to make a strong 15-team competition.
"But 14 clubs will roll up the sleeves and do the hard work we intend to do to make this competition successful, but you don't want to be starting a new league by having clubs jump off before you've even had an opportunity to get it off the ground."
The league now fears a dangerous precedent has been set for other clubs to consider moving competitions.
"I don't think there's any question a number of clubs are now weighing up their options and are trying to source what might be best for their clubs, but we maintain we've got the best interests of football in our region at heart," Popplestone said.
"At the end of the day if you use this scenario in a team situation if you've got a player who doesn't want to play you're better off to let them go.
"At the end of the day you've got to wish them good luck and you hope they reflect in years to come that maybe they made the wrong decision."