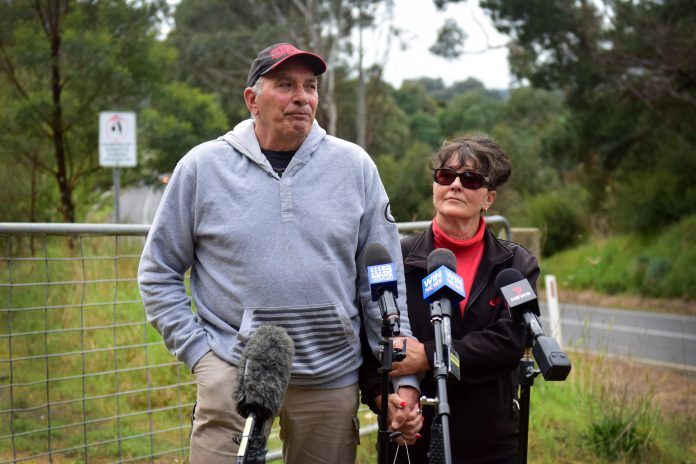 Kate Withers
Nearly six months since his son's mysterious death, the father of Newborough man Jarrad Lovison has described life as "living hell".

John Lovison joined detectives from the Missing Persons Squad on Moe-Wallhalla Road, where the 37-year-old was last seen, and reissued a plea for assistance to help bring those responsible for his death to justice.
"It's just so hard. It's been nearly six months and we cry a lot, we scream a lot, we wonder a lot and we're angry," Mr Lovison said.
"We just want to know who did this to our son, why? Jarrad wasn't perfect, but he was a bloody good kid.
"But (he was a) beautiful person, if he had a dollar spare and his friend was broke he'd give it to him.
"He had the right principles, I mean you as parents can't help who your kids hang around and what they get up to but they don't deserve this. He didn't deserve this."
"We've got his dog Slade, and he reminds us every day that … makes you wonder whether he was laying here and he wasn't dead and the thing that was going through his head was 'mum and dad will look after the dog'."
Mr Lovison said he no longer walked the streets of Newborough for fears those responsible for his son's death were roaming free in the community.
"We don't go to Moe, we don't go to Newborough, because I don't know whether I'm walking past the person that killed my son and he's laughing at me," he said.
"I want the satisfaction that … I can look these bastards in the eye and know who (they) are."
Mr Lovison urged anyone with information, no matter how small, to contact police.
"We just want people that know anything to be decent people and dob these bastards in, because they deserve to be dobbed in, they deserve to go to court and we have the right to look at them," he said.
"Life's just hard, we've lost both our kids to some horrific stuff, and people just … if you know something, tell the police, no matter how little it is.
"We need some evidence to finish this off, it's going to be his birthday next month and we live in hell. We live in hell."