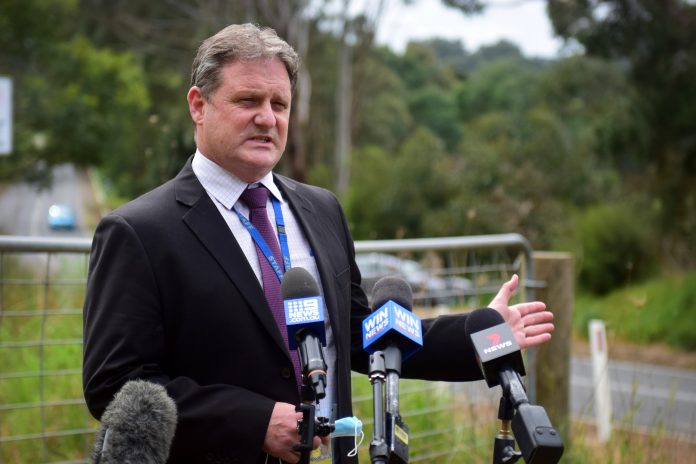 Kate Withers
Investigators have shed more light on the last known movements of Newborough man Jarrad Lovison, with detectives from the Missing Persons Squad declaring they are closing in on those responsible for his death.

On Monday, The Express revealed the 37-year-old was last seen alive with his green mountain bike on Moe-Walhalla Road in the early hours of April 16.

Detective Sergeant Graham Hamilton said yesterday police now know Mr Lovison met with "an associate", who is a person of interest, at the Latrobe River bridge around 3am.
Speaking from the Latrobe River bridge, Det Sgt Hamilton confirmed the associate had not provided police with a full account of their movements after meeting with Mr Lovison.
"They have provided the fact they actually met with him, but other than that they have provided very little information," Det Sgt Hamilton said.
"But at this stage we are confident we have some people that may be involved, however we're appealing for witnesses to assist us to provide that additional evidence.
"We believe we're very close to achieving a result and finding those responsible for the death of Jarrad Lovison. We believe now that this is the last location he was seen alive."
A witness has reported seeing Mr Lovison standing, with his bike, at the foot of the Latrobe River bridge looking at his phone.
"Obviously when we located him he didn't have his bike, he also didn't have his mobile phone, so we're appealing for any witnesses that might be able to assist," Det Sgt Hamilton said.
"We believe we has met with someone in the vicinity and we're hoping that anyone that may have been driving past here may have seen something.
"People may have seen him and not understood the relevance of it. It was in the early hours of April 16, and they may not have paid much attention.
"In relation to the persons that we have spoken to, we would ask that if they have further information we would ask them to come forward and speak to us."
Mr Lovison's body was found in a clearing of scrubland at the Moondarra State Park on Tanjil Bren Road, about 18km north of where he was last seen.
His green mountain bike, which is yet to be recovered, was seen propped against a tree on Becks Bridge Road – about 3km from the Latrobe River Bridge – two days after his disappearance.
Anyone with information is asked to phone Crime Stoppers on 1800 333 000 or lodge a confidential report at crimestoppers.com.au