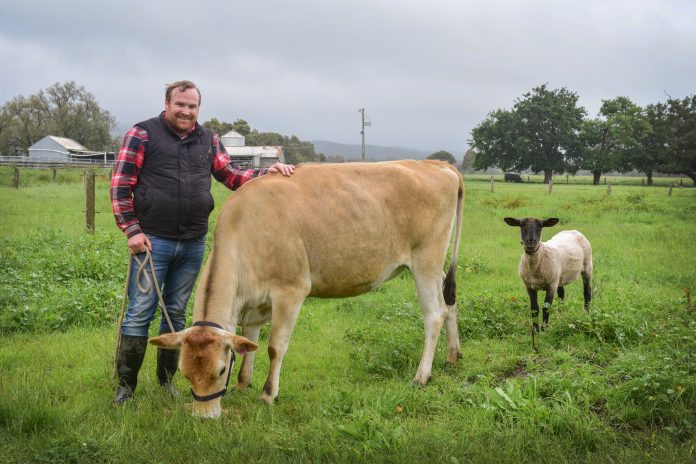 Tessa Randello
Modern-day Old MacDonald, Dean Sutton has a whimsical story behind the purchase of every member of his farmyard menagerie.

Walking through the paddocks of his Glengarry North home one may meet China the cow and her best friend Eunice the ewe, Molly and Clancey the horses, a stunning white peacock, ferrets or crested ducks.

China is the newest addition to the family and like many others came to the property in an unconventional way.
"My brother, Jarrod, is a livestock agent and he was working with a herd of cattle and one cow came out of the herd and licked him out of nowhere," Mr Sutton said.
"He told my mum about the cow and she mentioned that I had been looking for a quiet cow, so on my birthday they showed up at my house with a trailer and inside was this Jersey cow.
"Some of the others she was with were going to the sale yard, potentially for meat and there was a consignment going to China, she also looks a bit like a China doll with the pretty bits around her face so that's where her name came from."
Sweet and gentle, China became fast friends with black suffolk ewe, Eunice but Mr Sutton said the friendships ends "at food time".
"China is really funny, our ensuite looks out onto her paddock and she waits there for her breakfast in the morning. She doesn't like the dogs, which I understand, because the dogs like to chase her around," he said.
Mr Sutton purchased six ferrets so he and his brother could enter them in a race on Australia Day.
"My brother rang me up and told me I had to find some ferrets because he wanted to enter the ferret racing," he said.
"The day before the race I went to Wonthaggi and bought six ferrets.
"I had never even picked up a ferret before, we entered the race and won and then I was stuck with all of the six ferrets.
"These weird stories of me getting animals happen all the time, my partner Nick works for the council and there was a duck that had been handed into the pound.
"That duck had done its time there and there was nowhere else for him to go, so he is out in the pen now."