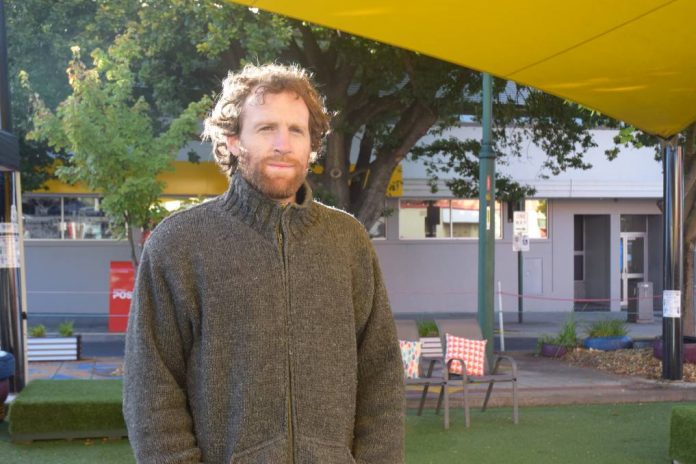 Gil Tipping
I have always loved sport. I remember in the early 50s, our young family heading off to the MCG every other week to watch the Demons.

Mum's brother, Uncle George (Lenne), had actually played a few games for the club before WW2 and I think that helped us get seats.
Dad would settle us with George's family in the Lady's stand, then go off to meet his beloved brother Howell in the Members, where they would spend the day together having beers and smokes and watching the footy.
Dad would come back after each quarter to check on us.

I remember the constant low drone of men's voices coming from the Members, together with the somehow comforting aroma of stale beer mixed with cigarette and cigar smoke which would waft over us.
I remember after one game, we somehow ended up in the victorious Melbourne changing rooms, meeting some of the players and me going home with a pair of big Bob Johnson's footy socks.
After moving to the Valley in 1974 with my own young family, it was often too hard to go to matches in Melbourne, but my love of sport was undiminished, and over time I became immersed in local sport, getting to as many games of cricket and footy as possible with son Mark.
It was through this that I first knew about Dan Musil.
I heard his name mentioned many times during radio 3TR broadcasts of Morwell games, and I gathered Dan was a ruckman and one of Morwell's best players.
Sometimes the commentators would add "Meta" before his surname, then laugh like naughty schoolboys – an act of typical, Footy Show-standard Australian buffoonery.
Dan was Vice Captain of Morwell in 2019, and is hanging out for the resumption of footy in 2021.
I didn't actually meet him until a few years later, at a school kids climate strike march and rally, in which hundreds of people marched through Traralgon and assembled in Victory Park.
People were invited to speak and one who did so was Dan Musil.
I had heard that Dan was outspoken about climate change, and was keen to meet him, so when he sat down after a very coherent, calmly delivered speech, I introduced myself.
I understand that in telling you this I need to explain my own position – what was I doing at that march?
It is time for me to say I share many of Dan's views, and I care deeply about our dear little earth, often called the blue marble, as it spins all on its own through the cosmos.
Everything that has ever happened to us, in fact the whole history of life, has happened here.
We are entirely dependent on it, it is our only home, and it has been extremely kind to us.
But we are not kind in return.
We fight amongst ourselves and are always coming up with new ways to destroy everything.
We treat the air/atmosphere, the land, and all our beautiful waterways as if they are a free sewer, and expect no consequences.
Surely this is madness, and at the very least, extremely bad manners.
Dan is far more courageous than me though.
While all I do is talk (and write), he has actually started a business in Morwell, manufacturing highly energy efficient hot water services and employing local people.
Earthworker Energy Manufacturing Cooperative, set up in Swan Road Morwell in 2017, is growing and shows that a manufacturing business that puts the environment first can succeed.
Dan's dad is a native Czechoslovakian, who was uprooted to England as a boy after Russian tanks rolled through in the Prague spring.
He met Dan's mum, an Australian of Irish heritage, who was backpacking and working through Europe in the mid-80s.
They came back to Australia, married, and eventually settled in the small town of Gisborne, northwest of Melbourne.
Dan is the eldest of their three children, and they all started school at New Gisborne Primary School.
The family was raised mainly by their mother, who from a very early age instilled a strong sense of social justice in her children.
This was to bear fruit in all three of them in adulthood.
Dan was a good student, but he also loved playing Aussie rules football, in which he showed great early promise.
As a junior he won numerous club and league best and fairest awards, and was noticed by talent scouts from the Calder Cannons, a youth feeder team for the AFL.
He also wanted to attend university, and loved playing music, but a slow healing wrist injury from footy plus the two-hour commute back and forth to Melbourne for Calder Cannons training made it difficult to pursue all three of these things.
Something had to go, and sadly, it was footy.
He stopped playing for almost a decade, from the age of 17 to 25, but study and music were prioritised.
His Year 12 exam results were good enough to earn him a place at Melbourne Univeristy, and in 2006 he enrolled in Bachelor of Arts specialising in geography and economics.
After a student exchange in Indonesia and some years away from study, the degree was completed with honours in 2013, and he is now finishing off his PhD, in economic change and justice.
All the while, Dan continued to develop his talent as a performing musician.
Both his parents were music lovers, and Santa brought Dan a guitar for Christmas when he was 12.
He has never put it down. He got lessons and practised constantly, however the wrist injury from footy prevented him from holding the instrument properly for several years.
The only way he could play was to lay it across his lap, in the style called lap-slide or lapsteel.
He liked the sound so much he stuck with it even after his wrist healed, and is now good enough to join professional bands and also regularly perform solo.
I have heard him play and he has a sumptuous, melodic sound, reminiscent of the band Dire Straits, particularly in their song 'Romeo and Juliet'.
So, Dan Musil is a man of many talents … a gifted sportsman, academic and musician, but this is far from a complete picture.
Dan is first and foremost a passionate warrior for a sustainable, healthy planet and justice for all the plants and animals which live upon it.
These beliefs, formed in childhood, underlie everything he does and says, but he is not a flag waving, conflict-prone activist.
He knows you don't get very far by shouting at people, and in any case this would not suit his persona.
Dan is a softly spoken, polite man who listens to what you say.
He has a longstanding family attachment to Gippsland.
His grandfather, Tom McGrath, was a long term principal at Warragul High School, and also later at Drouin and Trafalgar High Schools.
His grandmother still lives in Warragul, in the house where his mum was raised.
He loves the Valley for the beauty and diversity of its landscape and its people.
He actually moved to Morwell in 2015, because he could see the world was moving away from coal-fired power stations, and that big change was coming for the Valley.
He wanted to be there, to help the people deal with what was coming.
His instincts were proven right when in 2017, with only six months notice, the 1600-megawatt Hazelwood Power Station was closed down, putting hundreds of people out of work.
Dan was already there, with Earthworker, hoping to dampen the pain, and offer hope.
For him, being an 'activist' is more than turning up at a protest march, it's about living out your beliefs in every aspect of your daily life.
His full-time employment is at a successful business which puts the environment first and employs local people.
His PhD, when finished, will add to the fund of human wisdom on how our economy could be changed to a more justice-focused model.
I ask Dan, what is it that inspires you? What drives you?
"I'm inspired by the capacity of people to cooperate and care for each other, the environment, and all the living things we share it with.
"We are all interconnected and I believe we are all better off when our weakest and most vulnerable are well looked after.
"The world has many troubles, and the horrific reality of climate change is wreaking havoc here and around the world".
"But I believe we can make the world a more equal, sustainable place. We really have no choice but to do this.
"This vision, and the inspiring work of others here and around the globe, motivates me."
There are many people who say they want to change the world for the better. I am one of them.
I'll gladly rail in conversation against all the injustice across the globe, the lack of action on climate change, the lack of leadership for a cleaner, fairer, more peaceful world.
I'll even attend a protest rally, shout a slogan … but not too loudly.
Dan Musil has channelled his beliefs into action, and has rearranged his life so that for most of his waking hours he is actually doing something to make the world better.
He does it all without a fuss or any hint of ego, and he hasn't forgotten to smell the roses, which he does every time he runs out for Morwell Footy Club, or picks up his lapsteel guitar.
That's what I call an activist.