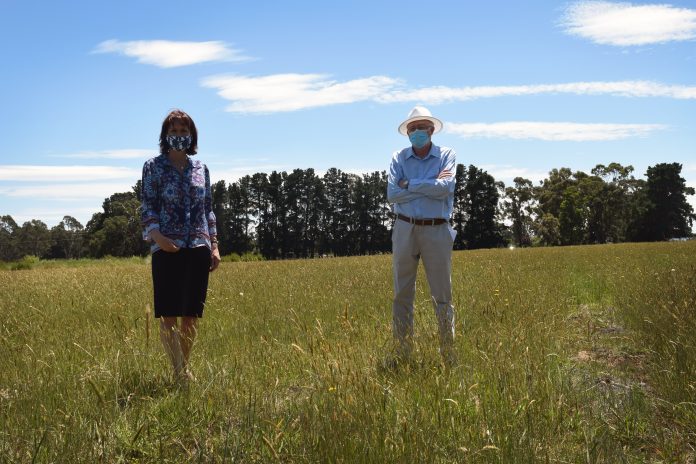 Kate Withers
"Skyrocketing" rates of drug-related crime across Gippsland have highlighted the need for the Andrews Government to deliver on a 2018 election promise, according to the state opposition.

In March last year, the state government announced it had secured a plot of land in Trarlagon to build a youth drug and alcohol rehabilitation centre.
The proposed 20-bed facility, which was funded in the 2018/19 Budget, came after cries from a coalition of Latrobe Valley service providers to establish a residential facility similar to the Hope Restart Centre near Bairnsdale.

Standing in a vacant lot near Latrobe Regional Hospital, more than 18 months since the site was unveiled, Nationals Member for Eastern Victoria Melina Bath said construction of the facility should be prioritised as a matter of urgency.
She pointed to data from the Crime Statistics Agency which indicated Latrobe City had experienced a 33 per cent increase in the number of drug-related offences in the 12 months to June 2020.
By comparison, Geelong and Ballarat experienced a spike of 21.6 per cent and 14 per cent, respectively.
"We know across regional Victoria that drug crime has spiralled in the last 12 months," Ms Bath said.
"What we're seeing here is more people using drugs on a regular basis … with skyrocketing figures.
"This identifies very much the great need communities have to have their loved ones go into rehab facilities and detox properly and get off an addiction cycle that can be so devastating for them, their families and the community.
"Three years ago the Andrews Labor Government … funded initial funding and we are three-and-a-half years later without any funding materialised in building and support for our drug rehab victims.
"We want to be able to see people go and have proper rehab facilities and break this addiction cycle."
Ms Bath said the Nationals committed $7 million to an all-ages drug rehabilitation facility in the Latrobe Valley in the lead-up to the 2018 state election.
She said it was crucial the state government come to the party and kick-start construction of the Traralgon facility, as it has the HOPE Restart Centre in East Gippsland.
"That facility is up, open and serving the community," she said.
"It is really vital that the Andrews Government step-up and provide this facility to our communities, people are desperate, families need it and we've seen drug crime spiral in the last 12 months alone.
"People deserve a timeline by which we can actually see this facility open and helping our community."
Community advocate and retired academic Len Cairns said the Latrobe Valley had been crying out for a drug and alcohol rehabilitation facility.
"I have been very vocal about the need in this area for alcohol and drug detoxification and rehabilitation," Mr Cairns said.
"The state government decided, on this very site behind me, to fund a youth centre, although the statistics at the time when that was announced in 2017 did not identify that as the biggest issue in this area."
Mr Cairns stressed the region also required a dedicated detoxification centre.
"This is to be a rehab centre, which means before you get to do rehabilitation you must be detoxified … there are no detoxification beds in the Latrobe Valley. Not one," he said.
"This was announced in 2018 that this would be going ahead in 2019 … with the government saying 'we're going to get into it urgently', and as you can see there's nothing here.
"The question I think, on behalf of my community is: Where is it and what's going on?'"