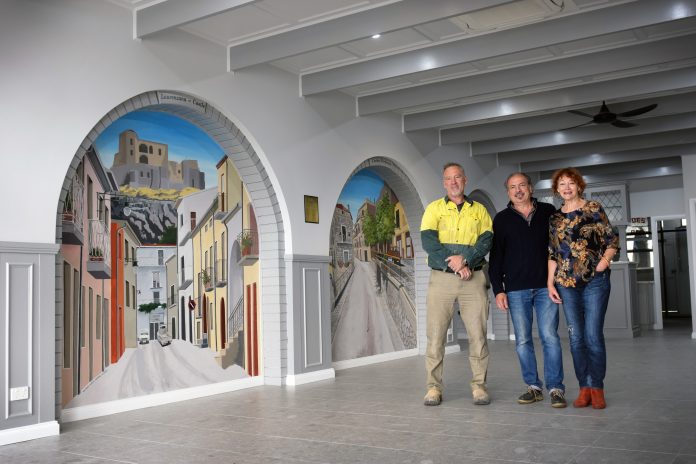 Tessa Randello
The old home of Joe's Pizzeria is ready for its next legacy after a devastating fire gutted the building last year.

The Morwell restaurant was one of a number of shops that were damaged in a fire at 4am on September 18, 2019.
The lone survivor of the blaze was the original pizza oven, the first of its kind in Gippsland when built.
The store was opened by Margaret and the late Joe Montano as Joe's Pizzeria in 1989 and Ms Montano remains the owner of the premises.
Their daughter Maria Marino said the blaze was a devastating event for the family.
"I got a call at about 4am in the morning and it was awful to see, all that we could do was stand there and watch as the firefighters worked on the building," she said.
"Our family ran the pizza shop for 13 years and then my parents retired in their early 60s, if I was younger I would run it myself again.
"The building was a mess after the fire, we went through the process and were appointed a builder and he came up with an amazing design and did a great job of restoring the building."
The refurbishment is now complete with personal touches to link the store with its first owners and modern touches.
"The shop was opened in 1989 and back then it was all brown bricks and timber, traditional looking restaurant," she said.
"Now, there are two painting of villages in Italy, one is where my mother was born and the second is where my father was born.
"It's very different for Morwell and it's unique, we have a lot of good memories of Joe's Pizzeria, it was iconic, the customers who came in were our family."
Atrawell builder Leon Salter said the idea for the refurbishment was to modernise the building while also paying respect to its heritage.
"The idea was to brighten up the space, we added decorative work in the ceiling and even added Joe's bar, a tribute to the late owner," he said.

"They did not know that we were going to put the bar in, it was a lovely surprise for them.
"The history behind this build was important, people all over the Valley remember Joe's Pizzeria and coming here."