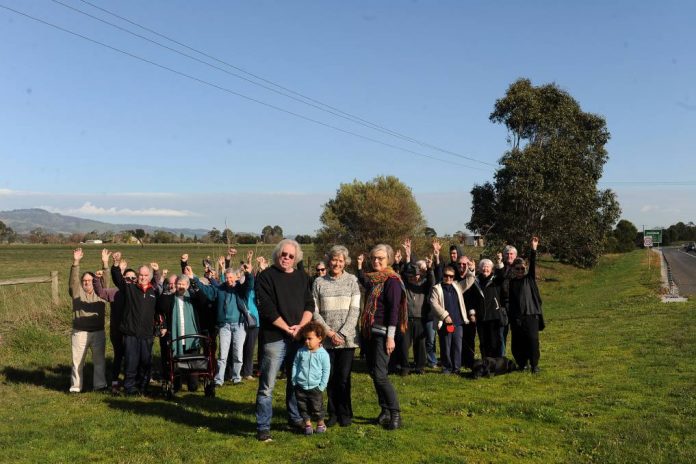 Kate Withers
The Yarragon community has chalked up a huge win in its fight to oppose the construction of a large service station on the Princes Highway, after the Victorian Civil and Administrative Tribunal this week rejected the developer's application for a second time.

Jasbe Patroleum initially applied for a planning permit with Baw Baw Shire Council in 2018 to build the service station on a 8.48-hectare lot on the outskirts of town but was rejected.
The application involved 24-hour fast food outlets with drive-throughs as well as 67 car parks and 23 spaces for trucks and trailers.
Jasbe Petroleum then appealed the decision with VCAT last year, where council and a consortium of concerned community members represented by town planning firm SD planning, opposed the appeal.
The plan was rejected by the VCAT panel on the grounds it included two convenience food restaurants which were prohibited in the farming zone and did not fall within the definition of a service station.
The developer then re-lodged for a planning permit for a scaled down version of the original application and, following a second hearing late last month, was refused a second time. In its decision, handed down on Tuesday, the panel found the proposed service station did "not enjoy strategic support in this location", and its potential benefits did not outweigh strong community opposition.
SD Planning's Kate O'Reilly represented over 20 objectors from the community at the hearing, which included Yarragon and District Community Association, Yarragon Business Association, and Trafalgar Chamber of Commerce and Industry.
"The hearing considered an extensive range of planning issues to determine whether the proposed use and development was appropriate," Ms O'Reilly said.
"For two years SD Planning has worked closely with objectors to represent them at both VCAT hearings and we are absolutely thrilled with the result, which will no doubt be celebrated by the Yarragon and Trafalgar communities.
"It has been a particularly long and hard road for members of the community who objected to both proposals. There has been a huge amount of effort put in by the community to oppose this development.
"We commend the group for putting in so much effort and working cohesively as a team – and we couldn't have asked for a better Christmas present."

YDCA president Roy Lindsay said the Yarragon community was elated by the news, declaring it was "the final nail in the coffin" for the proposed service station.

"The community is certainly feeling very pleased about it all and this time it looks like it's the final nail in the coffin, which is even better," Mr Lindsay said.

"We believe the case is now closed."