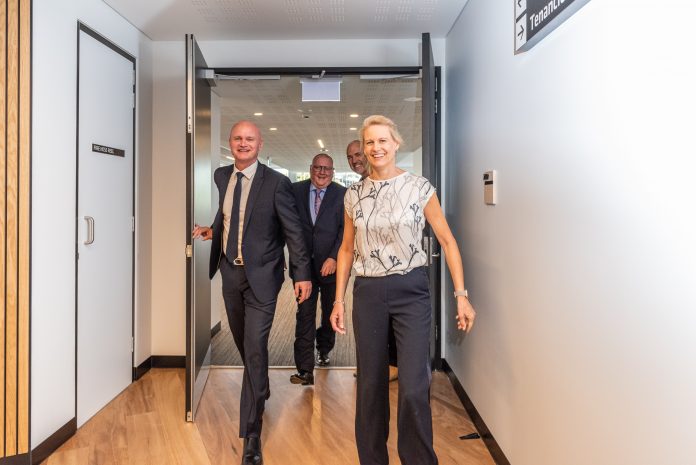 Michelle Slater
Alinta Energy is shifting its customer service call centre from the Philippines to Morwell in a move that will provide 230 new jobs to the Latrobe Valley.
Alinta Energy merchant energy executive director Ken Woolley made the announcement yesterday with Regional Development Minister Mary-Anne Thomas to coincide with the official opening of the Morwell Innovation Centre.
Alinta has signed a five-year tenancy agreement with Federation University to operate out of the newly-opened innovation centre.
The company is in the midst of recruiting locals to start operating the contact centre mid this year, making it one of the Valley's largest employers.
Mr Woolley said Alinta decided to move its call centre to the Latrobe Valley as the energy giant had strong ties to the area with Loy Yang B.
He said it would demonstrate the company's commitment to "deliver even better service to its customers".
Mr Woolley said the new centre would provide multi-million-dollar investments each year to the Latrobe Valley economy.
"We're investing in Australian jobs, and I think our customers will enjoy speaking to someone locally when they call us," Mr Woolley said.
"We're making this investment because it's the right thing to do for our customers, and because we want to cement our local operations and help create jobs and investment in regional Victoria."
The initiative is being supported by the state government through its investment attraction and Jobs Victoria programs.
Mr Woolley said the state government had helped identify the Latrobe Valley as a suitable location to establish the new call centre, with an appropriate population and skillset.
The state government will also help provide funding for training programs for the new recruits.
"We looked extensively across regional Victoria. This facility is quite amazing and is perfect for our needs, it's not easy to find facilities like this in regional Victoria," Mr Woolley said.
"The opportunity to engage with Federation University's technical aspects for this new development is exciting for Alinta."
The $17 million government-funded Morwell Innovation Centre is a part of the Gippsland High-Tech Precinct, and will also host educational programs and work with Gippsland Tech School and TAFE Gippsland.
It features a 100-seat conference room, commercial tenancies, and an innovation hub.
Ms Thomas said there would be further announcements for more tenants for the innovation centre.
"This is terrific news for Morwell and the Latrobe Valley generally, this will bring on-shore jobs right here to the Morwell Innovation Centre," Ms Thomas said.

"The buzz this will create, with so many people employed at this place which is an incredible precinct."
The move was backed by Latrobe City Council Mayor Sharon Gibson who described it as "another string in the bow" for the Valley, and would help reduce the region's unemployment levels.
"We are delighted Alinta is bringing jobs on shore and will help bring a level of decent employment to the Latrobe Valley," Cr Gibson said.