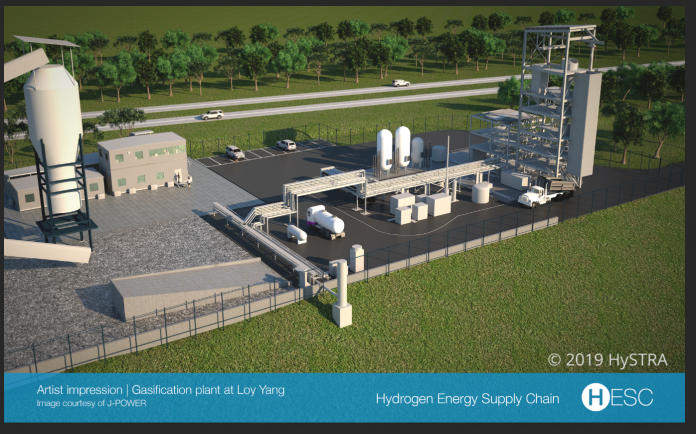 Michelle Slater
The world first HESC pilot plant reached a major milestone this week when the project began successfully producing hydrogen from Latrobe Valley brown coal.

Project partner J-Power non-executive director Jeremy Stone described the event as a "critical" element after spending the past two months commissioning the plant adjacent to Loy Yang.

Mr Stone said the plant began successfully producing hydrogen from coal gasification – a world first process using the region's brown coal.

"This is a big landmark for the project. We've always believed we can produce hydrogen from Latrobe Valley coal, all the pieces are coming together," Mr Stone said.

"We are producing high quality and high purity hydrogen. For the rest of the pilot we will adjust the settings and parameters to keep producing this high quality hydrogen."

This week, National Energy Resources Australia announced Gippsland as one of 13 regions in a $1.85M investment to establish a nationwide hydrogen cluster.

NERA said the clusters would operate as a virtual network, with four location listed in Victoria located in Gippsland, Geelong, Mallee, and Clayton.

The Gippsland cluster is being led by the Committee for Gippsland to help the region build on its status as an "energy power-house".

Mr Stone said producing hydrogen at the Loy Yang site was the first of three processes to get off the mark in the HESC project, with the next two stages to be tested in the following months.

He said the next phase was to successfully liquify the hydrogen at Australia's first hydrogen liquefaction plant at the Port of Hastings, which he hoped would take place by the end of February.

The final stage was to test transporting the liquified product via a specially designed carrier to Kobe in Japan by mid-year.

"These are three very significant processes and one was to produce high quality hydrogen from Latrobe Valley coal and we've done that," Mr Stone said.

"We are trying to prove the supply chain and put all the pieces together. This will give confidence to the people of the world to move to hydrogen as it's a clean burning energy."

Mr Stone said project partners were already working on upscaled commercial models now that the first phase had been successfully completed.

He said this would require carrying out further testing, technical studies and feasibility studies, as well as looking at demand before deciding to go full-scale.

The pilot project is being backed by both the state and federal governments, as well as the Japanese government and a consortium of project partners.

HESC has purchased carbon credits to offset emissions created from the pilot plant, which Mr Stone said was the equivalent to about 25 cars on the road.

"I think this will be a game changer. We need to build the awareness of making Gippsland a centre for hydrogen and this will be fantastic for all of us," Mr Stone said.

"We are thrilled so many people in the Latrobe Valley were involved in building this, particularly in COVID lockdown, it's a credit to all involved."