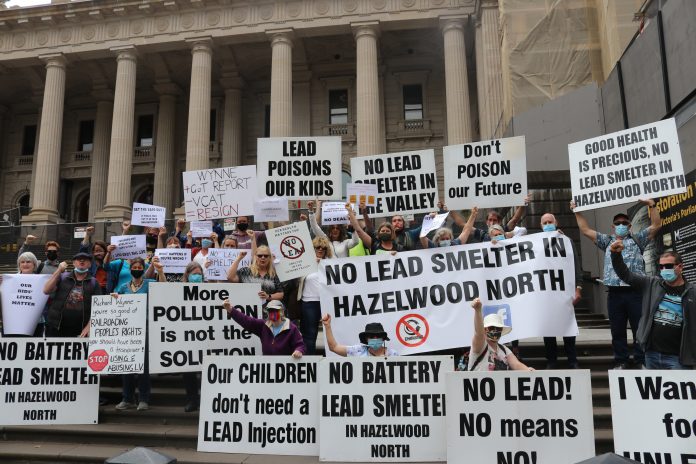 Michelle Slater
More than 50 people turned up to the steps of state parliament this afternoon to protest against Chunxing's proposed battery recycling plant in Hazelwood North.

A contingency of locals and ex-locals joined the rally co-organised by Voices of the Valley and the Hazelwood North Action Group along with an alignment of community members.

Voices of the Valley convenor Wendy Farmer said they had taken the issue to Spring Street to try and get the contentious planning permit overturned.

"At the end of the day, we want this decision rescinded and the planning permit taken away. We won't accept this lead smelter in the Latrobe Valley," Ms Farmer said.

"We want politicians to be aware of the issues and we want a better vision for the Latrobe Valley. We want the Planning Minster to meet our community and understand the issues."

Churchill resident Geraldine McClure had joined the rally to "send a message" to Planning Minister Richard Wynne and Premier Daniel Andrews.

"We want to let them know we will not accept a lead smelter. We want to let them know about the real life impacts this will have on our community," Ms McClure said.

"We will not stop and we will keep adding pressure until this decision has been rescinded. We are not after compromises, we don't think there are conditions that will make this project safe."

Mr Wynne had approved the used lead acid battery recycling plant after it was knocked-back by Latrobe City Council but was awaiting a five-day VCAT hearing in April.

A Parliamentary e-petition which had so far gathered 1670 signatures calling for the government to withdraw its planning permit is due to be tabled by the end of the month.

The rally was joined by Members of Parliament including Member for Morwell Russell Northe, Member for Eastern Victoria Melina Bath, Shadow Planning Minister Tim Smith and Greens deputy leader Ellen Sandell.

Mr Smith had raised the issue in question time after he had been talking to constituents about their concerns.

"Something pretty dodgy has happened here, this has been approved without due diligence and it seems arbitrary and unfair," Mr Smith said.

"This is a Communist Chinese enterprise, have they been given a special deal? I will continue to to take this up in Parliament and I plan to come and visit the Valley."

Member for Eastern Victoria Harriet Shing observed the rally after having facilitated a forum with community members and government department representatives on Friday.

"We have a long way to go to continue these discussions and I look forward to being a part of that to facilitate these discussions wherever possible," Ms Shing said prior to Friday's meeting.

"I'm not yet convinced that the risks identified by the community have been properly addressed and this is why I'm continuing to work with the community and stakeholders."