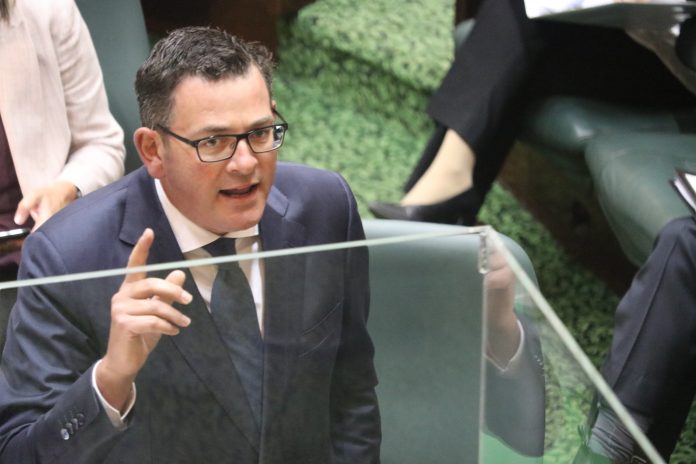 Staff writers
Regional Victoria is now in the midst of its strictest lockdown since the start of the coronavirus pandemic.
On Friday, Premier Daniel Andrews announced a 'circuit breaker', five-day lockdown that will last until 11.59pm on Wednesday, February 17.
Mr Andrews said we must assume that there are other cases in the community that we do not know of.
"Victorians will be well familiar with UK strain … it is so hyper-infectious and fast," he said.
"The way in which they (people with this strain) are presenting is a significant concern to us … we are having cases test positive in rapid time, by the time we find that case as positive they have already infected their close contacts.
"I know it's not the place that we wanted to be in.
"However, we've all given so much, we've all done so much. We've built something precious, and we have to make difficult decisions, and do difficult things, in order to defend what we've built.
"I am confident that this short, sharp circuit breaker will be effective. We will be able to smother this. We will be able to prevent it getting away from us."
There are only four reasons to leave your home; shopping for food and essential items, care and caregiving and work or study – if you can't do it from home and exercise for two hours per day.
Under Stage 4 restrictions, residents must wear a mask when leaving their home, even when outside, travel no further than five kilometres from their home and have no guests at home or for events.
Cafes and restaurants are now take-away only and schools, gyms and non-essential retail closed their doors.
The streets of the Latrobe Valley were desolate, on a weekend that was sure to be a busy one for florists and restaurants, with Valentine's Day and Lunar New Year.
There were reports of grocery staples flying off local shelves on Friday, but the shelves seemed to have been replenished by Saturday.
For the next few days, even shops like Kmart, Harvey Norman and Bunnings Warehouse closed their doors.
Victorian Chamber of Commerce and Industry chief executive officer Paul Guerra said businesses need certainty that this lockdown will end after the five-day timeline.
"Business needs this reassurance to prepare to welcome staff and patrons back and secure stock and other logistics," he said.
"The Victorian Chamber is urging the state government to provide targeted support for hospitality venues to compensate for perished food and cancellation costs not covered by insurance for the affected sectors.
"Without this, the reality is doors will close indefinitely and jobs will be lost.
"A robust and reliable quarantine system and the effective roll-out of a vaccine is the best opportunity we have to provide the confidence that businesses need to invest and employ so that we can rebuild the economy.
"We need clarity on both aspects."
Morwell resident Michael Miller expressed a sentiment felt by many in regional Victoria following the Premier's announcement.
"I think Andrews has gone overboard a bit, maybe he should just concentrate on Melbourne," he said.
"Regional Victoria has been OK for many, many, many months."
Victoria recorded three new cases of coronavirus on Sunday, two locally-acquired and one in hotel quarantine.
The state currently has a total of 21 cases, on Sunday Victoria received 21,475 tests.
The two new locally acquired cases included a woman and three-year-old child from different households, linked to the Holiday Inn cluster, which now stands at 16 cases.
The woman, who was also a quarantine worker, and the child attended a private dining venue on Sydney Road, Coburg in Melbourne's north, on February 6.
The 38 other guests at the event have, so far, tested negative for the virus.
COVID-response commander Jeroen Weimar said on Sunday all primary close contacts that had been identified were spoken to.
"I'd really encourage people who are in Coburg, Reservoir, Southbank, South Melbourne to really be extra vigilant and come forward and get tested," he said.
The state's Chief Health Officer Brett Sutton said yesterday the key focus was on shutting down the spread of the UK variant of coronavirus.
"We're now looking at a virus that is 40 to 70 per cent more infectious than the previous variants," he said.
"Whether it's 40 per cent or 70 per cent that is disturbing and we don't want this variant of concern, the B117 strain … to be in the community and transmitting."
New exposure sites were added to the list in Melbourne's north, they included the Elite Swimming in Pascoe Vale, Woolworths at Broadmeadows, Ferguson Plarre Bakehouses at Broadmeadows and the Oak Park Sports and Aquatic Centre at Pascoe Vale.
For the full list of exposure sites visit https://www.dhhs.vic.gov.au/case-locations-and-outbreaks-covid-19.
Schools across the state were notified on Friday afternoon that students would not be on campus today.
School students will return to learning from home until Thursday, unless they need onsite supervision as the children of essential workers.
During the five-day lockdown, universities and TAFEs also closed or moved to online learning.
But, childcare and kindergartens were allowed to remain open.
One of these schools, St Paul's Anglican Grammar School, decided to have a pupil-free day for primary students on Monday and start online learning for the next few days.
St Paul's principal Cameron Herbert said "it was certainly challenging for schools to be notified of a lockdown at such short notice".
"I think everyone is growing accustomed to having to adapt quickly without much warning," he said.
"We have an excellent online learning platform and virtual classrooms through MyStPauls which work well in conjunction with video conferencing.
"I am fortunate to have a very flexible, skilful staff of teachers at St Paul's.
"They are very well prepared and take things like this in their stride.
"Most of our families are very understanding and supportive as well.
"Let's hope this lockdown is only for five days, but we have planned well ahead in case it goes for longer."
Latrobe Regional hospital will not allow visitors for the duration of Victoria's five-day lockdown.
However, there are a few exceptions to the rule, people will be allowed to enter the hospital for end of life reasons, as a support partner to someone giving birth or one parent can accompany a child.
The same restrictions will apply to aged care homes run by Latrobe Regional Hospital, no visitors except for end of life reasons.
Visiting hours to the hospital will remain dependent on the state government's health directives.
Before the lockdown, visiting hours were still heavily regulated, visitors were still required to wear masks and temperature checks a condition of entry.
LRH chief operating officer and chief nurse Don McRae said "the snap lockdown caught us all by surprise".
"But, these are the actions we have to get used to while the virus is in circulation," he said.
"Although the larger outbreaks this year have been in Melbourne, we need to remember that many of us in the Valley and beyond have travelled into the metro area and may have been to one of the exposure sites, or come in contact with someone who has."
LRH urges anyone with fever, chills or sweats, cough, sore throat, shortness of breath, runny nose, loss or change in sense of smell or taste to get tested for COVID-19. Information about testing sites is available at www.gphn.org.au/covid-19.
If you become very unwell with COVID-19 symptoms outside of clinic hours, please contact the LRH Emergency Department for initial screening and advice.
You may be required to attend the ED for testing and should take the necessary precautions such as wearing a mask.
Gippsland Primary Heath Network echoed the hospital's advice that people need to get a COVID-19 test no matter how mild the symptoms, to stay on top of any more outbreaks.