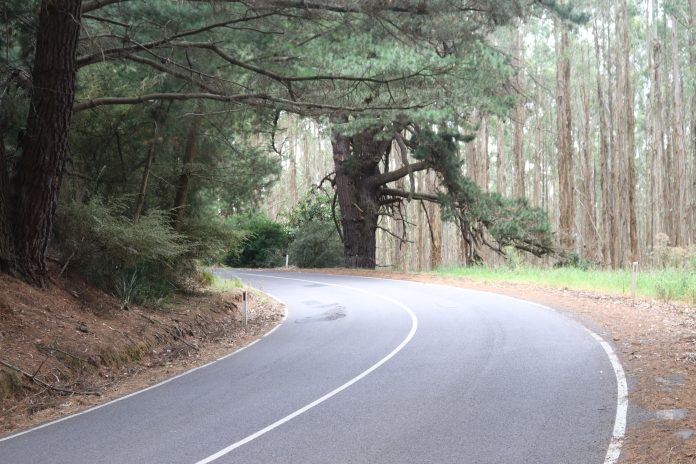 Michelle Slater
A Mirboo East truckie fears parts of the Grand Ridge Road are a "fatality waiting to happen" with B-double drivers being forced onto the wrong side of the road due to inaction on low-hanging trees.
B-double driver Brenton Gration said he had been waiting for authorities to trim low branches that caused $3000 worth of damage to one of his trucks and loss of a week's work.
Mr Gration said the worst section was between Boolarra South and Olsens Road, which is a designated heavy vehicle route used by log trucks.
"I have had so many close calls that one day there will be a massive accident because I'm forced onto the wrong side of the road trying to dodge a tree," Mr Gration said.
"Log trucks now have to veer onto the wrong side of the road to avoid the low trees.
"It's not like one tree here and there, it's like a canopy and they need to trim every tree."
The interstate hay transporter said he had put in more than 20 calls to both Regional Roads Victoria and South Gippsland Shire, but instead had been given the run-around.
Mr Gration said he occasionally saw the odd contractor cut branches, but the issue was getting steadily worse.
"I had this car follow me one day and all these sticks and leaves were being hit off the top of my truck. I hit this massive branch and it fell straight onto the road in front of the car behind me," he said.
"He hit the brakes straight away just in time, but even he said it wasn't my fault. It's ridiculous."
The Department of Transport stated it carries out monthly inspections on the Grand Ridge Road known as the Boolarra Road, and undertakes inspections if the community reports a hazard.
It also stated the department completed 119 vegetation management jobs on Boolarra Road since 2019 and 29 this financial year.
"We routinely inspect over 3500km of arterial roadsides in Gippsland to help keep our roads safe and reduce hazards," Department of Transport Gippsland director Sara Rhodes-Ward said.
"Managing roadside trees and vegetation forms a huge part of our ongoing maintenance program."