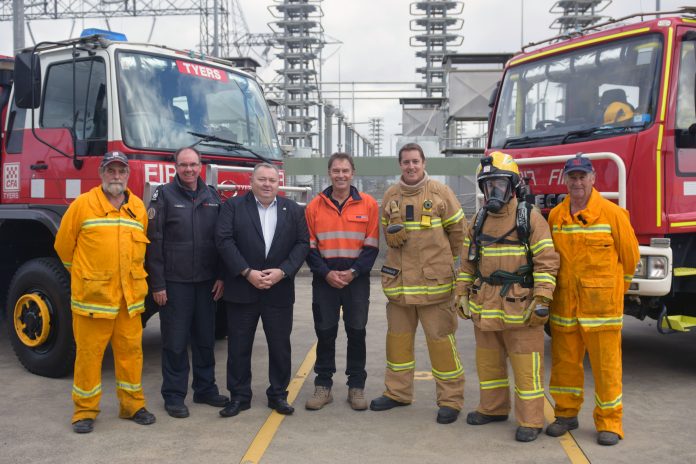 Liam Durkin
LOCAL CFA branches now have high-tech breathing apparatus equipment to help with internal fires and search and rescue efforts.
The breathing apparatus' allow firefighters to safely enter dangerous places such as burning buildings or mines safely, while also increasing the likelihood of internal structural fires coming under control.
Tyers and Traralgon South CFA branches were recently on hand to receive the upgrades, thanks to a $25,000 donation from Basslink.
Basslink chief executive officer Malcolm Eccles told The Express the company was happy to support such an initiative.
"It's vitally important that businesses like us support these local CFA guys, they are all volunteers, they all do a fantastic job for the community and the people of Gippsland," he said.
"It's wonderful that Basslink has the opportunity to give something back, and helps ensure the CFA firefighters have the protective equipment they need to remain safe.
"Basslink looks forward to continuing its partnership with the CFA well into the future."
Firefighters will be able to put the breathing apparatus' on in just over 60 seconds upon arrival at a major factory, residential or mine blaze.
Compressed air is housed in a cylinder tank which sits on a person's back, similar to a scuba diver, allowing firefighters to make their way through smokey environments.
Features of the equipment are a distress signal and the ability to hook up to another firefighter's oxygen tank.
Firefighters are also able to communicate with each other while fully kitted up, and can speak through the apparatus. Heavy breathing through the apparatus has firefighters sounding like Darth Vadar.
Tyers Fire Station First Lieutenant Ross Wisewould said the benefits of the new equipment would be far reaching.
"It will increase safety for our firefighters when conducting search and rescue internal attack structural fires," he said.
"Sometimes it hinders our response not being able to do a full response to a structural fire or an industrial incident (without having the breathing apparatus), we have to wait for other brigades with BA to support us, whereas now we can be there in a timely manner and conduct what we need to safely and provide a service to the community.
"These new sets of BA are fantastic, the technology in them has come a long way so now they are lighter, easier to don and less firefighter fatigue which is great."
District 27 commander David Chugg welcomed the news.
"It's crucial that our firefighters' health and wellbeing is protected, while they are protecting the community, and this contribution from Basslink is an important part of ensuring this remains," he said.
"It provides them the avenue to structurally firefight internally and also gets them back to their families a lot quicker and safer.
Mr Chugg also wished to remind people that despite the cooler weather of late, it was still fire season.
"It is still fire season and we still have a fire danger period in place, we encourage the community to ensure they have their fire plan," he said.
Basslink transmits power to Victoria and Tasmania via a high voltage direct current cable.