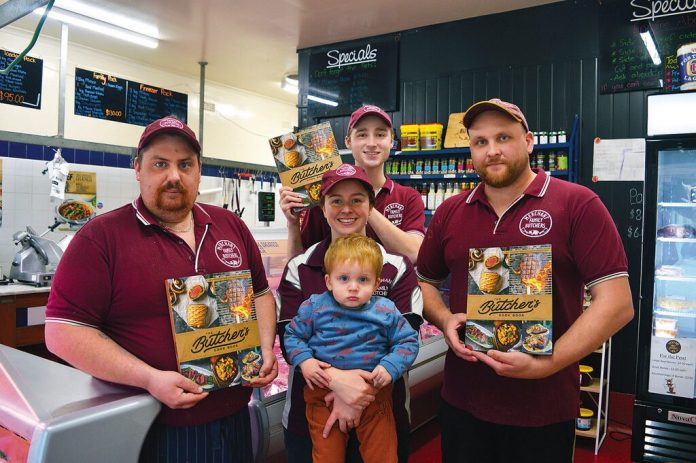 By TOM GANNON
NEWBOROUGH'S Merchant Family Butchers have a reason to celebrate after their butcher shop and recipes were chosen as one of Australia's fifty best butchers to feature in The Butcher's Cookbook.
The cookbook is a dream outcome for well-respected butcher Shannon Walker and brings together the passion and talents of the country's top butchers.
Merchant Family Butchers owner Brenton Merchant has been a butcher for more than 15 years and took over the business two years ago.
Mr Merchant said being featured in the book has made the family butchers feel more accomplished.
"I guess my head can't get much bigger, but it does the job for sure," he joked.
"It's a good feeling and makes the years of work feel like they're worth it."
Each butcher was tasked with contributing two of their favourite recipes using their own quality meats.
The Merchant family submitted one of the
family's heirloom recipes, a slow cooked shredded beef lasagne and brought in some of the new with a smoked lamb taco contributed by employee Matt Kelly.
"I guess it's that timely feeling, the knowledge of being a butcher and the new generation coming through so you've got the new cooking style as well as the old which blended all in to one," Mr Merchant told The Express.
Despite taking out the title of one of the best butchers in the country, Mr Merchant said the book is about more than just his business.
"It's not just about me, it's about the whole butcher community and the trade," he said.
"It's a dying trade, everyone is going to the supermarkets and it's little thing like this that bring in extra people, whether it be one, two or 10 it's a win for us and it's keeping this trade alive."
The Merchant family aren't basking in their current success as they set their sights on the Australian Meat Industry Council's Sausage King Competition in Traralgon next month.
The cookbook can be purchased at Merchant Family Butchers on Rutherglen Road in Newborough.