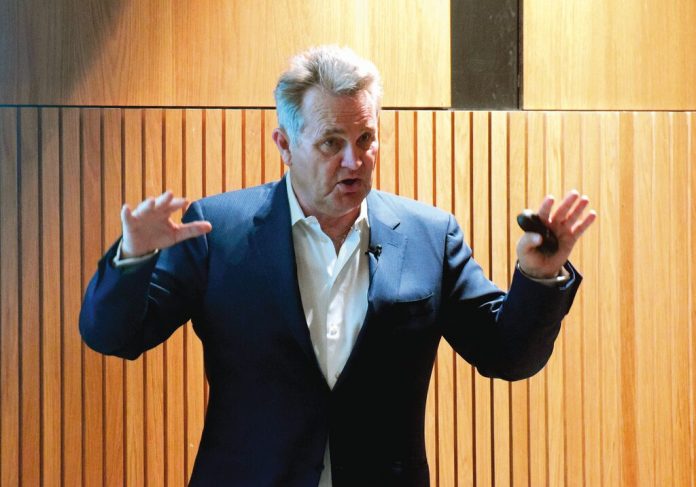 By TOM GANNON
Leading Australian demographer and media commentator Bernard Salt sat down with The Express to share his thoughts on the future of the Latrobe Valley.
Mr Salt was in the region last week where he spoke to local business owners, councillors and real estate groups in an event hosted by Latrobe City Council.
In the months following the brunt of the COVID pandemic the eyes of metropolitan Melbourne have looked towards a lifestyle change and soaring house prices in the Valley have given us a clear indication that we're on the horizon.
This has also been noticed by Mr Salt, who recently coined the term VESPAs or Virus Escapees Seeking Provincial Australia, to describe this
sudden shift away from city life, seemingly driven by a preference and ability to work from home.
Mr Salt said he doesn't think this is just a trend.
"The big social shift is of course work from home which I don't think is just a flash in the pan," he said.
"Australians have developed a taste for this and realised that they only need one suit, one car and can sell and go to Traralgon and buy three times the quality of property they could afford in Melbourne."
Mr Salt said he sees these people being mostly millennials ditching their inner-city apartment in search of a decently sized Valley property.
"I think you'll see professional people in their mid to late thirties coming to the Valley," he said.
"The next five years will show a surge of
millennials coming out of their hipster apartments in North Fitzroy and they will want that four bedroom, two bathroom, front yard and backyard piece of paradise for $500,000."
Mr Salt said this should bring an influx of skills to the Valley but we still have work to do.
"The greatest skill set for the 2020s in the Latrobe Valley will be the skill set of agility," he said.
"We need to focus on skills and redeploying people that have been displaced by the pandemic, we need them to be reskilled, up skilled and encouraged back into the workforce by learning skills that are in high demand.
"The great challenge is for training institutions of the Latrobe Valley to gear up and train as many workers as possible."
Ultimately, Mr Salt said, the Valley appears to be in a strong position for the rest of the decade.
"When you put that together I would say the first part of 2020 looks very strong for the regions, assuming the issues with China don't significantly deteriorate," he said.
Currently the Valley is working through a period of drastic change as our key industries attempt to transition to the future or prepare to close up shop, so what can the region expect beyond 2030?
"Beyond 2030 you would say the transition to different sources of power would be complete by that stage," he said.
"I would like to think that there is significantly more critical mass of population in the Latrobe Valley with a strong hub of business and entrepreneurial activity in the local area, almost like a mini me CBD, a bit like a Box Hill or a Dandenong."
"What I think we can see certainly with this reinvigoration of the regions is more pathways for a complete career to be lived in the regions rather than having to go somewhere else and having to rely on people coming back," he said.